THE WATER ISSUE
---
Support OF NOTE's work by ordering a Special Print Copy of The Water Issue.
editorial director's note
Many of us have seen or heard these staggering headlines before:
• 663 million people — 1 in 10 — lack access to safe water.
• Women and children spend 125 million hours a day collecting water.
• Every 20 seconds, a child dies because of lack of access to safe water.
• The water crisis is the #1 global risk as a measure of devastation.1
Yet, when we leave an untouched glass of water on the restaurant table after a meal, how often do we think of its value? How often do we consider this as an act of privilege — to leave perfectly drinkable water to be discarded? How much is water worth to us? And, to what lengths will we go to get it?
These became guiding questions for our special contributors for The Water Issue. This Spring, OF NOTE magazine embarked on a collaboration with a group of thoughtful and socially-engaged undergraduate and graduate students via Art & Public Policy, the department in the Tisch School of the Arts at New York University rigorously committed to an "activist exploration of the relationship between art and society, and the role of the artist in civic life."
What we unpack in The Water Issue is the work of ten global contemporary artists and activists who share a commitment to spotlighting the lack of access to clean water via artistic practices rooted in photography, painting, sculpture, science and design, film and dance.
While the Flint, Michigan community living with lead-contaminated water weighs heavily on all of our hearts and minds, in this issue we also profile the artists who continue to shine a light on how our water is compromised in equally beloved backyards in New Orleans, Louisiana, New York, Ohio, Wisconsin, and the Southwestern states in the United States. Moved by the critical role of girls and women as arbiters of water to ensure the survival of their families, we also turn our attention to artists focused on the global water crises in communities in Palestine and India.
These artists see their roles as ones that go beyond raising awareness of the crisis to creating work that informs solutions, seeks out narratives of resiliency and innovation, and challenges us to interrogate how as a modern society we've transformed water from sacred to commodity.
Featured Articles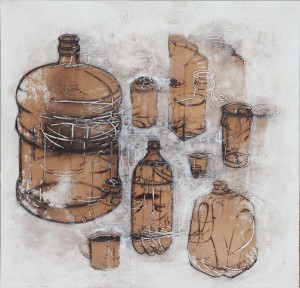 Christopher Saucedo: The Traumatizing and Transformative Power of Water
BY JOSHUA BONE
Surviving both Hurricane Katrina and Hurricane Sandy, Christopher Saucedo is intimately aware of water's power as both a destructive and restorative force. His paintings and sculptures utilize gallon jugs, cups, Red Cross blankets, and more as a way of comforting those who have experienced water's inhumane side.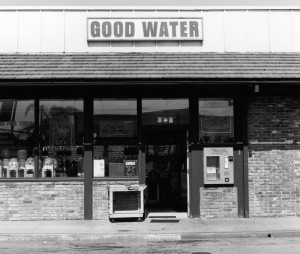 Sant Khalsa: Good Water. Pure Water. Fresh Water. 
BY MACKENZIE LEIGHTON 
Sant Khalsa's Western Waters photography series explores the proliferation of retail water stores in the southwestern and western U.S., and how they've taken advantage of immigrant communities by presenting bottled water as a healthier alternative to their perfectly fine tap water. Her stark black and white images invite the question: If clean water comes at a price, who does it really belong to?
.
..
Yoav Shavit: Women of Refaiya and the Politics of Water in Palestine

BY YAEL HEIBLUM 
In Palestine, access to clean water is not only a physical struggle, but a tangible manifestation of the Israeli-Palestinian conflict. Women of Refaiya gives a window into the daily lives of three girls who must fetch 30 buckets of water each day before they go to school. These girls are not shown as victims but as having agency — as strong and resilient young women with dreams and desires for their lives.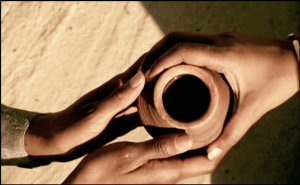 Shalini Kantayya: Who Controls Water Controls Life 
BY VASILIKI EUGENIS  
Filmmaker, eco-activist, and educator Shalini Kantayya blurs sci-fi and documentary to get to the heart of human rights issues. Her short film set in India, A Drop of Life, places women at the center of the global water crisis by showing the faces behind the sobering statistics. The film is a foreboding warning of what the future may hold if we're not careful. In Kantayya's view, the circumstances are dire.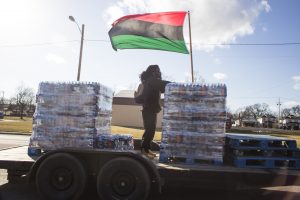 Brittany Greeson: Framing Resilience in the Water Crisis of Flint, Michigan 
BY ALISON REBA
While mainstream media has chosen to focus on the tragedy of the Flint water crisis, Brittany Greeson's photographs present a restorative narrative that highlights the ways residents are proving to be self-sufficient. Her images capture the intimacy of trauma — the seemingly invisible issues, the things we don't immediately think about when we hear an entire community lives with lead-contaminated water.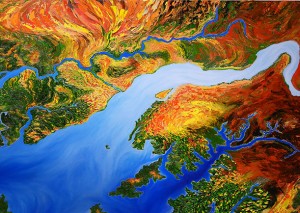 John Sabraw: Extracting Beauty from Toxic Water 
BY RIEL MACKLEM 
Instead of seeing the coal mine pollution of the Ohio River as ugly, environmentalist and artist John Sabraw chooses to see its beauty. Together with fellow Ohio University professor Guy Riefler, Sabraw has figured out how to transform toxic river sludge into paint.  The resulting pigments — a range of yellow, red, brown, and black colors — mirror the toxic runoffs and are incorporated into all of Sabraw's artwork.
.
..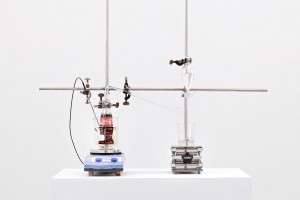 Helmut Smits: Water is the Realist Thing 
BY MARCO MARGARITOFF 
Coca-Cola is made, packaged, and sold all over the world while access to clean water is still not universal. Dutch designer Helmut Smits' The Real Thing — a distillation machine that turns a bottle of the all-too familiar soda into clean drinking water — makes us ponder how misplaced our priorities are as a culture and the absurdity of substituting sugar water for the real thing.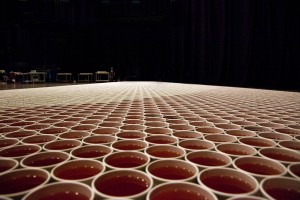 Serge Belo: Why 66,000 Cups of Repurposed Rainwater Matters 

BY KATIE BEETON
In response to the staggering fact that 1.2 billion people globally lack access to drinking water, interdisciplinary artist and modern day avant-gardiste Serge Belo retooled ordinary drinking cups to create 66,000 – A Water Mosaic With A Cause. His large scale mosaic pays tribute to the sacrifices women in Africa and Asia make to fetch water daily, and also underscores water's importance as an essential, life-giving force.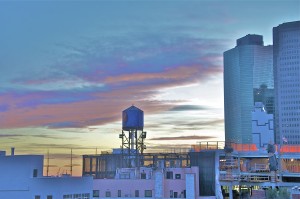 BY AUSTIN GALOOB   
In the summer of 2014, Mary Jordan punctuated the New York skyline with water tanks wrapped in vinyl canvases from well-known and emerging artists for The Water Tank Project. Depicting themes such as the role race and gender play in the global water crisis, Jordan forced New Yorkers to confront their privilege of having some of the cleanest water in the country.
Peggy Choy: Water, Dance and 'Afro-Asian Futurism'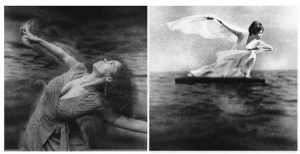 BY VASI EUGENIS 
Stemming from her study of Japanese and Korean dance, Peggy Choy weaves her culture and history into all of her choreography. In RIVER – MOUTH – OCEAN, Choy and fellow dancer Onyze Ozuzu explored the role of water in different societies using what they describe as "Afro-Asian Futurism" — a blending of African and Asian styles and traditions of movement.
IN THE NEWS 
OF NOTE's Water Issue connects arts activism to Restorative Narrative
February 16, 2017 | Water is life. Last year that was the rallying cry for thousands in the U.S. Many looked at what could be done about the water crisis through a political or environmental angle. The 15 students in Grace Aneiza Ali's spring "Artists, Social Change, and the Role of Journalism" class at the Tisch School of the Arts, New York University took another approach: arts activism.