Serge Belo: Why 66,000 Cups of Repurposed Rainwater Matters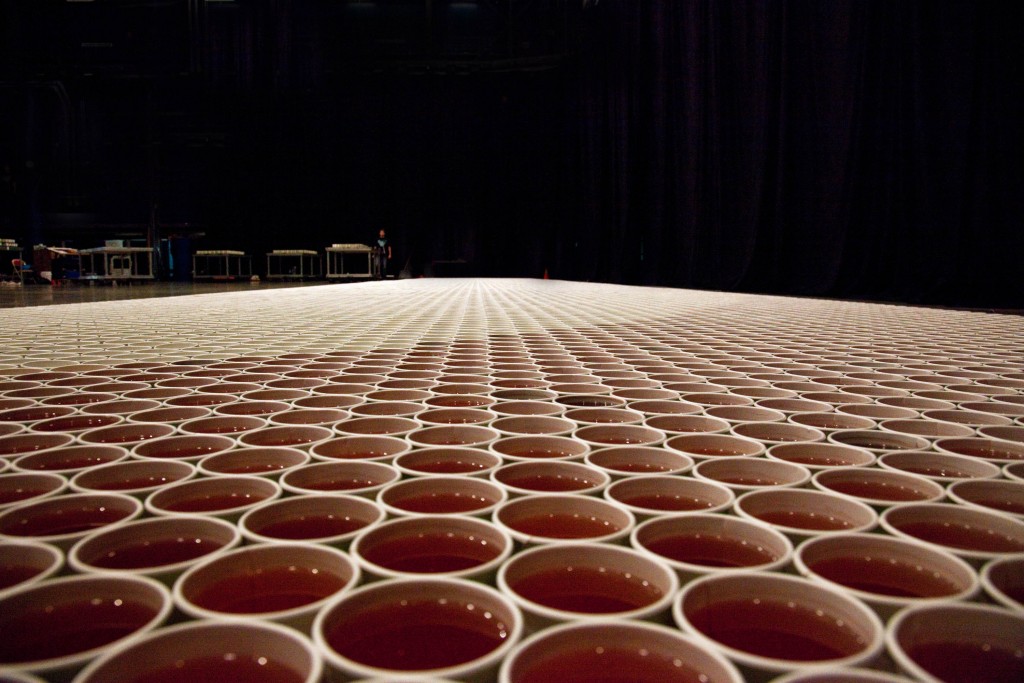 66,000 – A Water Mosaic With A Cause.  © Serge Belo, 2013. Courtesy of the artist and Robert Wagenhoffer. 
Every 20 seconds, a child dies somewhere on the planet because of lack of access to safe water and sanitation.
BY KATIE BEETON| THE WATER ISSUE |SUMMER 2016  
It took 66,000 biodegradable cups, 15,000 liters of water, 3,600 square feet, 1 kilogram of vegetable dye, 100 volunteers and 62 hours of work for Montreal-based artist Serge Belo to create the world's largest water mosaic.
In 2001, Serge Belo, then owner of a horticultural company, experienced the harsh reality of a lack of water when a 36-day drought killed nearly all of his plants and put an end to his dream of living off the land.
Just over a decade later in Montreal, Canada, the interdisciplinary artist finished 66,000 – A Water Mosaic With A Cause. The aesthetically beautiful artwork addresses access to clean water, raising awareness of the global crisis in a way that is personal to his upbringing and creative practice.
Belo's technique is similar to the avant-gardistes in that he repurposes everyday objects in his art. In the case of 66,000 – A Water Mosaic With A Cause, he retooled a simple drinking cup.
With the help of over 100 volunteers, he laid out 66,000 cups of colored rainwater to mimic the appearance of polluted and contaminated water in a drinking cup, creating a large scale mosaic measuring over 5.2 kilometers long. He decided to work in such a labor and time intensive manner to illustrate "the daily struggle [for water] faced by millions."
The construction of the piece also mimics the average distance that women in Africa and Asia walk to collect water each day, which is close to four miles.
"The artistic process was necessary to generate a significant emotional response in people," he says.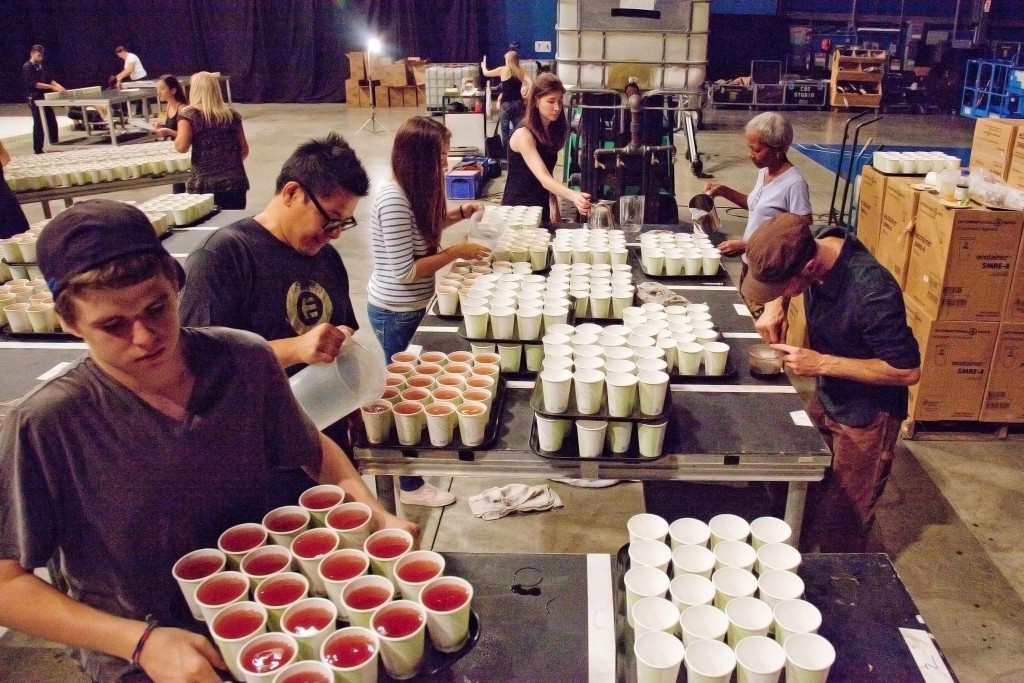 66,000 – A Water Mosaic With A Cause  © Serge Belo, 2013. Courtesy of the artist and Robert Wagenhoffer.

The global water crisis is one of the most pressing issues of the 21st century, with more than 1.2 billion people lacking access to clean drinking water. Every 20 seconds, a child dies somewhere on the planet because of lack of access to safe water and sanitation.
Belo conceived of the project in a café in Montreal. He was sitting, drinking a coffee, when he read this shocking statistic. He instantly became aware that not only could he drink as much coffee as he wanted, but that by the time he had finished the cup, multiple children around the world would have died.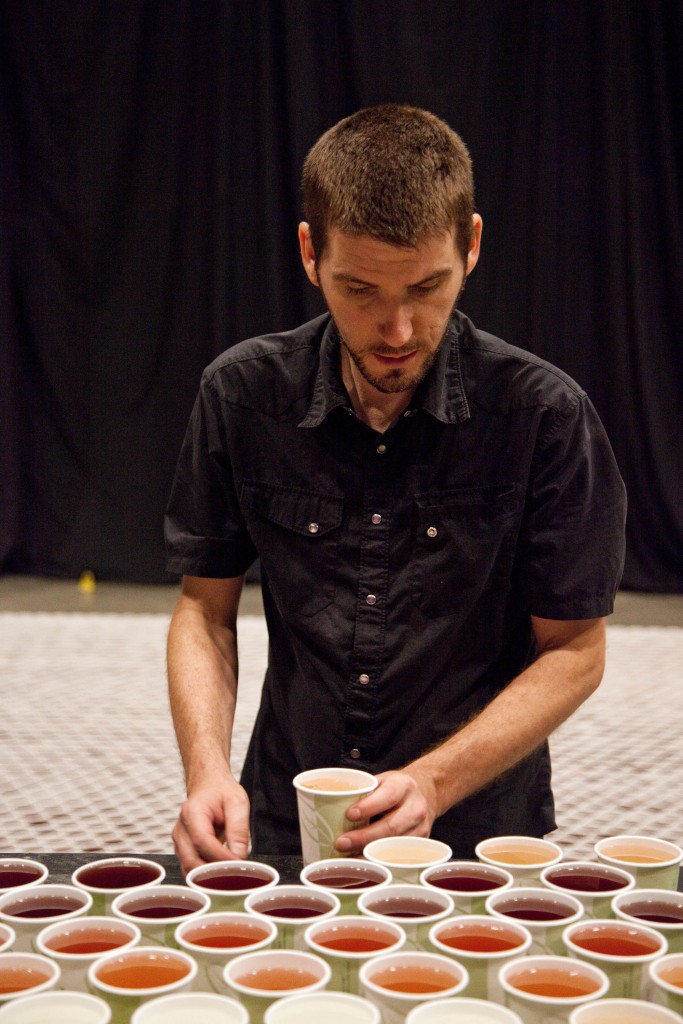 Serge Belo working on 66,000 – A Water Mosaic With A Cause.  © Serge Belo, 2013. Courtesy of the artist and Robert Wagenhoffer.
He put his coffee cup down and immediately contacted ONE DROP. The nonprofit uses art and education to mobilize global communities around water sustainability, as well as provides technical expertise and micro-financing to locals in developing countries. Together, ONE DROP and Belo conceptualized the construction of his idea and how the project would raise public awareness.
Belo is also a painter, and his style is to fuse many separate, miniature pieces of acrylic paint to his canvas to create a whole. The finished work becomes a sum of its parts. He used the same technique in the mosaic: the water and cups served as both material and metaphoric device.
When viewed from above, the finished mosaic represented a baby in the maternal womb, which according to Belo, emphasizes "the necessity of water, even before birth, for each living person . . . it is a powerful image that anyone can relate to."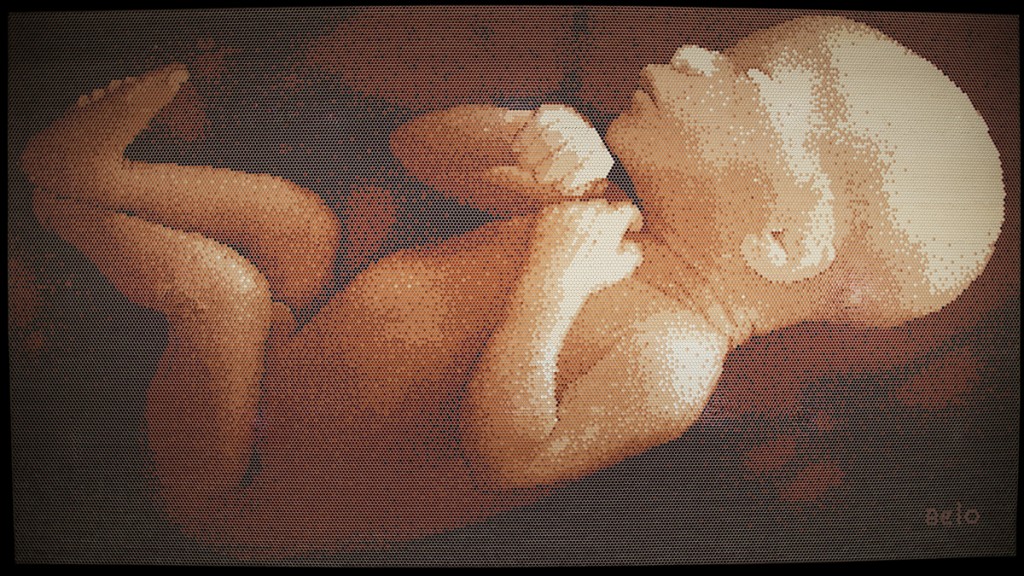 66,000 – A Water Mosaic With A Cause.  © Serge Belo, 2013. Courtesy of the artist and Punchline Films.
While artists such as Helmut Smits are creating work like The Real Thing whose end goal is to get to clean water, Belo's goal is the opposite. He's consequently found himself on the receiving end of criticism by those who were at first not fully aware of the creative and technical process to create such a work.
The irony of his artistic gesture is clear: coloring, and therefore tainting, 15,000 liters of water to simulate levels of impurities found within dirty water in order to bring awareness of the global clean water crisis. However, the water used in the artwork originated from a rainwater recovery system in the building where Belo worked, and was dedicated to its waste system and community garden. The water was already contaminated and unsafe to drink.
"By using this water, we only added a step in the process," he says. "And by having used vegetable dye to color the water, the mixture was neither toxic nor unsafe for plants and animals."
[youtube width="525″ height="444″]https://www.youtube.com/watch?v=WkfA7dpoUMM[/youtube]
The World's Largest Artistic (Rain)Water Mosaic via YouTube and Punchline Films, 2013.
66,000 – A Water Mosaic With A Cause was a pioneering attempt to shed light on the global water crisis. It succeeded. A video of the work created by Punchline Films spread on the Internet, raising awareness of the cause to over 20 million viewers throughout 236 countries.
"I think that we, as artists, have the responsibility to use our talent to reach a wide audience," Belo says.
But its impact didn't end with the symbolic and visual value of the mosaic. A signed print of the work raised money at an auction for ONE DROP and helped fund their active programs taking place that year in Nicaragua, Honduras, El Salvador, Haiti, and India. As for the project's volunteers, all of whom Belo considers collaborators, many became aware of their water consumption and were motivated to change their habits.
Albert Kwan, volunteer and video producer at Punchline Films, says before starting work on the project he was already aware about water consumption, but not of the percentage of people who didn't have access to clean water.
"I realized that I take clean, drinkable water for granted. One habit I changed is that I only turn the water on in the shower to rinse off soap and then shut it off when I don't need it," he says. "I believe it's little steps which, put together, will make the difference in the long term."
Belo's work is undeniably situated within a large and expanding movement among artists that addresses the global water crisis. And like the films of Shalini Kantayya and Yoav Shavit, 66,000 – A Water Mosaic With A Cause forces us to confront its impact on women and children in a way that is as wildly imaginative as much as it is strikingly real.
♦
Katie Beeton is an avid writer and advocate of the arts. Born and raised in England, Katie obtained a first class honours degree from the University of Sussex in B.A History of Art with a Proficiency in Italian. She is a recent graduate of the Masters of Arts Politics program at the Tisch School of the Arts, New York University. Interested in the intersection of contemporary arts and politics across diverse cultures, Katie plans on staying in NYC and continuing to write about and explore the world of art and activism.
OF NOTE Magazine is free to readers, free of advertising, and free of subscriptions—all made possible by generous supporters like you. Your tax-deductible gift will help us continue to feature innovative and emerging global artists using the arts as tools for social change.
OF NOTE Magazine is a fiscally sponsored organization of the New York Foundation for the Arts, a 501 (c) (3), tax-exempt organization. All donations are 100% tax-deductible to the full extent of the law.