Issues OF NOTE
---
The Water Issue
How much is water worth to us? And, to what lengths will we go to get it?
These became guiding questions for our special contributors for The Water Issue. This Spring, OF NOTE magazine embarked on a collaboration with a group of thoughtful and socially-engaged undergraduate and graduate students via Art & Public Policy, the department in the Tisch School of the Arts at New York University rigorously committed to an "activist exploration of the relationship between art and society, and the role of the artist in civic life."
What we unpack in The Water Issue is the work of ten global contemporary artists and activists who share a commitment to spotlighting the lack of access to clean water via artistic practices rooted in photography, painting, sculpture, science and design, film and dance.
While the Flint, Michigan community living with lead-contaminated water weighs heavily on all of our hearts and minds, in this issue we also profile the artists who continue to shine a light on how our water is compromised in equally beloved backyards in New Orleans, Louisiana, New York, Ohio, Wisconsin, and the Southwestern states in the United States. Moved by the critical role of girls and women as arbiters of water to ensure the survival of their families, we also turn our attention to artists focused on the global water crises in communities in Palestine and India.
These artists see their roles as ones that go beyond raising awareness of the crisis to creating work that informs solutions, seeks out narratives of resiliency and innovation, and challenges us to interrogate how as a modern society we've transformed water from sacred to commodity. READ MORE 
---
The Burqa Issue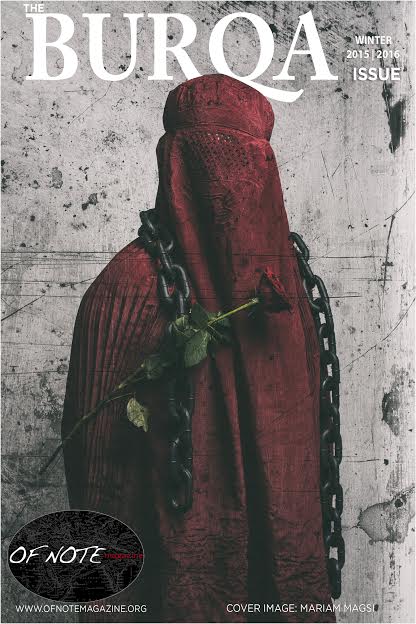 The artists featured in  The Burqa Issue use their creative voice and art practice to examine the complex experiences of the women who actually wear the burqa—by choice or by force. These multi-disciplinary global artists employ the burqa, actual and symbolic, in their photography, documentary film, poetry, graffiti, street art, murals, sculpture and painting, to trouble our perceptions.
While their art questions, provokes, defends, indicts, or unapologetically takes a stance for or against the burqa, it is art that is first and foremost deeply personal, before it is political. Each of these women know intimately, and at times painfully, how the world encounters women donned in burqas because they have worn them or borne witness to stories of the women they love—their mothers, sisters, aunts, matriarchs and friends—who have.
It is this offering of their deeply personal and intimate art that allows us to probe the contradictory and counter the political.
Although none of the artists take on the role of a spokesperson, here in this issue, women speak for women. The team behind The Burqa Issue are all women. They bring to bear roots from Afghanistan, Algeria, Canada, Guyana, India, Iran, Nigeria, Pakistan, Saudi Arabia, United Kingdom, and the United States to elevate the voices of the women who wear the burqa. READ MORE 
---
The Imprisoned Issue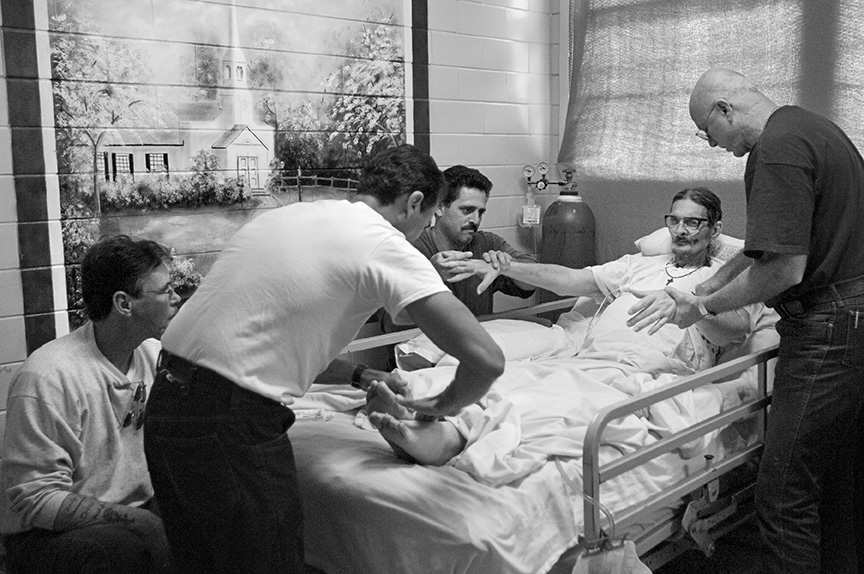 © Lori Waselchuk. "Grace Before Dying." 2011
The Imprisoned Issue features ten Artists OF NOTE whose work collectively take us through a journey of life in prison from birth to death. These artists turn our attention to women, the fastest growing population in prison, and what it means for them to be pregnant, give birth in shackles, and mother from behind prison walls. These artists use their art practice to elevate the voices of young people, too often discounted, who are caught in the school-to-prison pipeline. They allows us, through memoir and poetry, to understand what it means for a child to witness a parent imprisoned. They grant us portraits of hope and redemption of men who are able to rebuild their lives after prison. They also show us what happens when attempts to rebuild fail. And for the growing number of men and women who are sentenced to life, who spend their sunset days behind bars, these artists offer us a compassionate perspective on the aging and dying in prison. READ MORE
---
The Immigrant Issue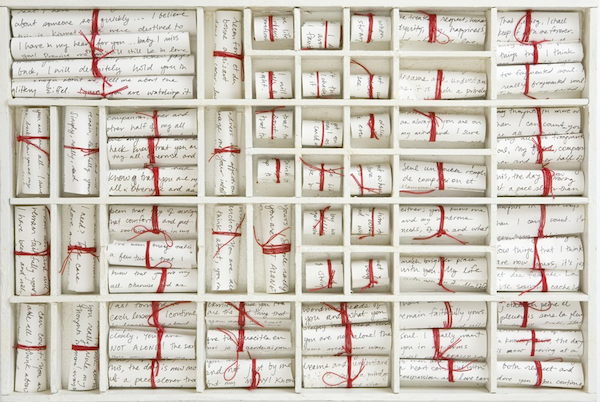 © Swati Khurana. "Love Letters As Necessary Fictions." 2008
Curated in The Immigrant Issue are ten Artists OF NOTE whose work reinforces the notion of the immigrant as artist. Some trouble and redefine the very idea of 'the immigrant.'  Some directly engage with present global immigration debates while avoiding the vitriol those debates are steeped in. Others challenge preconceived notions about the 'other,' the 'foreign,' and the 'outlier.' And some poignantly and apolitically shine a light on the universal themes of departure, arrival, loss, uprootedness, persistence and faith. READ MORE
---

The Girls Issue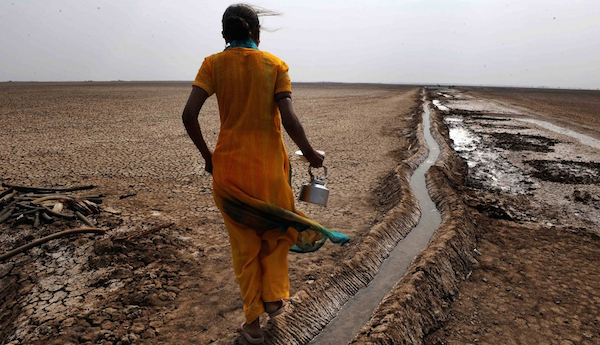 © Nikki Kahn/The Washington Post
The Girls Issue features a collection of artists using their work to bring awareness to the complex experiences girls face around the world. Although the challenges our girls confront daily often seem insurmountable and heartbreaking, the artists and writers in this issue remind us that if there is one continuous thread that connects all of their stories, it is resilience. READ MORE
---
The Guyana Issue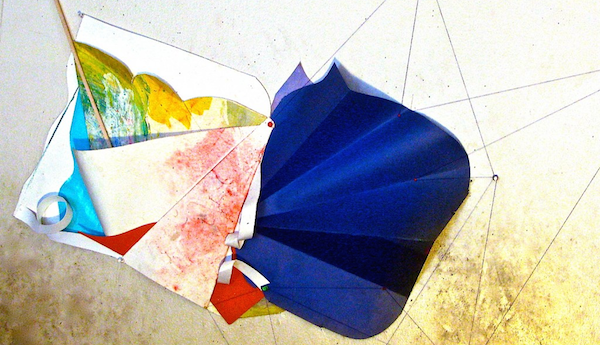 © Carl Hazlewood. "Pretty Angel Baby," 2012
The Guyana Issue confronts the global invisibility of Guyanese artists. According to the nation's latest census, Guyana has a population of over 750,000 and an estimated 2,000,000 citizens living outside its borders. This reveals that almost three times as many Guyanese live overseas than within the nation itself. And yet what the global public often sees of Guyana and its citizens still center on the exotic, the tropical, the colonial, and the touristic. The artists in this issue aim to counter this historic malpractice and seek out innovative and critical perspectives to engage conversations about Guyana and its vast diaspora. READ MORE