John Sabraw: Extracting Beauty from Toxic Water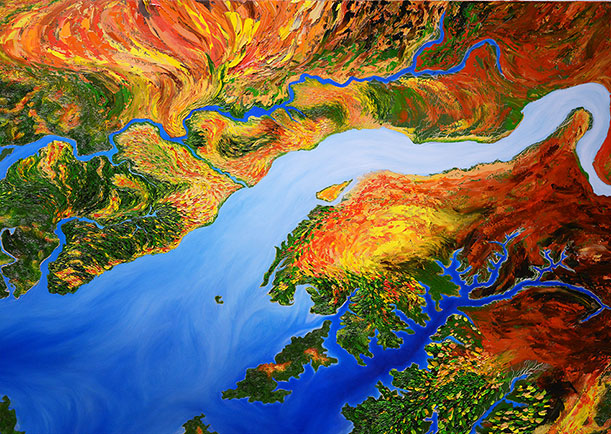 To paint pieces like Bijagos above, artist John Sabraw uses pigments derived from toxic runoff from                      abandoned coal mines. Oil on Canvas 72 x 96 inches, 2013. © John Sabraw. Courtesy of the artist. 
Sabraw creates beautiful works of art from toxic river sludge, but that is not to say that toxic river sludge is beautiful . . .  beauty is found in the removal of pollution, not in pollution itself.
BY RIEL MACKLEM| THE WATER ISSUE | SUMMER 2016  
In order to create something beautiful, one needs to see its potential beauty first. Not all people can, but painter and Ohio University professor John Sabraw is one of those people.
Sabraw uses his art to draw attention to the deleterious effects of coal mine pollution. His interest peaked in 2008, when he went on a trip with the Kanawha Project, a faculty learning community at Ohio University. They toured the Ohio River region where the legacy of the coal-mining industry lives on. Sabraw was stricken by the visible effects of acid mine drainage pollution—the oranges, reds, and browns coated clean streams like expired milk.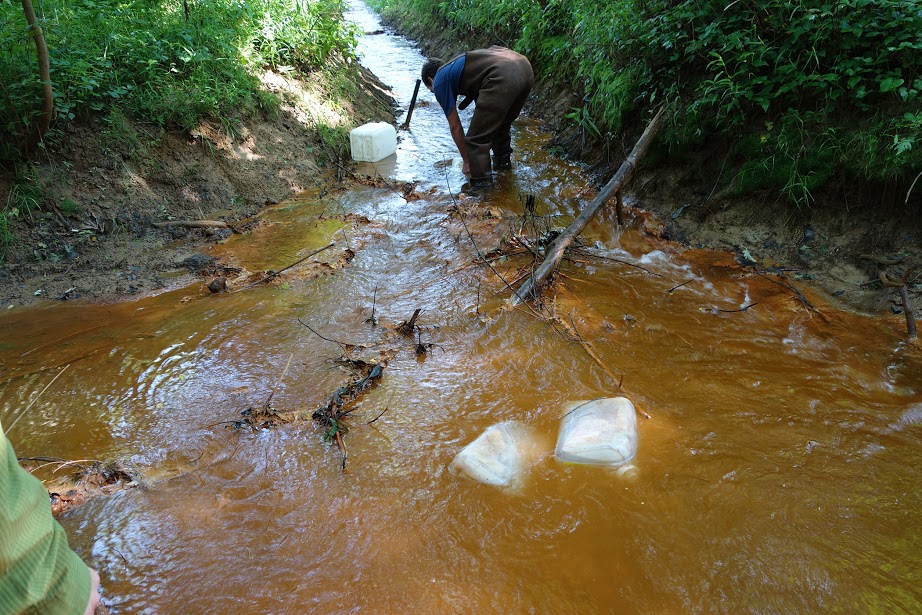 Guy Riefler collecting toxic water from Truetown, Ohio. © John Sabraw. Courtesy of the artist. 
Aquatic life isn't the only thing that's affected by this environmental dilemma. The Ohio River is the source of drinking water for more than 3 million people. For Sabraw, this isn't just an environmental issue or a political issue, but a personal issue as well.
He recalls to me what it was like to go camping as a child, when pollution was less of an issue, or was at least less visible to the human eye. Sabraw was a military kid, so he and his family moved around quite a bit. Family camping trips kept him grounded, at peace.
"You used to be able to go to any stream, and there would be fish in it," he says. "And you had the sensibility that when you came to these places, you were encountering a system. It was a really elaborate and beautiful and impossibly complex encounter. And I think in a lot of ways, it kept you humble."
But then, you take a trip to the Ohio River, where toxic river sludge is pouring into the waters. Conspicuously missing are living things. It is difficult to have that same sort of sensibility, that sense of belonging, when faced with the unsightly evidence of pollution. Suddenly, you neither feel you are a part of this environment nor do you particularly want to be.
That is, unless you're Sabraw. He encountered this startling, unfortunate scene, and instead of shutting his eyes to its ugliness as many might've done, he saw its potential beauty. He had a vision.
Toxic Art from Jacob Koestler on Vimeo.
An environmentalist as well as an artist, Sabraw wanted to figure out a way to make the streams viable again, all the while raising awareness through a less traditional platform—his art. He learned that these polluted waters were colored by iron oxide—the same material used to make paint colors—and wondered if he would be able to source paint from them.
The Kanawha guide informed him that scientist and fellow Ohio University professor Guy Riefler was already devising a plan to turn toxic river sludge into paint pigments. Some time passed, and then in 2010, Riefler reached out to Sabraw. The two have been collaborating ever since.
Together, they've figured out how to transform toxic river sludge into paint. They extract the polluted water, neutralize the pH, and force the iron oxide to settle out. The resulting paint pigments are a range of yellow, red, brown, and black colors, and are incorporated into all of Sabraw's artwork.
Sabraw creates beautiful works of art from toxic river sludge, but that is not to say that toxic river sludge is beautiful. Instead, it is only beautiful when extracted, neutralized, aerated, and turned into paint. Thus, through his art, Sabraw proves a very important point: beauty is found in the removal of pollution, not in pollution itself.
Sabraw's work is rather abstract, especially his Chroma series. That wasn't always the case. He only started to really get into abstraction when he began incorporating activism into his work, and when he, alongside Riefler, started sourcing paint from the Ohio River and devising a massive project to remediate the streams of his home state.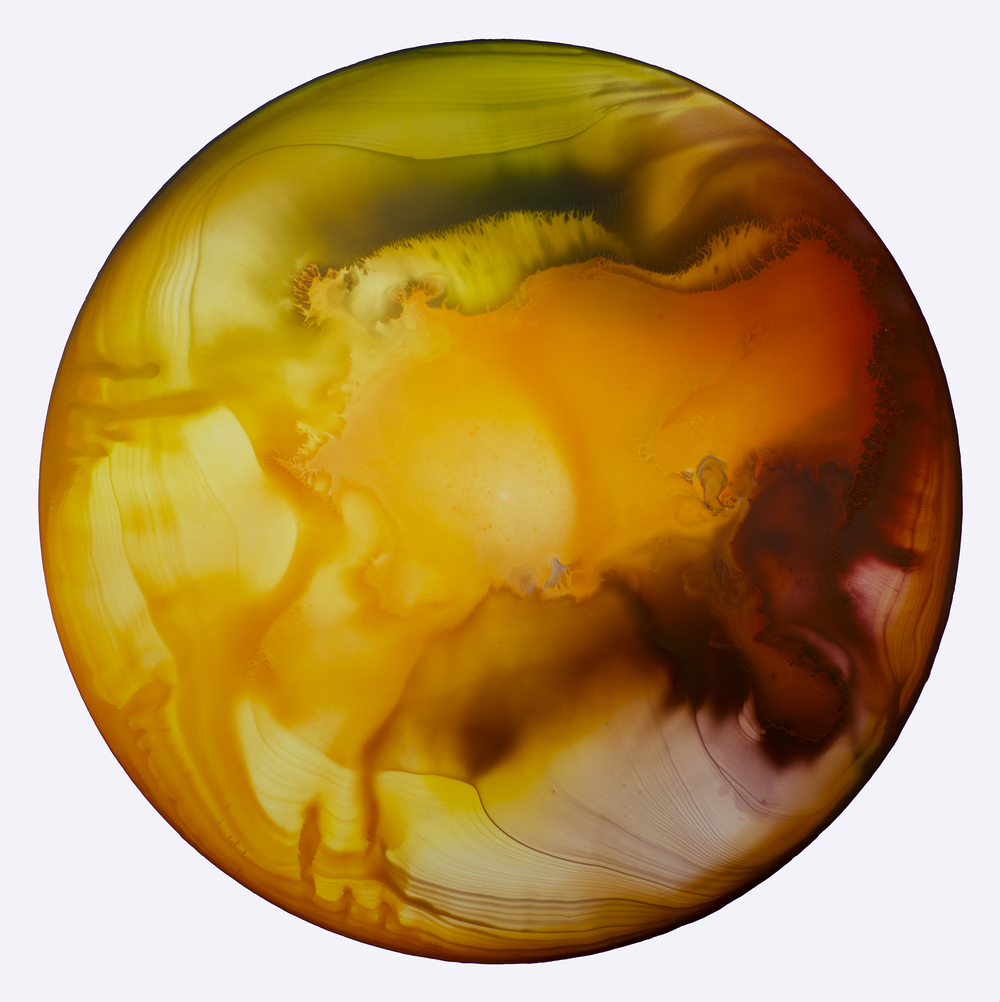 Chroma S1 17 is made from pigments derived from toxic runoff from abandoned coal mines. Mixed media on aluminum composite panel
36 x 36 inches, 2013. © John Sabraw. Courtesy of the artist. 
I ask Sabraw if I am jumping to conclusions by thinking that his move towards abstraction wasn't part of his natural progression as an artist so much as it was a deliberate choice. That is, there are a lot of layers to water pollution and environmental dangers in general that aren't always visible or accessible to us.  And like an abstract work of art, these realities require contemplation, as uncomfortable as contemplation may sometimes be.
"No, I think an artist's job is to create a situation where people jump to conclusions. Because that means people are more likely to talk about the art, to come together and work it out," he says. "What I wanted to do was have a dialogue and that's why I do the abstraction. I wanted to bypass all of these cultural shelves that keep us isolated."
Although Sabraw's activism may not be explicit in his art alone (that is, in the images he creates), it is explicit in the process by which he creates his art, and in the deliberate steps he has taken to address and improve the situation along the Ohio River. Sustainability is of utmost importance to Sabraw, and not something he wants to hide.
"I realized that this grave environmental threat crosses all religious boundaries, political boundaries, racial boundaries, etc.," says Sabraw. "There's nobody on this earth who isn't affected by it."
His focus on sustainability is similar to his use of abstraction in that both are driven by a desire to create conversation and bring people together.  "If every person in America suited up tomorrow morning and said we want 60% of the military budget immediately to be shifted towards renewable energy and environmental cleanup, it would happen," he says.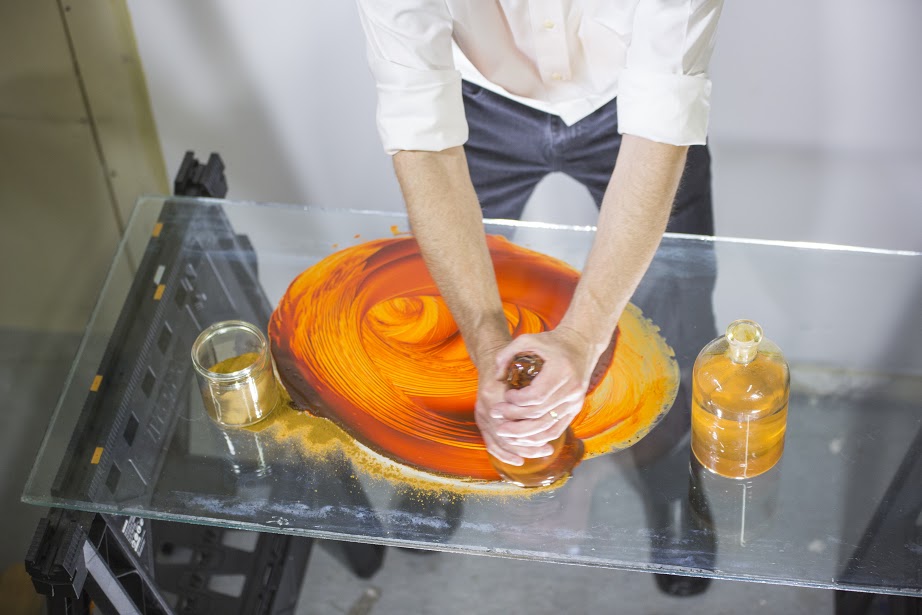 Sabraw in his studio. © John Sabraw. Courtesy of the artist. 
In the meantime, Sabraw and Riefler are currently working to make their paint pigments marketable, and to expand the scale of their project. Sabraw is also in touch with scientists around the world to see if other pollutants may also be turned into paint, in which case he and Riefler will move beyond the Ohio River region and begin to remediate streams elsewhere.
With the help of Gamblin Artists Colors, they also plan to distribute these paint pigments to fellow artists all over the world. The artwork that these artists create will be showcased in a touring exhibition.
"Based on our best estimates, we should be able to create a few jobs and produce a small profit, while eliminating a perpetual pollution source. We are currently securing funding for a pilot facility to demonstrate the process at a field site and to begin producing large quantities of pigment," he says. "Hopefully in another 10 years we will have started a new industry in southeast Ohio that turns pollution into paint while restoring our watersheds."
Sabraw's work as an artist and activist proves a great truth, something that most of us often fail to recognize: Beauty is everywhere. When we come together as one, whether contemplating the meaning of an artwork or considering how to tackle pollution, beauty rises up from under the murky waters.
♦
Riel Macklem is a student from Toronto, Canada and more recently, Los Angeles. She graduated from The Archer School for Girls in 2014, and is now a Sophomore at New York University's Gallatin School for Individualized Study. There, she concentrates in Cinematic and Journalistic Storytelling. A major component of her concentration is exploring where the arts and social justice can intersect and integrate.
OF NOTE Magazine is free to readers, free of advertising, and free of subscriptions—all made possible by generous supporters like you. Your tax-deductible gift will help us continue to feature innovative and emerging global artists using the arts as tools for social change.
OF NOTE Magazine is a fiscally sponsored organization of the New York Foundation for the Arts, a 501 (c) (3), tax-exempt organization. All donations are 100% tax-deductible to the full extent of the law.