Sant Khalsa: Good Water. Pure Water. Fresh Water.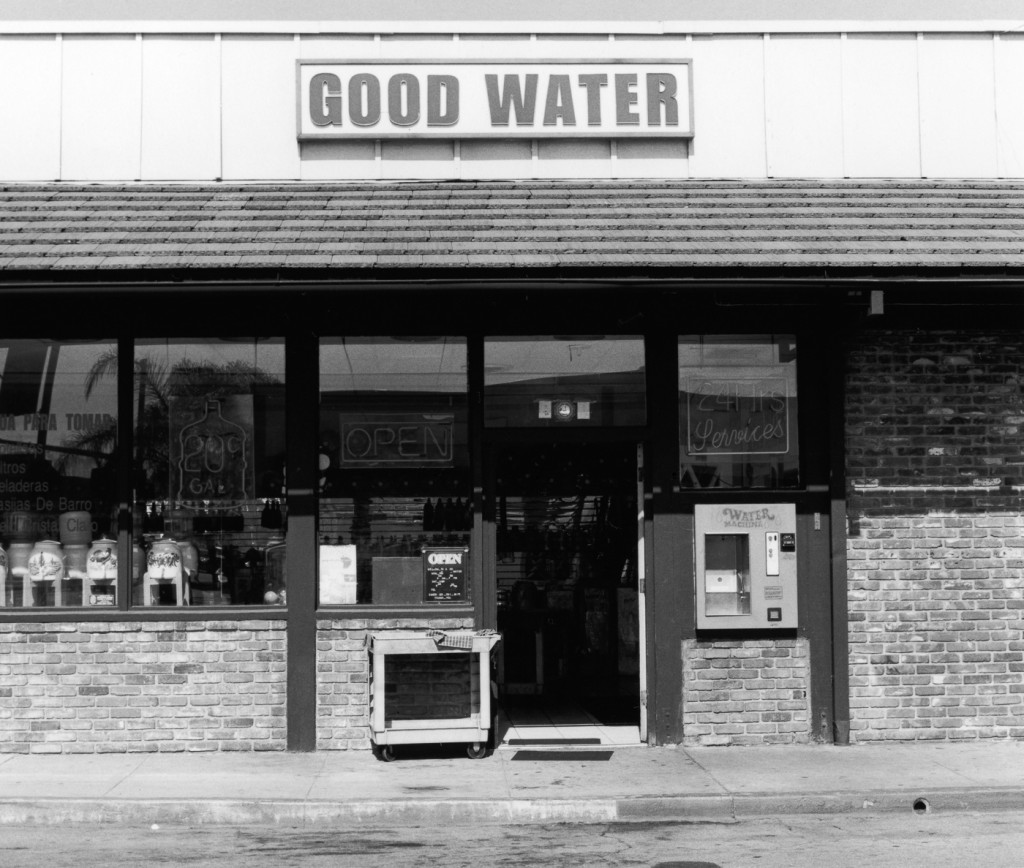 Montebello, California Western Waters. © Sant Khalsa, 2000 – 2002.                                                                                                                          Courtesy of the artist and Kopeikin Gallery, Los Angeles. 
We're always paying for water. It's absurd that water doesn't belong to us.  — Sant Khalsa
BY MACKENZIE LEIGHTON| THE WATER ISSUE |SUMMER 2016  
Good water. Pure water. Fresh water.
The language that appears in Sant Khalsa's Western Waters photographs might sound redundant. Yet, the names of the stores hold my attention more than the images of the storefronts themselves. The need for this language requires a reimagining of water as a privileged commodity.
But what becomes of water when these descriptors—good, pure, fresh—are taken away? Does it become bad and impure?
In parts of the world where people die of waterborne diseases every day, mistrust of water is ubiquitous. In the US, that mistrust has infiltrated into immigrant communities in the Southwest — home to 29% of the total US immigrant population with the majority of people coming from Mexico, Central America, and Asia — where there is a proliferation of these water stores.
  Monterey Park, California Western Waters. © Sant Khalsa, 2000 – 2002. Courtesy of the artist and Kopeikin Gallery, Los Angeles. 
"We're always paying for water," Khalsa says, who is based in Southern California. "It's absurd that water doesn't belong to us."
If clean water comes at a price, who does it really belong to?
Western Waters is an exploration of this question, and more. The series began in 1998 when an art installation in which Khalsa created her own bottled water company led her to the online yellow pages of retail water stores in the southwestern United States. She didn't understand the purpose of these constructed sites. In most places where they were located, there was really nothing wrong with the tap water that people were drinking.
"I was drawn to these places because I thought the whole thing was absurd. I felt in a lot of ways immigrants were being taken advantage of," she says. "Somehow people thought that these were natural sites, that if they went to these places to get their water, they would be closer to nature. And they would be healthier. But this is a business with a brand."
Thus began Khalsa's yearlong project spent photographing over 200 retail water stores in Arizona, New Mexico, Southern California, and Nevada. Sixty final photographs were completed in 2002, and the 2010 installation at the Art Gallery at Azusa Pacific University in Southern California presented them as a geographical mapping of Khalsa's personal pilgrimage.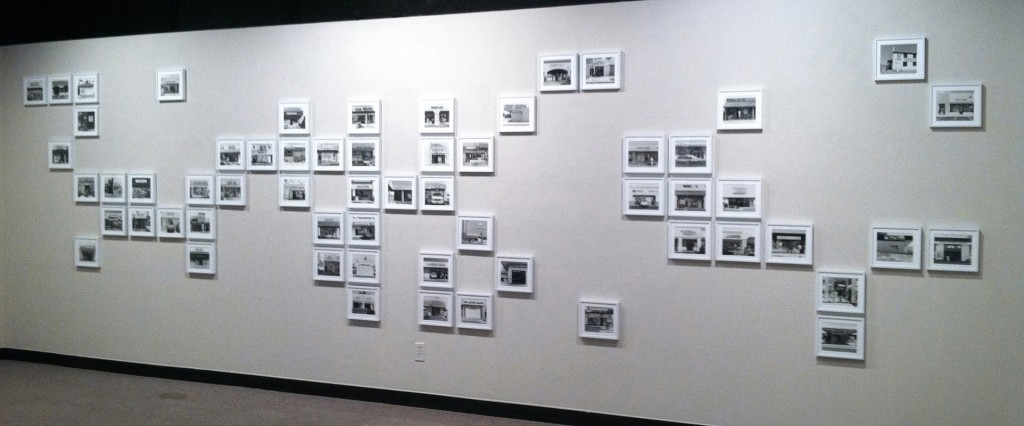 Western Waters installation at ASU Northlight Gallery. © Sant Khalsa, 2012 Courtesy of the artist. 
Khalsa has been exploring her personal engagement with water for over 35 years. Growing up on the Hudson in Riverdale, New York, instilled in her an innate connection. "The water in our bodies is the same water that's in our rivers," she says. "If people thought about that, water quality would be a much bigger issue."
Now as an artist, activist, and educator, Khalsa is one of the founding faculty members of the Water Resources Institute at California State University in San Bernadino where she has been teaching art since 1988. She researches water quality alongside scientists while her photographs render similar questions of water rights and privilege. Her advocacy and art are intertwined. By illuminating these issues through her photographs, Khalsa invites us to question our personal relationship with water.
I was raised in a small town in Maine where clean water was always prioritized because it was directly linked to our economy — ecotourism, outdoor recreation, and the fishing industry have kept water quality directly linked to our quality of life. My summers were always spent in lake, river, and ocean waters without worry of pollution.
If an economy is not directly dependent on clean water, would the quality of the watersheds be overlooked? The transformation of water into a highly profitable resource has overshadowed the necessity of it for personal survival, both creating and contributing to class divisions in the United States and beyond.
With Western Waters, the title not only refers to the geographical location of these photographs, but also western ideas of water and consumerism.
"I hoped that the audience would expect the images in Western Waters to be natural sites such as the Pacific, lakes, streams, and be surprised that they are these constructed sites that appear to represent a natural experience," Khalsa says. "I hoped they would consider how we relate to water as commodity rather than a natural element that is essential for all life."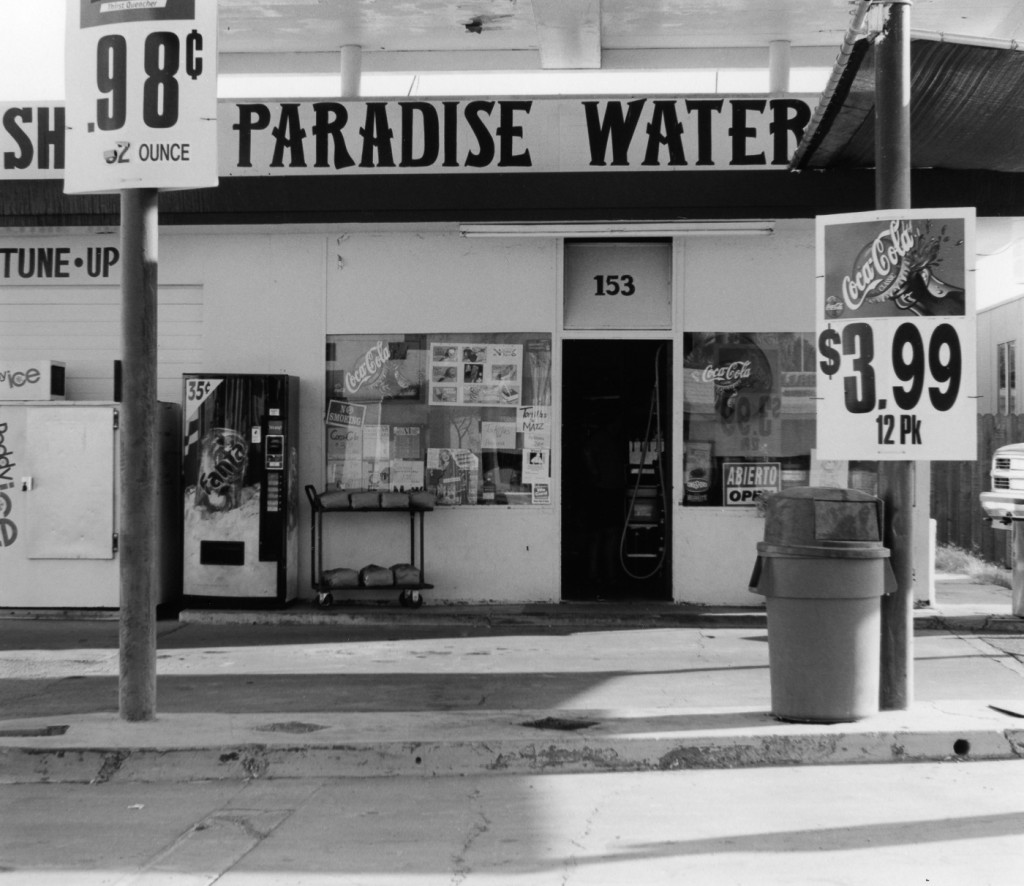 Somerton, Arizona Western Waters. © Sant Khalsa, 2000 – 2002. Courtesy of the artist and Kopeikin Gallery, Los Angeles. 
Khalsa's photographs confront gallery audiences with the value of water in the United States.  We fail to recognize our privileged access to clean water as unlimited. Our personal daily water usage is rarely considered. At restaurant tables we will leave behind our water glasses untouched or nearly full.
For those of us who have never had to worry about where our water is coming from, the homogenous branding of these storefronts acts as a wake-up call. These images have prompted me to refuse the refilling of my water glass at restaurants, to remember my water bottle wherever I go, and to encourage friends to take back the tap.
In most major American cities, our tap water is perfectly clean and accessible. However, bottled water is pervasive. Revenue from the bottled water industry approached $12.3 million in 2013 alone. Water is now an idealized consumer product around the world. A product that can be healing as much as it is harmful.
"Water either sustains life or it kills you, depending on the source and the quality and delivery infrastructure," Khalsa says. "All of a sudden, a disaster like Flint, Michigan happens, and people who haven't trusted their water now believe they have good reason not to trust their water."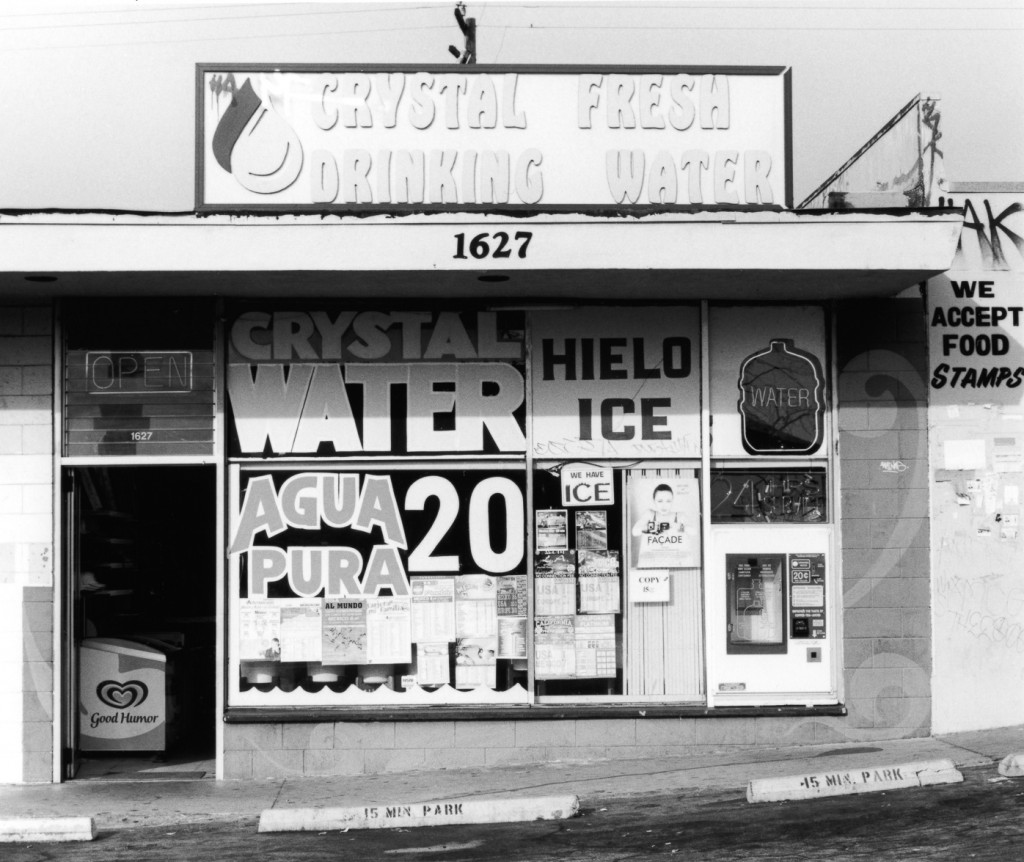 Pomona, California Western Waters. © Sant Khalsa, 2000 – 2002. Courtesy of the artist and Kopeikin Gallery, Los Angeles. 
Whether this mistrust is genuinely contingent on actual contaminated water does not seem to matter anymore. The fear of pollution has become rampant. We live in an age where a natural resource as vital as water could become more valuable, and in turn more costly, than even oil.
In her original artist statement for Western Waters, Khalsa wrote, "These images will serve in the future as a historical document, either registering a fleeting fad or laying the foundation of what will become commonplace in our society."
It has been nearly 16 years since Khalsa took these photographs. It turns out these images are not historical documents after all. Instead, they continue to be timely, reflecting the increasing growth of clean water as an entrepreneurial enterprise.
"Today I saw three water stores driving around that I've never seen before," she says. "They're still popping up."
♦
Mackenzie Leighton grew up in Maine and is currently studying social justice and arts activism at the Gallatin School of Individualized Study at New York University. She is minoring in creative writing and her poetry has been published on Confluence and in The Gallatin Review, winning the 2016 Rubin Prize for Poetry.
OF NOTE Magazine is free to readers, free of advertising, and free of subscriptions—all made possible by generous supporters like you. Your tax-deductible gift will help us continue to feature innovative and emerging global artists using the arts as tools for social change.
OF NOTE Magazine is a fiscally sponsored organization of the New York Foundation for the Arts, a 501 (c) (3), tax-exempt organization. All donations are 100% tax-deductible to the full extent of the law.