Yoav Shavit: 'Women of Refaiya' and the Politics of Water in Palestine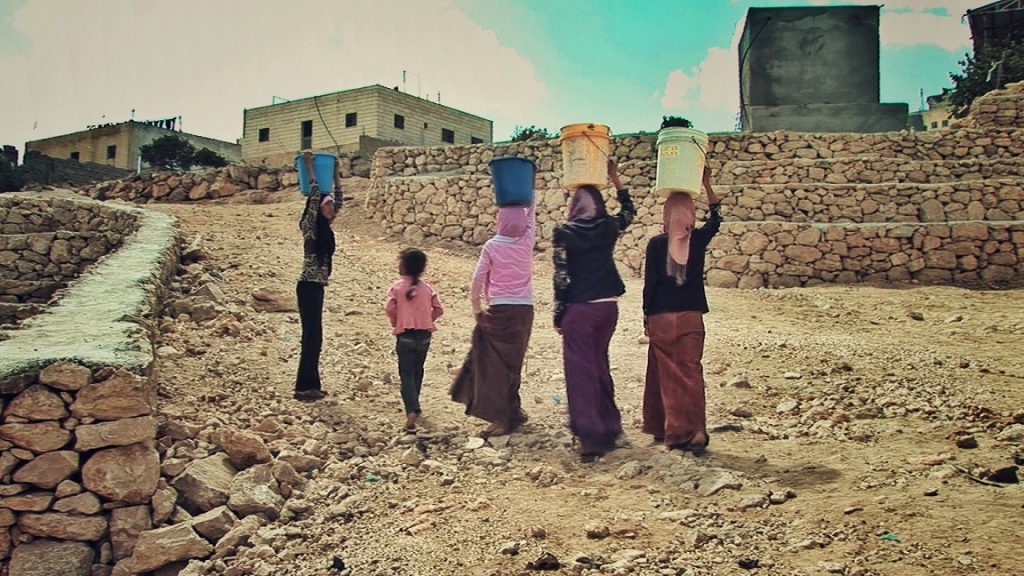 Still from the documentary short film Women of Refaiya. Directed by Yoav Shavit. 
© Water Project – Yoav Shavit, 2012. Courtesy of the artist.  
This story, of not only the El-Amur girls' relationship with water, but countless other Palestinian families, goes widely unheard or is eclipsed by the larger looming Israeli-Palestinian conflict.
BY YAEL HEIBLUM| THE WATER ISSUE | SUMMER 2016  
The three El-Amur girls in Yoav Shavit's 2012 short documentary film Women of Refaiya wake up every morning at dawn. They go back and forth between their home and the spring, "down and up" the hill, to bring 30 buckets of water to their Palestinian village. The walk down the hill takes seven minutes, and the walk uphill — with a full bucket of water on their heads — takes fifteen.
As in many cultures in Africa and India, collecting water in Palestine is specifically women's work. This is both out of necessity and out of a tradition that dates back hundreds of years in Palestinian culture where women are the arbiters of water.
Samah, Ayat, and Sumaya El-Amur's entire existence has been dictated by water beginning from when they were seven years old. They must do the dishes, feed the cow, heat the water for a shower, and get enough buckets for the day — all before going to school at 7:45 am. The health and wellbeing of their family rest in their hands.
Women of Refaiya does not exoticize or traumatize the story of these girls, but gives a thirteen-minute window into their daily lives. This story, of not only the El-Amur girls' relationship with water, but countless other Palestinian families, goes widely unheard or is eclipsed by the larger looming Israeli-Palestinian conflict. In Palestine, access to clean water is not only a physical struggle, but also a very tangible manifestation of a political and social conflict.
Israel controls the main sources of fresh water in Palestine. Any water that does get to the Palestinians through the pipes is mostly unsafe to use and drink due to high levels of pollution. (In 2015, 96% of the available water in Gaza was unsafe to drink.)
"We as artists have the responsibility to be loyal to reality, and to the time and place where things happen. Art is always political, and I have to speak about a specific conflict [that still represents] the socioeconomic reality where these girls live," says Shavit, who is Israeli and lives in Berlin.
Seeing the story of the El-Amur girls in Women of Refaiya was not the first time I had heard of the water crises in Palestinian territories. However, it was the first time I heard it from an Israeli point of view. I am Jewish myself, with a Mexican-Polish father and Peruvian-Turkish mother. Growing up with Israeli family members and friends, I had never been exposed to an alternative view of the conflict until college when I moved in with one of my closest friends whose mother is Palestinian.
I was shocked to see the response of some of my Israeli friends and family when I asked them about the Palestinians' situation. Their response was to deem the Palestinians as "terrorists" and declare that we needed to keep our people safe.
[KGVID align="center"]http://ofnotemagazine.org/wp-content/uploads/2016/05/Women-of-Refaiyah-Clip-Uphill.mp4[/KGVID]
 Clip from
Women of Refaiya
.
© Water Project – Yoav Shavit, 2012
.
Courtesy of artist.  
It is this kind of mistrust, misunderstanding, and division that fueled a film like Women of Refaiya, which was commissioned as part of a larger film initiative, the Water Project. Using water as an indirect way of speaking about the larger conflict, the project's goal was to bring light to this issue by bringing together Israeli film students from Tel Aviv University with Palestinian filmmakers who wouldn't otherwise have the ability to collaborate.
"The lack of information is very dangerous, for if you do not know what is really happening, there is no way to identify with reality. Israelis think Palestinians are terrorists and vice versa," says Yael Perlov, Producer and Artistic Director of the Water Project. "But to see them together and find a common language [through film], you see how [communication] can suddenly be very easy."
The project lasted twelve months, and resulted in a series of nine evocative fiction and nonfiction films capturing a range of experiences — from the daily life of a water truck driver in the West Bank to two Israeli couples sharing a cool water spring with a group of Palestinians working in Israel to an Arab woman who cleans a wealthy home with a swimming pool.
Like Shavit's Women of Refaiya, the activism of the overall project was in the filmmaking process itself. It was in the exchange among students, filmmakers, and the communities they were working in, rather than in the final outcome, which proved to be a mixture of both success and complication.
Women of Refaiya screened at several festivals throughout the world in 2012 and 2013 and was met with audiences who felt connected to the narrative and understood how difficult it was to get the story in the first place. However, other than at the University of Tel Aviv, the project was not screened in other places in Israel because Israeli TV stations wanted to screen only the Israeli films from the Water Project, not the Palestinian ones.
According to Shavit and Perlov, the screening of the films would have only attracted a sympathetic Israeli audience who believes something needs to change. Yet for change to occur, it is the people who are not sympathetic that need to see films such as these. In Palestine, they were not able to screen any of the project's films.
Getting access to this kind of story of the El-Amur girls, due to cultural and political limitations, is unheard of — even crossing checkpoints back and forth from the West Bank is illegal. Yet as Shavit shared with our class, "Artists, Social Change, and the Role of Journalism," at New York University during a visit this spring, he and his crew were able to cross at a commercial checkpoint where several Israeli settlements are found. He visited the village a total of six times, one for research and five for shooting.
Capturing the family's daily life, therefore, hinged upon crossings: a crossing of cultures, as it is an Israeli who takes on the task to tell the story from a Palestinian perspective and a crossing of genders, as it is the story of women from a man's perspective.
While Women of Refaiya, consistently focuses, frame by frame, on the fact that the burdensome responsibility of collecting heavy buckets of water every day falls on the girls, the film deliberately does not engage the policy issues around the lack of access to water, unequal distribution amongst Palestinians and Israelis, or the role of both sides of government in this water crisis.
Instead, it is solely a reflection of the girls' day-to-day, and the prejudice that continues to exist towards them both as Palestinians and as women.
Yet Women of Refaiya doesn't paint the El-Amur girls as victims. Quite the contrary, these girls are shown as having agency — as strong and resilient young women with dreams and desires for their lives, and with their own voice.
For example, we learn from 14-year-old Ayat that she loves to paint, write, and listen to songs in English and Arabic. From 16-year-old Samah we learn that she loves to dance. "I can't tell their story like they can," Shavit says.
Placing women as the central focus of the film was a conscious decision on behalf of Shavit, who believes women's and girls' voices must be heard more. This also translated into his decision to have a woman as a prominent part of his film crew throughout the filming.
"I'm thrilled to document and work with women because their stories are rarely told and therefore more relevant and powerful," he says. "I can only hope that the world is headed in that direction of progress."
 ♦
Yael Heiblum was born in Miami and raised in Mexico City by a Mexican-Polish father and a Peruvian-Turkish mother. She graduated cum laude from New York University's Gallatin School of Individualized Study, bringing together philosophy, cultural anthropology, and human rights through writing and photography. She is a recipient of the Maria Elena's Scholarship from the National Association of Hispanic Journalists, and seeks to break cultural boundaries to foster a greater sense of human dignity by giving a voice to unheard stories.
OF NOTE Magazine is free to readers, free of advertising, and free of subscriptions—all made possible by generous supporters like you. Your tax-deductible gift will help us continue to feature innovative and emerging global artists using the arts as tools for social change.
OF NOTE Magazine is a fiscally sponsored organization of the New York Foundation for the Arts, a 501 (c) (3), tax-exempt organization. All donations are 100% tax-deductible to the full extent of the law.