Peggy Choy: Water, Dance, and 'Afro-Asian Futurism'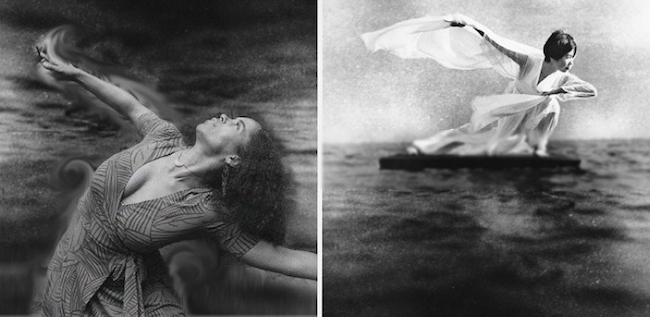 Dancers/Choreographers Onye Ozuzu (left) and Peggy Choy (right) from RIVER – MOUTH – OCEAN.  
© Onye Ozuzu and Peggy Choy, 2014. Courtesy of the artists.
We can't easily separate ourselves from the havoc we're creating for the world in terms of water problems. — Peggy Choy
BY VASILIKI EUGENIS| THE WATER ISSUE | SUMMER 2016  
In "Wild Rice," the opening dance of RIVER – MOUTH – OCEAN: Explorations in Afro-Asian Futurism (2014), dancer and choreographer Peggy Choy illustrates a dire threat to bodies of water in Wisconsin.
Wild rice has been growing along the Bad River, which flows into Lake Superior, for centuries. The wild rice, along with the water from the river, are sacred to the Native American community and cultural life in the area. The Chippewa Indians have been living there since the 17th century and depend on the natural resources around the Bad River Reservation. Known to the Chippewa as the "food that grows on water," the wild rice has become at risk because of a controversial open-pit iron Gogebic mining project that threatens to contaminate the river. (The mining project was later abandoned in 2015.)
Wearing a long, flowing yellow skirt and using a white scarf as a symbol of the river, Choy uses a range of slow and controlled movements to tell the story of this threat to the wild rice and to the community that thrives around it. Her body moves to a recording of a poem by Ruth Margraff and music by G.W. Rodriguez. Combined, these three artistic mediums — dance, poetry, and music — reflect the sobering effect of the river's contamination.
[youtube width="525″ height="444″]https://www.youtube.com/watch?v=y70-jgPXyXI[/youtube]
     Dancers/Choreographer Peggy Choy performing "Wild Rice" from RIVER – MOUTH – OCEAN.  

Choy was constantly reminded of the importance of respecting water while growing up in Hawaii — a culture where a light rainfall is seen as a blessing from the Gods. She would also frequently walk by a fountain near her home with these words engraved: "Plenty of water for every youth, but not to waste."
Years later, she still carries this quote with her and uses her art to portray the care with which we must treat water. For Choy, water is a complex symbol of justice and identity.
RIVER – MOUTH – OCEAN: Explorations in Afro-Asian Futurism is a series of dance pieces created by Choy, and fellow choreographer, performing artist, and Interim Dean of Columbia College Chicago's Dance Center, Onye Ozuzu. It explores, with complexity and depth, how water relates to human potential and waste. It was performed in 2014 at Links Hall in Chicago, Illinois.
In my interview with Choy, she spoke of the intentional placement of the word "MOUTH" between "RIVER" and "OCEAN."
"The title not only creates an image, but shows how we as humans are tangled up in our water crises," Choy says. "We can't easily separate ourselves from the havoc we're creating for the world in terms of water problems."
Stemming from her study of Japanese and Korean dance, Chinese martial arts, and Capoeira, Choy weaves her culture and history into all of her choreography. Together, she and Ozuzu, whose foundation is in African dance, explored the role of water in different societies using what they described as "Afro-Asian Futurism" — a blending of African and Asian styles and traditions of movement.
[vimeo width="500″ height="400″]https://vimeo.com/108238519[/vimeo]
     Dancers/Choreographers Onye Ozuzu and Peggy Choy talk about their collaboration in RIVER – MOUTH – OCEAN.  

Marrying these different nationalities and backgrounds through dance, the two cultivated a unique, intersectional style. For example, the solo piece "Ocean Woman," choreographed by Choy, innovatively uses Asian-inspired movements to portray Afro-Caribbean myths honoring female spirits of the ocean.
"By respecting all people and what they have to offer in dance and culture, you can discover a lot of points of intersectionality," Choy says. "Sometimes it's difficult because the media wants to keep us at war, but by digging deep we can find a unity — spiritually, scientifically, and physically. We can find hope for the future in our intersections."
Choy has been choreographing since the 1990s and continually aspires to create change by exploring global issues and ideas through movement. Over time, her style has evolved and her pieces have delved into issues dealing with race, sex, the environment, and other pressing political and historical topics.
RIVER – MOUTH – OCEAN: Explorations in Afro-Asian Futurism poignantly highlights the urgency of the threat to our water, globally, by presenting it as a matter of survival.
"Here I am in a world that is in crisis and I have to be good and use dance as a vehicle for working towards change and transformation," Choy says. "Not everyone is going to see the effect of my dance in the same way but I believe that it can trigger a consciousness that can change our reality."
♦
Vasiliki Eugenis is a sophomore in the Gallatin School of Individualized Study at New York University studying the effects of art on people and communities. Growing up in New York, Vasi was constantly aware of the injustices around her and developed a drive to do something about it. She hopes to one day use the arts to raise awareness and tackle social issues.
OF NOTE Magazine is free to readers, free of advertising, and free of subscriptions—all made possible by generous supporters like you. Your tax-deductible gift will help us continue to feature innovative and emerging global artists using the arts as tools for social change.
OF NOTE Magazine is a fiscally sponsored organization of the New York Foundation for the Arts, a 501 (c) (3), tax-exempt organization. All donations are 100% tax-deductible to the full extent of the law.