Shamsia Hassani: Beauty and the Burqa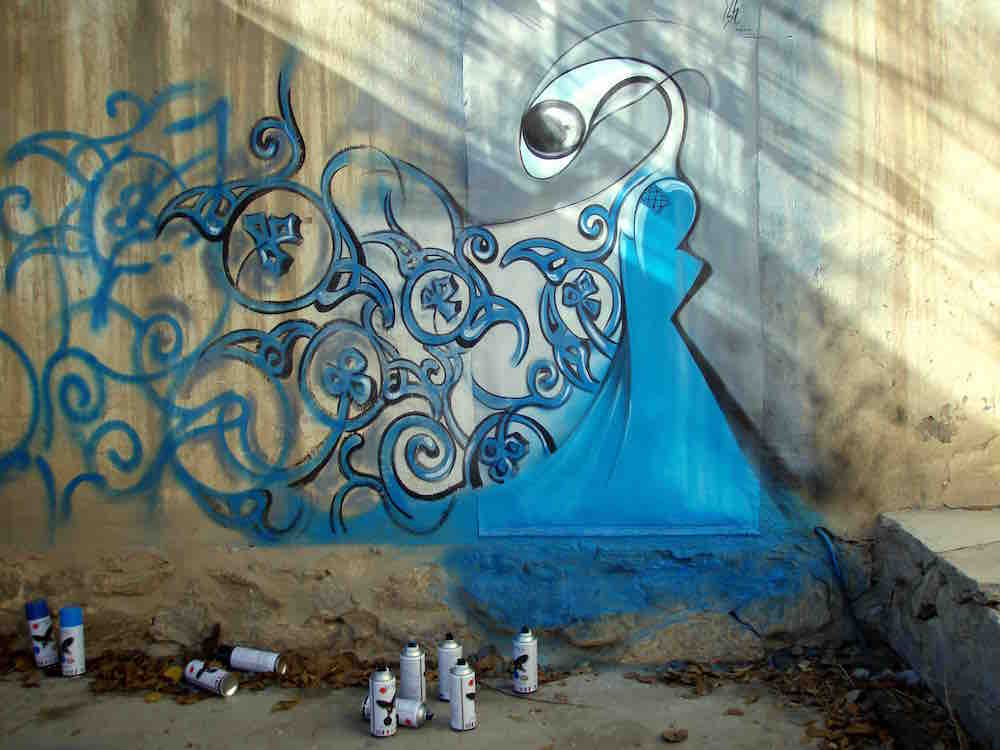 © Shamsia Hassani, 2012. Courtesy of the artist. 
People think that women in burqas are [powerless] and uneducated, without ideas of their own. I want to [create] new meaning for the burqa. — Shamsia Hassani
BY RAJUL PUNJABI | THE BURQA ISSUE | WINTER 2015|2016
---
Related stories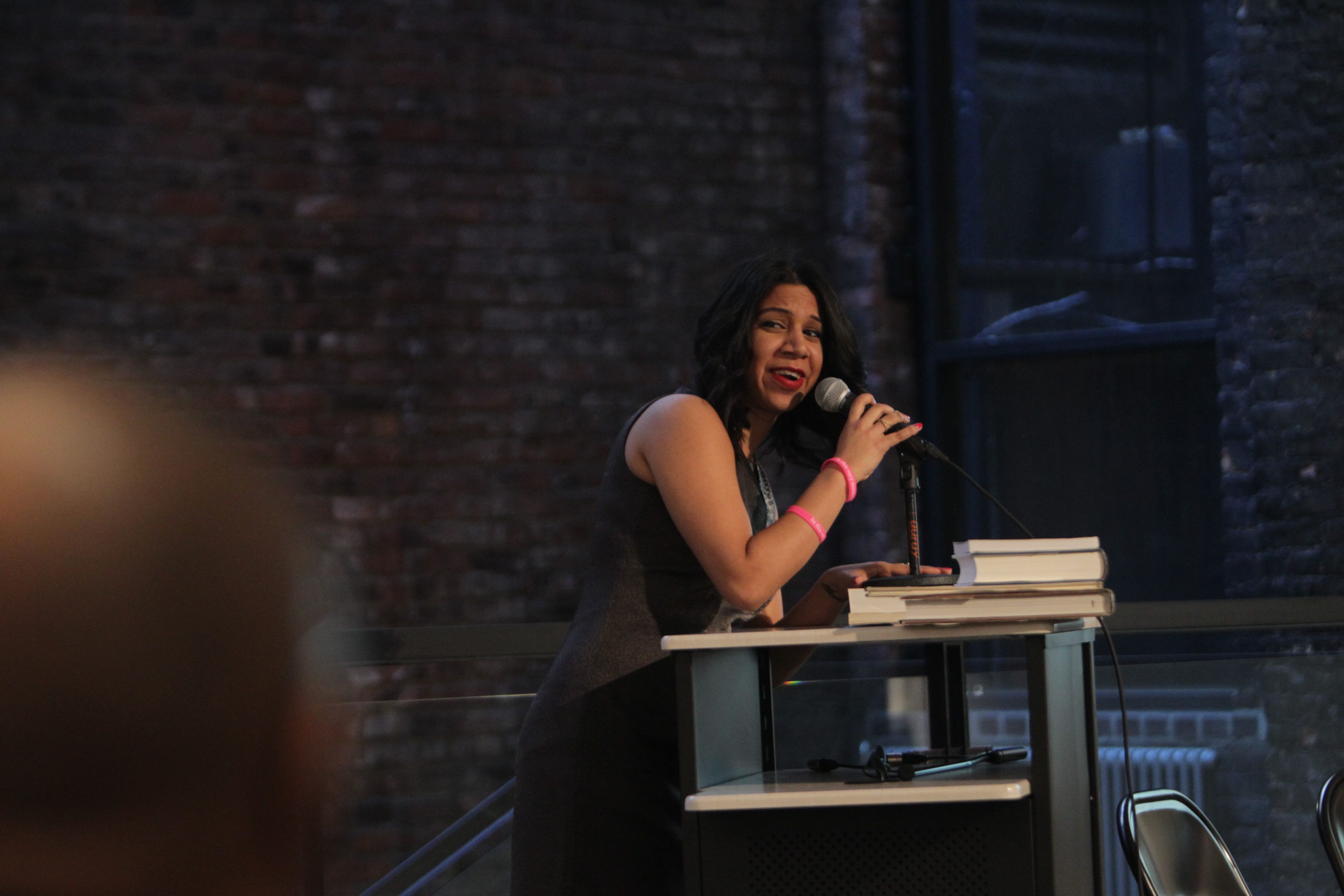 Art of Burqa event in NYC (March 6, 2016) — Flickr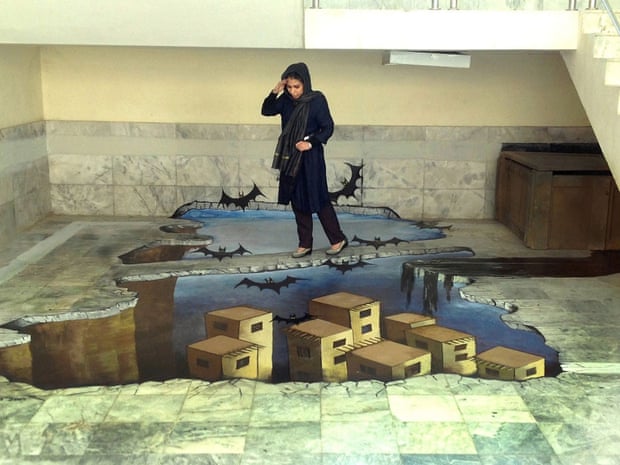 Shamsia Hassani: 'I want to colour over the bad memories of war' — The Guardian
Shamsia Hassani, a prolific graffiti artist and associate professor of Fine Arts at Kabul University in Afghanistan, asserts that her art is not political. At least, not on purpose.
But everything from her medium and her canvas to her recurring motifs—freedom of expression and the burqa—evoke a quest for liberation. And they do not whisper or ask. They demand. Hassani is unassuming but fierce in her own right; a revolutionary with a can of spray paint and the cracked walls in an ancient city as her canvas.
"People think that women in burqas are [powerless] and uneducated, without ideas of their own," says Hassani. "They think it is a limitation. I want to [create] new meaning for the burqa. The regular shape is sad, tired and boring. I have changed the shape [in my art]. There are sharp shoulders with movement and size."
The artist's message is provocative—she paints images of women in burqas in large public spaces when the burqa is known for preserving a woman's privacy. There is an undeniable sense of boldness and exposure in the work. Her large scale paintings, rife with vibrant color and textures, reinforce the idea that a woman can maintain her privacy without being invisible. While her body is covered, it can still exist in a powerful way.
Hassani began doing graffiti in 2010 when a visiting British graffiti artist, Chu, held a small workshop in Kabul. There were three women in the group and the practice stuck for her. "I want to change people's minds with my art," she says. "When I put my art in the street, a lot of people will see it. Maybe only two will get something from it. And those two people can change something."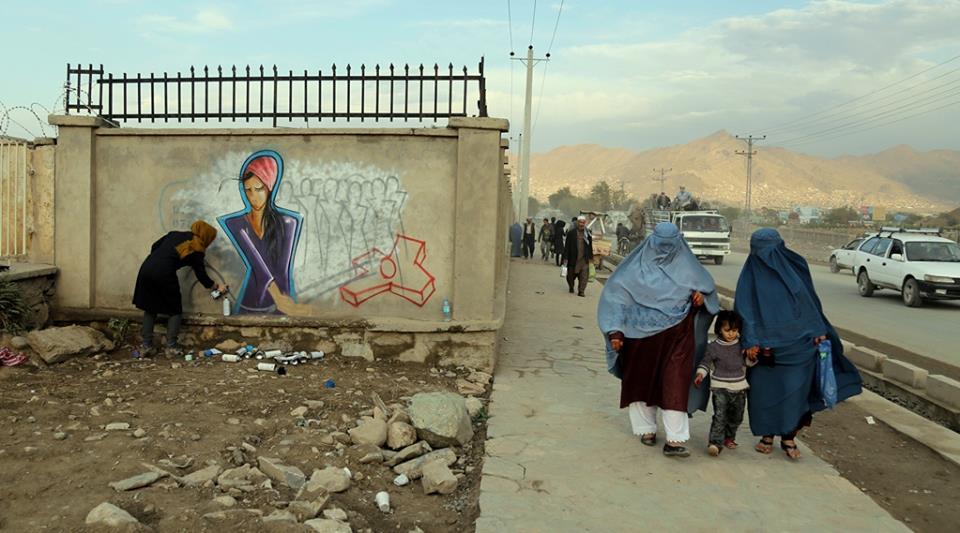 Women in burqas walk by as Shamsia Hassani works on a new painting, Secret, located near Darul Aman Palace in Kabul, Afghanistan.
© Masoud Popalzai, 2014.  Courtesy of the artist.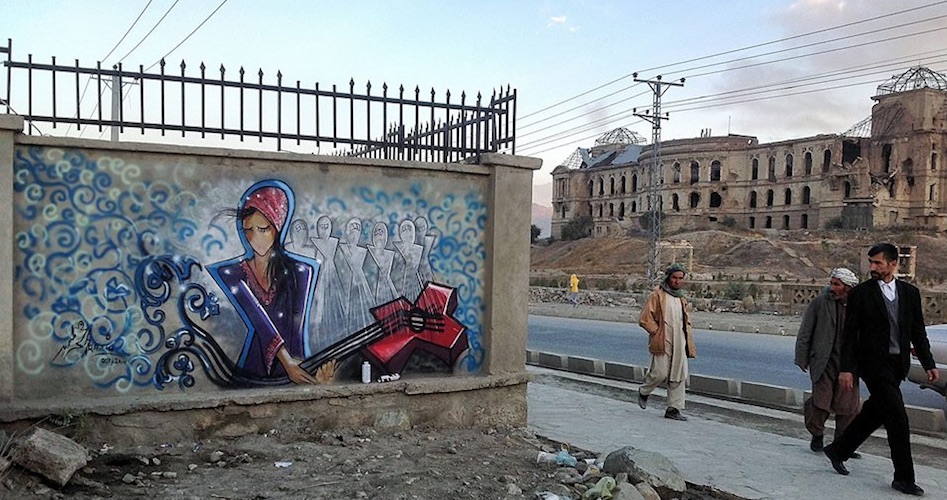 Passersby take in Hassani's finished painting, which features burqa-clad figures in white. Courtesy of the artist.
While graffiti is not illegal in Afghanistan, Hassani says some of her favorite work has gone unfinished because she's had to abandon a street for her own safety.  Sometimes it's political warfare that makes the streets unsafe. Other times, it's for simply being a woman creating art in a public space that puts her in danger. On several occasions people have verbally abused her and attempted to stop her from working.
But when she has a vision, she executes it. Recently, her family discouraged her from tagging a certain location because a bomb had gone off nearby. It wasn't safe for her to linger there, so she took a picture of the wall, printed a large image of it and used the image as her canvas. Working with acrylics and a paintbrush, she created what would later become the collection, "Dreaming Graffiti." Work from this collection and ones like it are more accessible and transportable since they do not adorn city walls. These images have brought her day-to-day existence in Kabul to exhibitions in the United Kingdom, Germany, Australia, India, Switzerland, and Vietnam, among others.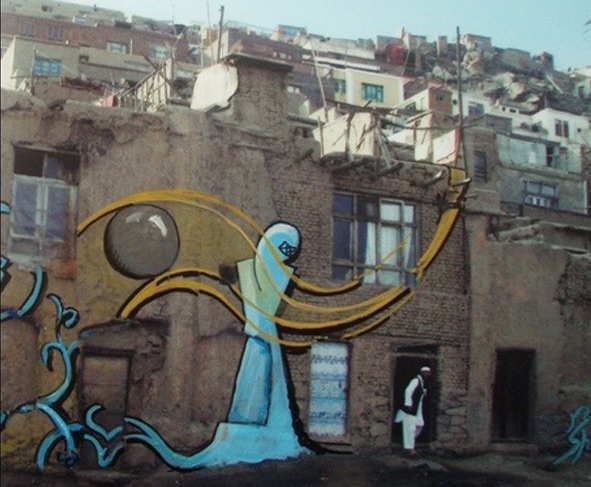 Painted images from the "Dreaming Graffiti" collection. © Shamsia Hassani, 2012. Courtesy of the artist.
The woman in many of her pieces seems to be an avatar of Hassani herself. "The woman in [much of] my work is like a character in a film. She is the main character of my movie," she says. Her "main character" dons a burqa sometimes and not others. She is somber in her reflection of her surroundings in some pieces and celebrates the vivid beauty of her culture, heritage and city in others.
Hassani does not wear a burqa on a day to day basis (Kabul is a more progressive city). However, when family visits from the more conservative city of Kandahar, she will wear a burqa to take pictures with them. She explains that some Afghani women feel more comfortable in the burqa and are able to accomplish more. "People cannot see [the women] when they wear a burqa, but the women can see everybody." While the burqa is often seen as oppressive, "It is not a cage, like people think it is," she says.
In her work as a whole, Hassani strives to reveal the woman under the burqa. She believes that freedom is not necessarily to shed the burqa, because if a woman takes it off she would still have problems with inequality. But for this artist, to graffiti the burqa on the walls of Kabul is to raise inquiry about what liberation means.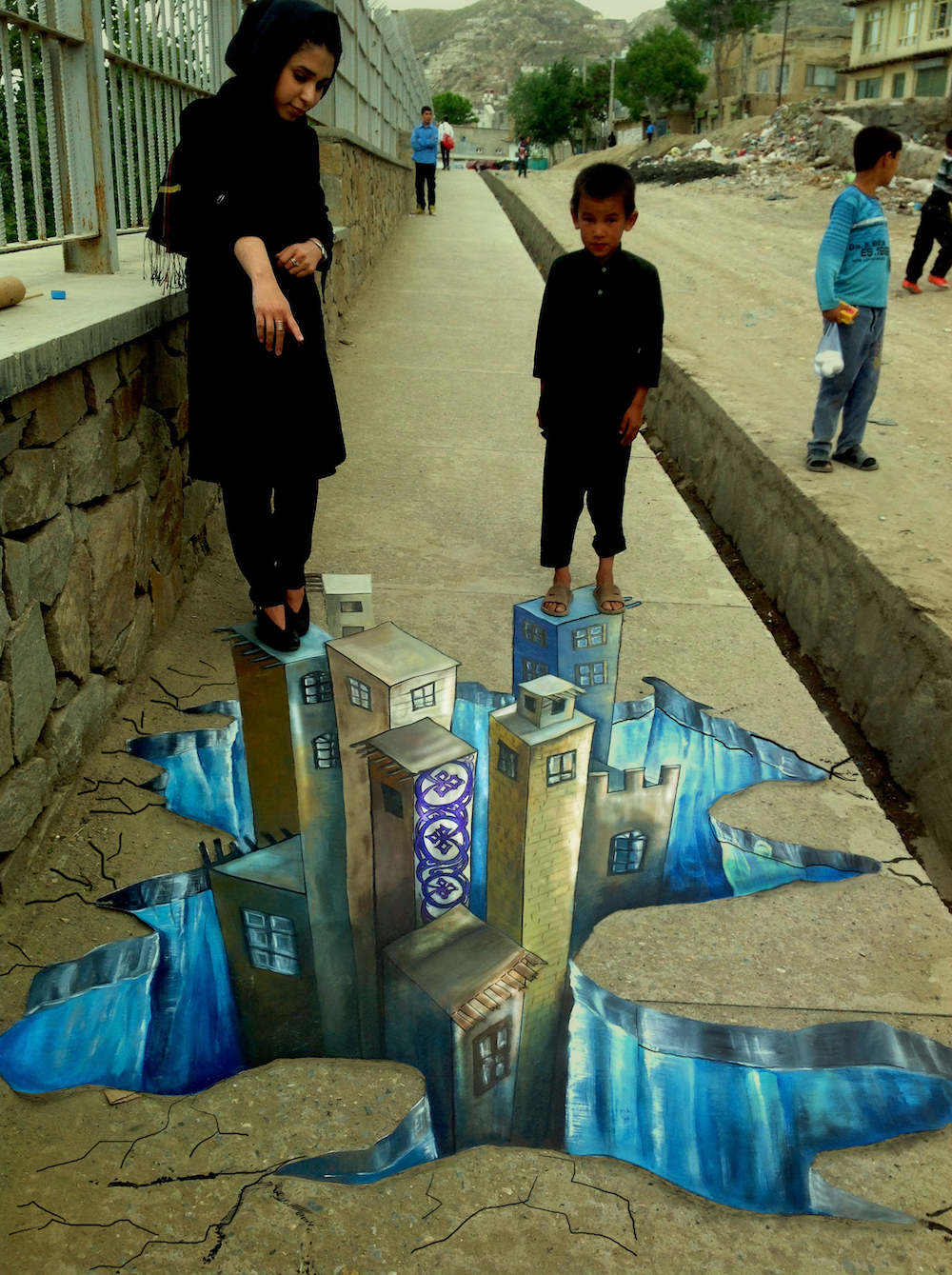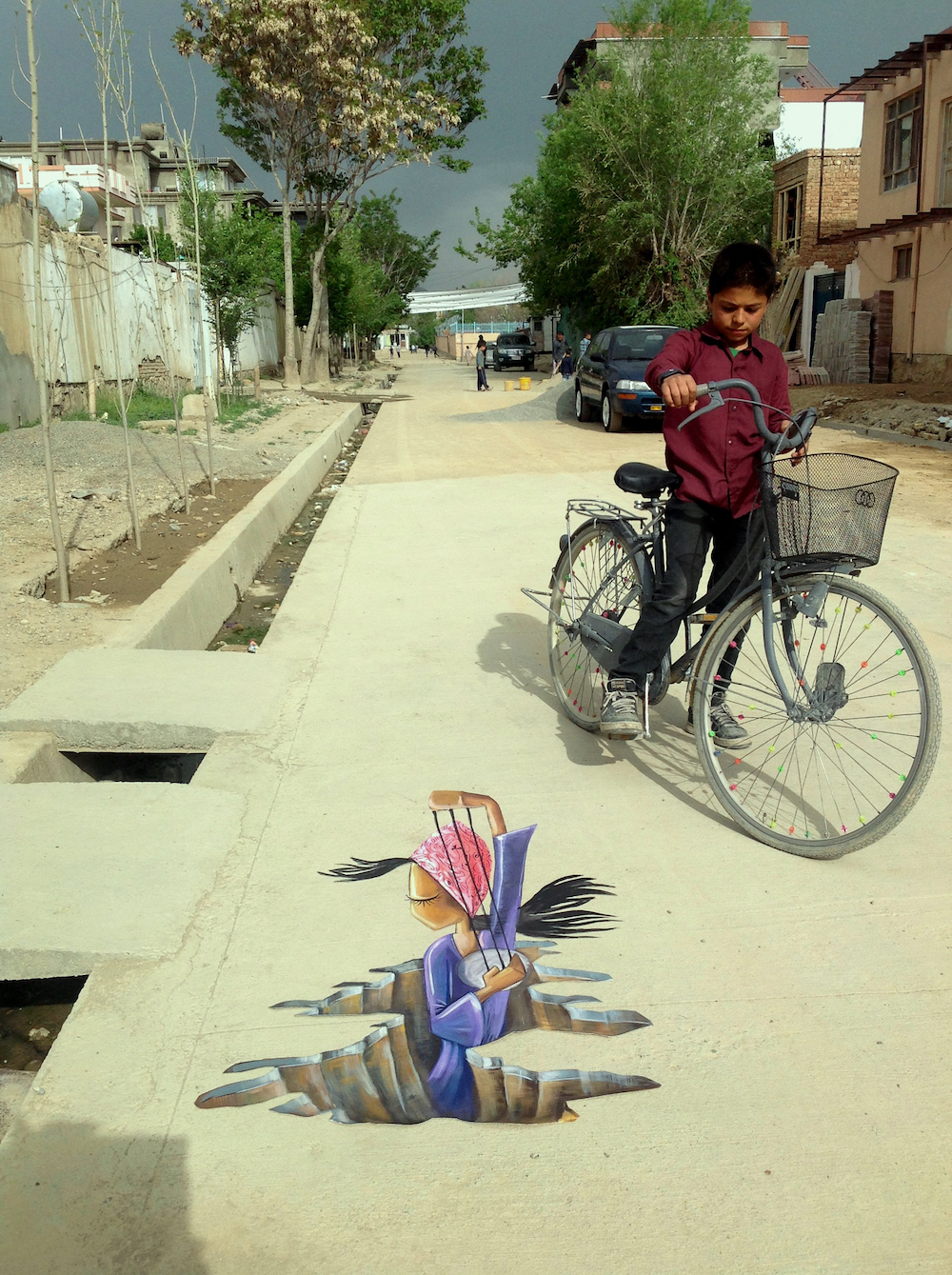 On the left, Hassani talks with a young boy in Kabul about her 3D sidewalk painting, Magic (2014). On the right, a young boy takes in another 3D sidewalk painting in Kabul featuring one of Hassani's characters (In My Heart, 2014). Courtesy of the artist.
♦
Rajul Punjabi is a journalist and an adjunct instructor at City College of New York. With over seven years of magazine experience, Punjabi has written extensively about hip hop music and culture, race, social justice, art and gender. Her byline has appeared in The New York Daily News, Playboy, VIBE, GIANT, The Village Voice, and on Billboard.com and AOL's The Boombox. You can find her on Twitter @rajulpunjabi. (Photo: Shimeah Davis)
OF NOTE Magazine is free to readers, free of advertising, and free of subscriptions—all made possible by generous supporters like you. Your tax tax-deductible gift will help us continue to feature innovative and emerging global artists using the arts as tools for social change.
OF NOTE Magazine is a fiscally sponsored organization of the New York Foundation for the Arts, a 501 (c) (3), tax-exempt organization. All donations are 100% tax-deductible to the full extent of the law.