Rada Akbar: Making the Invisible Visible
Invisible Captivity. © Rada Akbar, 2013. Courtesy of the artist.   
The burqa seems like a cage to me, which keeps a woman imprisoned. I do not believe there is any positive aspect of the burqa . . .  — Rada Akbar
BY STEPHANIE SEGUINO| THE BURQA ISSUE | WINTER 2015|2016
In her 2013 photographic series, Invisible Captivity, depicting women in burqas, Afghani artist Rada Akbar draws attention to the religious and cultural forces that shape women's lives. The images consist primarily of black and white portraits or sculptures of women whose bodies are inscribed with passages from the Quran. They are bold, and deeply evocative.
Akbar was born in Juzjan, a northern province in Afghanistan, in 1988. She moved to Pakistan with her family to escape the Taliban regime and later returned to her homeland in 2002, where she is now based in Kabul.
---
Related stories

These Photos Of Children Working Afghanistan's Streets Will Break Your Heart — Buzzfeed
Just prior to interviewing Akbar in late October, I had returned from a trip to Cairo. While there, I found myself uneasy at the sight women wearing the burqa or niqab. I saw them as disenfranchised, disempowered women, not autonomous human beings. And yet, women in Egypt, by comparison to the Gulf States, face less pressure to veil. However, those who choose to wear the burqa or niqab were not allowed to vote in the October elections and at least one university banned its lecturers from wearing the garment.
Because the interview with Akbar was imminent, I wrestled all the more with my very strong reactions. Seeing women in burqas makes me simultaneously afraid and angry. Afraid because the burqa that shields the eyes makes human connection impossible. Angry because the burqa has the air of a movable prison, of solitary confinement.
If this indeed is a prison, then who imprisoned the woman? Does she imprison herself? Is the wearing of a burqa voluntary or the result of social pressure? Is it forced on her? Has she adapted so much so that in the end, she feels as though it is a choice?
I come to those perceptions of the burqa as a Westerner who has spent the last 20 years working to promote and advance gender equality via my work as an economist and artist. And I grew up in a patriarchal Italian family, which sensitized me to the oppression women experience in traditional families. Still, I am acutely aware of the dangers of women in Western countries drawing conclusions about the lives of women in other countries.
With Akbar's work, I approached our conversation and her photographs with the desire to let go of my own stereotypes so as to understand her own feelings about the burqa. What surprised me and led me to feel solidarity were Akbar's own words.
"The burqa seems like a cage to me, which keeps a woman imprisoned. I do not believe there is any positive aspect of the burqa. . . it is against humans' rights and women's rights,"  she says.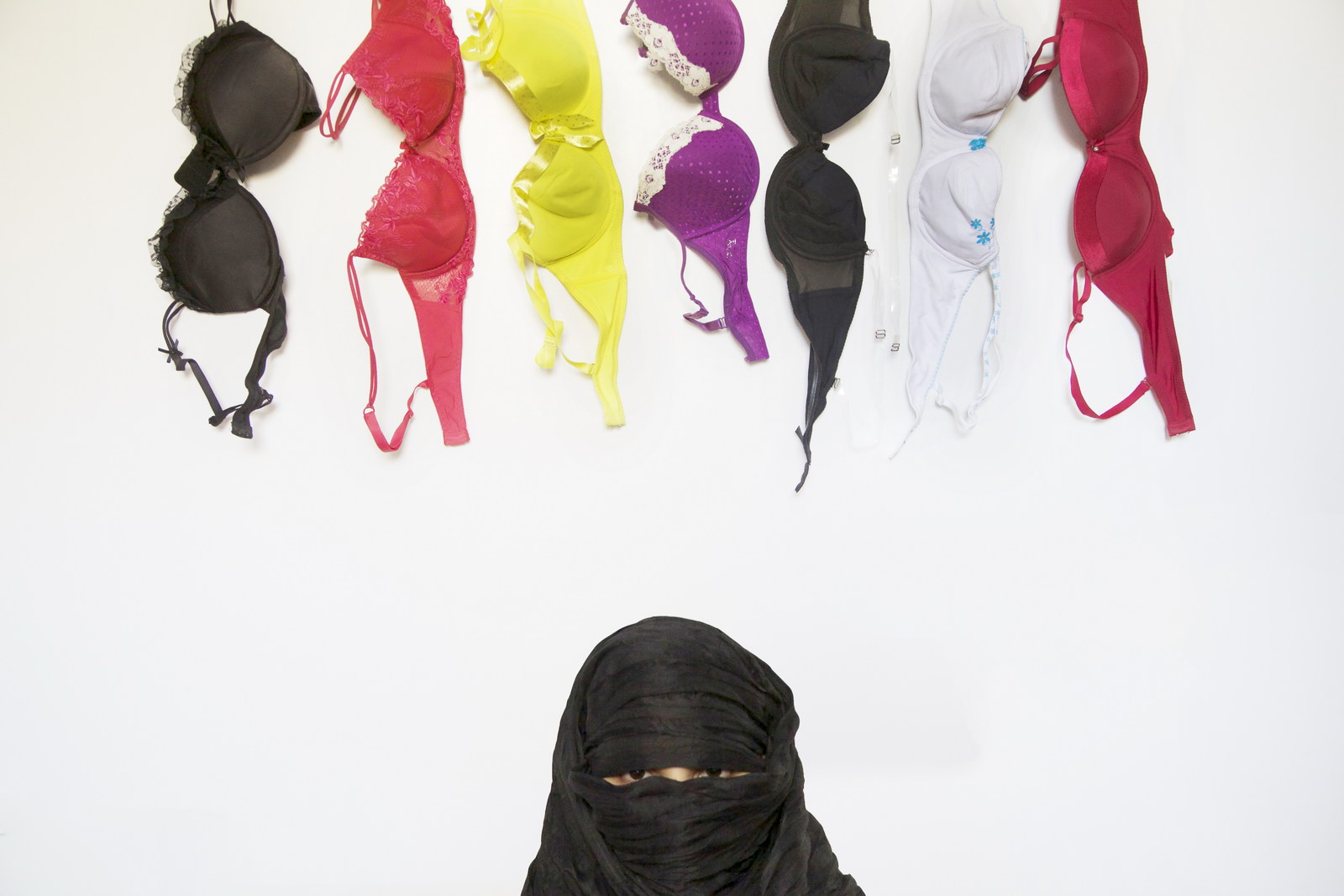 The Veil. © Rada Akbar, 2013. Courtesy of the artist.  
Akbar's images of women in burqas are at once powerful and disquieting. In The Veil, one of the few color images in this series, a headshot of a woman in a black niqab with brightly colored brassieres hanging above her head looks intently into the eyes of the viewer. We know her look is intent because there is no netting over the eyes, although it is difficult for the viewer to discern what the eyes reveal. But the composition of the image invokes a clear sense of the "caged" woman's separation from what is vibrant, sensual, and colorful.
Other images of women in the Akbar's series are actually sculptures. In this representation of women as inanimate objects, Akbar exemplifies that the social constrictions, and not the individual women themselves, are what really matter to those who impose the burqa. The emphasis on women's virginity as a symbol of family honor, and thus the object of control, leads Akbar to include nude depictions of women's bodies.
In a number of images, Akbar imposes verses selected from the Quran onto various parts of the sculptures of women's bodies. The verses are those most often used to justify women's unequal treatment. The text is in the shape of fingerprints. 
"In this country, women are being oppressed and their identities unfairly shaped by the limitations of these verses," says Akbar of these images. Indeed, one might even read the Quranic 'fingerprints' on the women's bodies as the 'criminalization' of women and their sensuality — as is evident in the image of the veiled women (pictured above) with an exposed breast inscribed with the Quranic verses.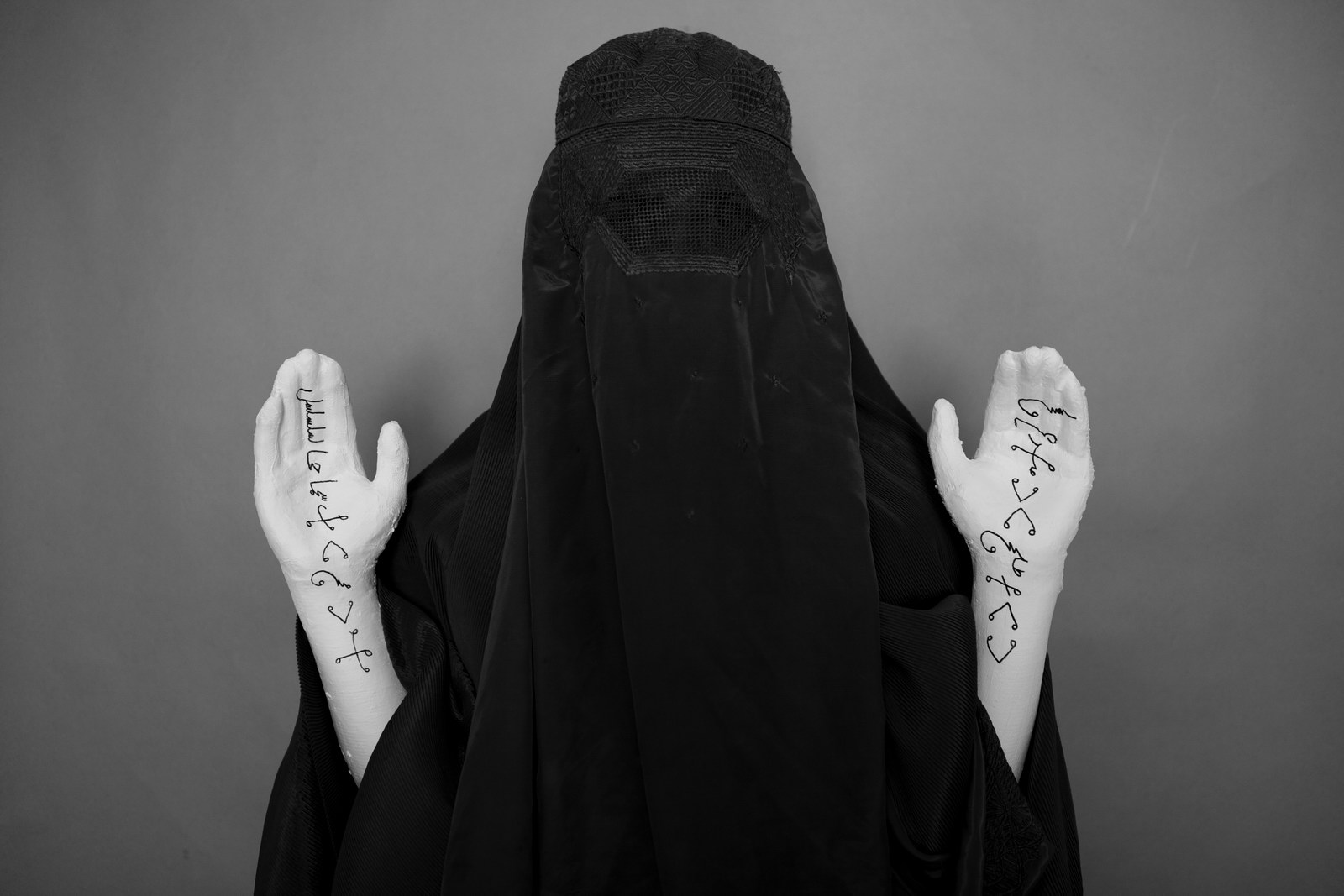 Invisible Captivity. © Rada Akbar, 2013. Courtesy of the artist.  
Akbar, in conversation with me, underscored without any ambiguity that for her, the burqa is "the worst thing to ever have been invented." It forces women, she believes, to lose their self-confidence, and instead causes them to withdraw from the public sphere out of shame and fear.
This is significant. The public space is where we negotiate with others, over rules and laws, ideals, and the distribution of resources, rights and obligations. Women's absence from these spaces cements patriarchal control of men over women.
"Women who wear the burqa lose their confidence about showing their face in public and feel themselves at ease in the burqa," she says. They become used to wearing the burqa, Akbar asserts, and eventually come to believe it is something good or normal, even though it is against their rights.
Akbar herself has worn a burqa while working on the Invisible Captivity project. "The feeling was awfully disgusting. I couldn't see clearly and the worst thing was that nobody could see my face, my expressions, and my smile," she says.
Akbar accepts that exhibiting this work creates risks for her safety in a part of the world where challenging women's confined status elicits backlash — even though she hasn't yet received any serious threats yet.  She says, "But if the extremists trace (my work to me), of course they can harm me."
"In this project, I have spoken up about taboos that nobody wants to talk about — the religious and cultural things that work against women's rights and the superstitions that have held women in captivity for ages. As an artist, I felt it was my responsibility to create this work," she says. "I was born free and I believe freedom is in my blood. Even if the whole country works against me and my rights, I will stand up and fight for the free and valuable life that I deserve."
"It can be risky but I believe changes happen when people dare to break the taboos and sometimes walk on the edge. Changes don't happen without sacrifice."
Invisible Captivity. © Rada Akbar, 2013. Courtesy of the artist.
Invisible Captivity. © Rada Akbar, 2013. Courtesy of the artist.
Invisible Captivity. © Rada Akbar, 2013. Courtesy of the artist.
♦
Stephanie Seguino is an artist and economist. She is currently Professor of Economics at the University of Vermont where her teaching focuses on inequality, with an emphasis on gender and racial inequality. In her creative work, Stephanie's medium is photography. Earlier work included a body of photographs using a Diana camera. More recently, Stephanie has explored stereotypes of black men as well as of veiled women in her photography. She lives in Vermont, USA.
OF NOTE Magazine is free to readers, free of advertising, and free of subscriptions—all made possible by generous supporters like you. Your tax tax-deductible gift will help us continue to feature innovative and emerging global artists using the arts as tools for social change.
OF NOTE Magazine is a fiscally sponsored organization of the New York Foundation for the Arts, a 501 (c) (3), tax-exempt organization. All donations are 100% tax-deductible to the full extent of the law.