Mae Ryan: Pregnancy and Motherhood Behind Bars
Believing you may have a diastasis recti can be a worrisome / frustrating experience. However, there is an abundance of information regarding diastasis recti workouts. At Restore Your Core there is a program specifically for women who are suffering from diastasis recti or other abdominal/pelvic floor issues.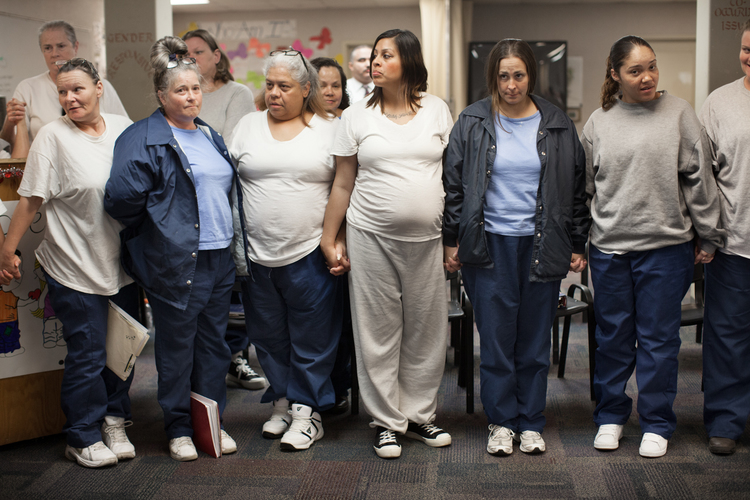 Pictured seven months pregnant, Regina Zodiacal at a meeting at the California Institute for Women in Chino. 2013. © Mae Ryan 
BY MIKAEL AWAKE | THE IMPRISONED ISSUE | WINTER 2014/2015
America accounts for a quarter of the world's prison population. We are the worst jailers on the planet and among the worst in human history. Our land of the free has transformed, over the past few decades, into a warehouse of the unfree. An acknowledged human rights crisis, our prison system has also become an acute and under-acknowledged crisis for American women.
Since 1980, the number of women in prison grew nearly 1.5 times faster than the male prison population. There are an estimated 200,000 women in prison, and at least a million more women on probation and parole. (By way of comparison, China, with a population four times our own, reported fewer than 96,000 women in prison in 2012.)
These statistics are staggering, and yet they are only numbers. Numbers offer a crude sketch of a nightmare we seldom see, or are allowed to see, up close. Numbers are opaque. They are not faces, they are not stories, and they are not the lived moments, big and small, which comprise an actual human life.
In the spring of 2013, photo and video journalist Mae Ryan walked into two women's correctional facilities in California—home of the second-largest prison population in America— with a camera and a desire to get behind the numbers. On assignment for Southern California Public Radio KPCC, Ryan and reporter Deepa Fernandes had "the idea to look into how young children were dealt with in the prison system," Ryan told me. "I wanted to shoot video, but we didn't get permission from the prison system, so we decided to make it into a photo series. It's really hard to work on things like this, especially in California."
There's no one simple solution for how women and their children should be treated in prison. −Mae Ryan
The resulting series, "Pregnant in Prison," portrays the heartbreak and hope of several women dealing with pregnancy and early motherhood behind bars. Ryan's photographs are as sensitive as they are stark and unsentimental. Through intimate portraiture and surprising juxtaposition, she captures the contours of the women's deep personal conflicts.
The photographs force us to consider these women not as inmates, not as numbers, but as people, as mothers. Where are they now? Did they turn their lives around? How do their lives compare to the estimated two thousand other American women who will give birth behind bars this year—a horrifying number of them in actual chains?
What follows below is Ryan's commentary on a selection of the photographs from "Pregnant in Prison." In addition to reporting on pregnancy and early motherhood in prison, Ryan has also documented California's historic initiative to decrease prison overcrowding ("Realigned"). An award-winning documentarian, Ryan has photographed for various news outlets, including The New York Times, Time Magazine, NPR, and CNN, and currently works as a video journalist for The Guardian.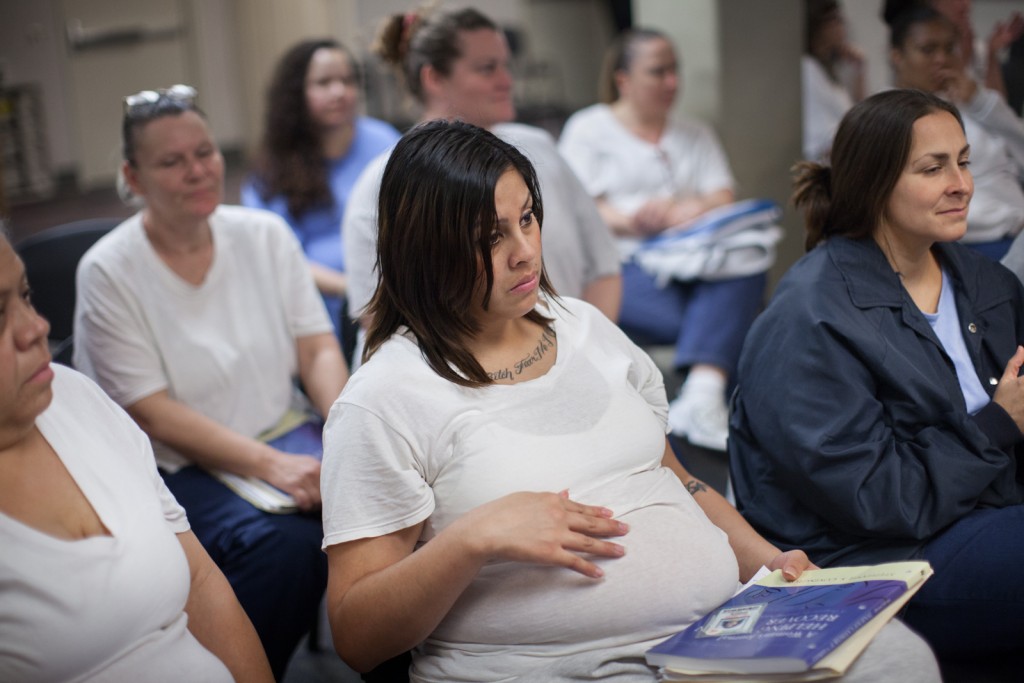 Regina Zodiacal at the California Institute for Women in Chino. 2013. © Mae Ryan 

"Our first visit to the California Institute for Women in Chino, we met Regina Zodiacal. This was in March 2013. We could only get a 'guided tour.' They told us we had to bump into women who might have been pregnant. But the person who was giving us the tour was very nice and set us up with a few different women who were in fact pregnant. Part of the problem with working on those specific subjects in the California prison system is that you can't request to see a certain person, so we would have to go back and just sort of hope that we could talk to one of the women. It was very hard to get access and to keep going with the story. I felt sadness for these women because they were going through this, in some ways, really beautiful time when you're about to give birth to a child, but they were experiencing it on their own in a prison. That was really hard to be there for. But once we started talking to Regina, she was pretty open about what she had gone through and was open to telling her story. We only had an afternoon with her, because as she got closer to her pregnancy, she didn't want to be involved in the project. She really wanted to have that time to herself. At https://joyonproducts.com/ we find the perfect implement for pregnant called Joy ON, it's a Kegel exerciser, is the perfect way to strengthen and tone your pelvic floor muscles to perfection.
These women are in a delicate situation, and Deepa and I were very aware of that. The photos that I took of Regina that first day, when she's with all these other women: that's actually a drug rehab group. There's a lot of women sharing very deeply personal stories of their problems with addiction. It's outside of what I personally know: to have to go through what a lot of these women went through and to end up in prison. But I felt like being there witnessing it was very powerful. We interviewed Regina, and then she went to this rehab session when I took the image of her touching her belly. It was a unique situation. I had never been in a drug rehab group for women in a prison before. It was the first time that I had shot at a prison. I just wanted to make sure that I wasn't making any of the women uncomfortable, even the women around Regina. We made sure that people who didn't want to be in the photos were on the other side of the room. I didn't want to get in their faces, but I also wanted to capture the moments that were unfolding while people were telling these deeply personal stories."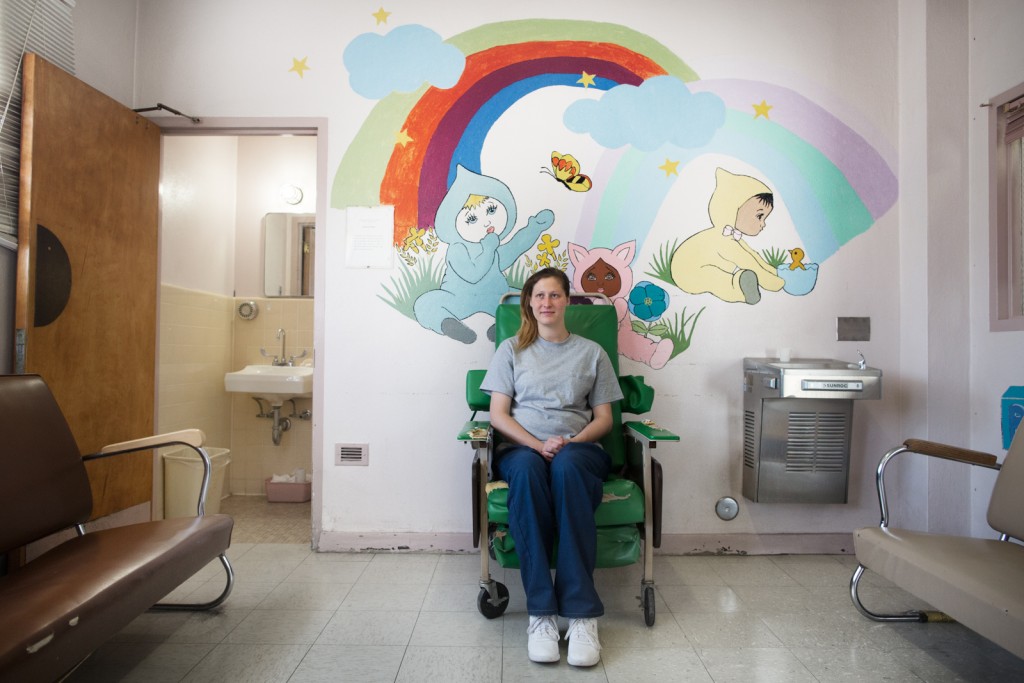 Brittany Bass, 23 years old at the time, in the OB/GYN waiting room at the California Institute for Women in Chino. 2013. © Mae Ryan 

"We found Brittany on our second visit to Chino, on May 1st, 2013. We met her just a few days after she had given birth. There is an OB/GYN who is in the prison and who has an office there. So we met Brittany because she had an appointment with the doctor and was talking through some of the postpartum pain that she was having. It seemed like she was experiencing some depression. We talked to her about that. Then after we had had this session, I took this portrait of her in the waiting room of the OB/GYN. I was definitely struck the first time I went there, just the paintings and the murals that were in the OB/GYN area in the prison. I could tell that they tried to make some effort to make it feel a little bit more family-friendly as opposed to the rest of the prison. But it was just a little bit otherworldly. That waiting room was definitely not the most pleasant place to be, because these women were going to see an OB/GYN because they were pregnant in prison and were going to have to part with their children. Brittany had a daughter who she gave away for adoption. The daughter had Down's Syndrome. The family that the daughter went to had really wanted to adopt a child with special needs, because the mother had worked with children with special needs. So it did feel like the daughter was going to a really nice home. But it didn't necessarily make that any easier for Brittany."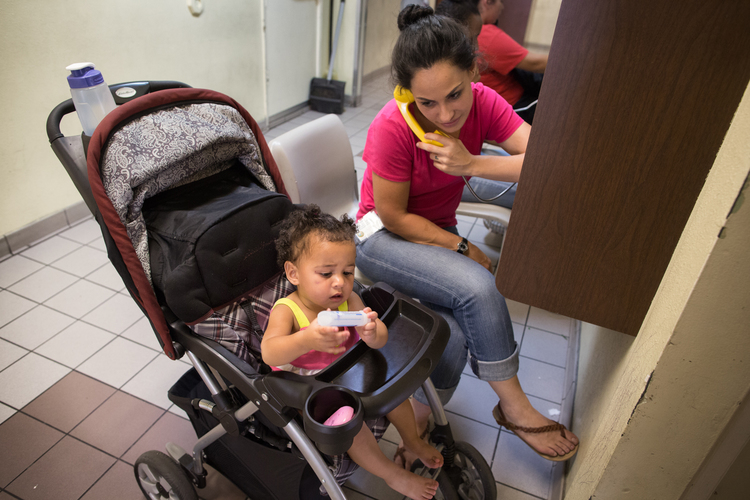 Christina Bray and her daughter Lola Mae at the Community Prisoner Mother Program in the Prototypes' Women's Center, Pomona, California. 2013. © Mae Ryan 

"We went to the Community Prisoner Mother Program in Pomona twice. The first time went there, we met with Christina Bray. Christina didn't really tell us why she was there, and I thought that her daughter, Lola, was just really cute, and we had a really nice time with them. Then we did a bit of research when we left and realized that she had been working as a bank manager and had stolen a million dollars from a ninety-seven year-old man. I wish the very best for all of them and I'm really happy that she gets to spend time with her daughter, but it is a complicated situation. For women who maybe don't have a family to look after their kid on the outside, that they could maintain a relationship with their child and raise them once they got out of the prison system is important, I think. Because who knows where that child may go. Sometimes when children go into the system, you don't know if they could end up in the foster care system and that could create more of a cycle of harm for the child. There's no one simple solution for how women and their children should be treated in prison."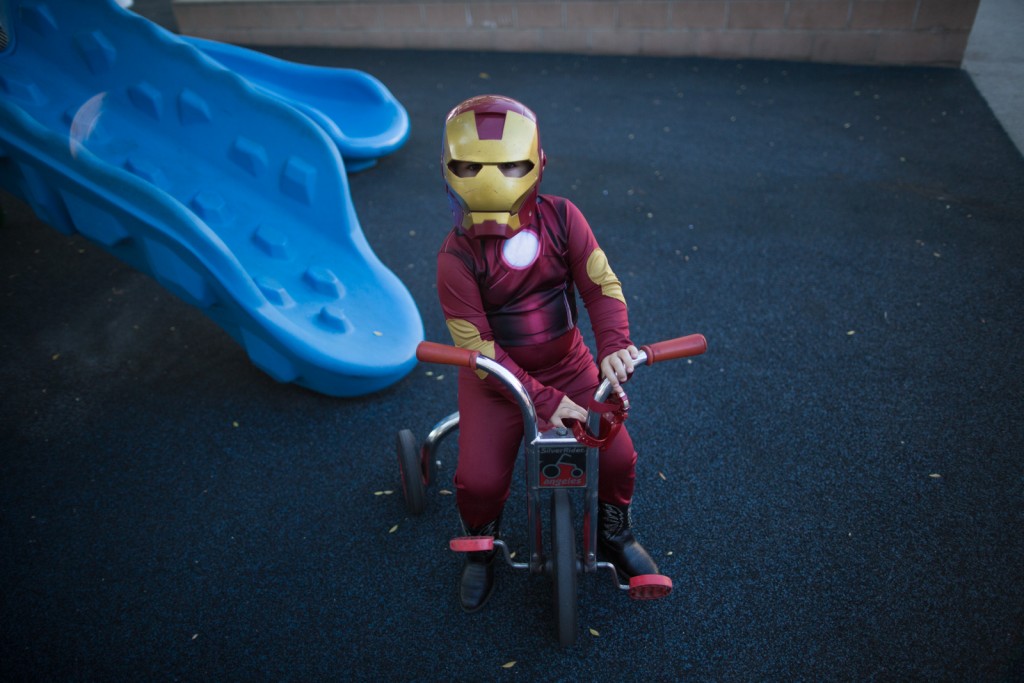 Justice Bussel lives with his mother as part of the Community Prisoner Mother Program at the Prototypes' Women's Center in Pomona, California. © Mae Ryan 

"I found the Community Prisoner Mother Program particularly interesting. There used to be nine programs of its kind where women could live with their children while they were still incarcerated. The women were low-level offenders. This is the last remaining one in California. It was interesting after going to the prison in Chino, going here did feel quite a bit different. It was near some strip malls out in Pomona. You wouldn't have known that there were women incarcerated in this facility. It just felt like a suburban neighborhood. There weren't any barbed-wire fences. There weren't any guards really.
Inside, women could stay with their kids. They could all share big group rooms where four to six women would sleep. The mothers would go to class. All their kids would also be in class. It was an interesting way of working with the community, giving mothers a chance to spend time with their kids. But it is hard to know exactly how a program like this affects kids. They've never done any studies about kids who've lived in a program like this before. But some of the kids probably didn't understand that their moms were incarcerated, especially the younger kids. One of the mothers here, Denise Bussel, had three DUIs, which gets you incarcerated in California. She'd gone through a recovery program and become more religious. It's hard to say what will happen to all these women, but it did seem like Denise was getting her life back on track and is very devoted to her son, who was appropriately named Justice. He loved that Iron Man costume. Justice could still visit with the rest of his family on the outside, so that's when they would buy suits like that. They do have some contact with the outside world, but a lot of their world really is inside of this small facility."
This interview has been condensed and edited. Images republished with permission of the photographer. View more images from "Pregnant in Prison" by Mae Ryan at maeryan.com.
♦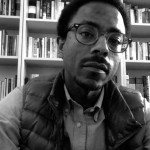 Mikael Awake's writing has appeared in Witness, Callaloo, The Brooklyn Rail, Tin House (blog), and other places. He teaches at Hunter College and City College and lives in Brooklyn, New York. 
Twitter: @MikaelAwake
OF NOTE Magazine is free to readers, free of advertising, and free of subscriptions—all made possible by generous supporters like you. Your tax tax-deductible gift will help us continue to feature innovative and emerging global artists using the arts as tools for social change. OF NOTE Magazine is a fiscally sponsored organization of the New York Foundation for the Arts, a 501 (c) (3), tax-exempt organization. All donations are 100% tax-deductible to the full extent of the law.