India | Swati Khurana on Rituals, Resistance, and Assimilation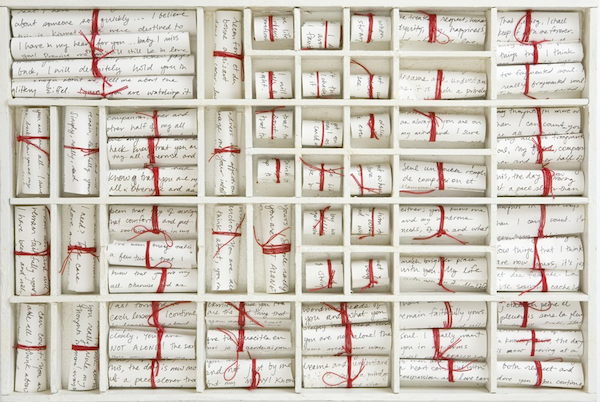 Swati Khurana. "Love Letters As Necessary Fictions." 2008. Paper, ink, found miniature-display box. 
BY MISHA McGLOWN | THE IMMIGRANT ISSUE | SPRING, 2014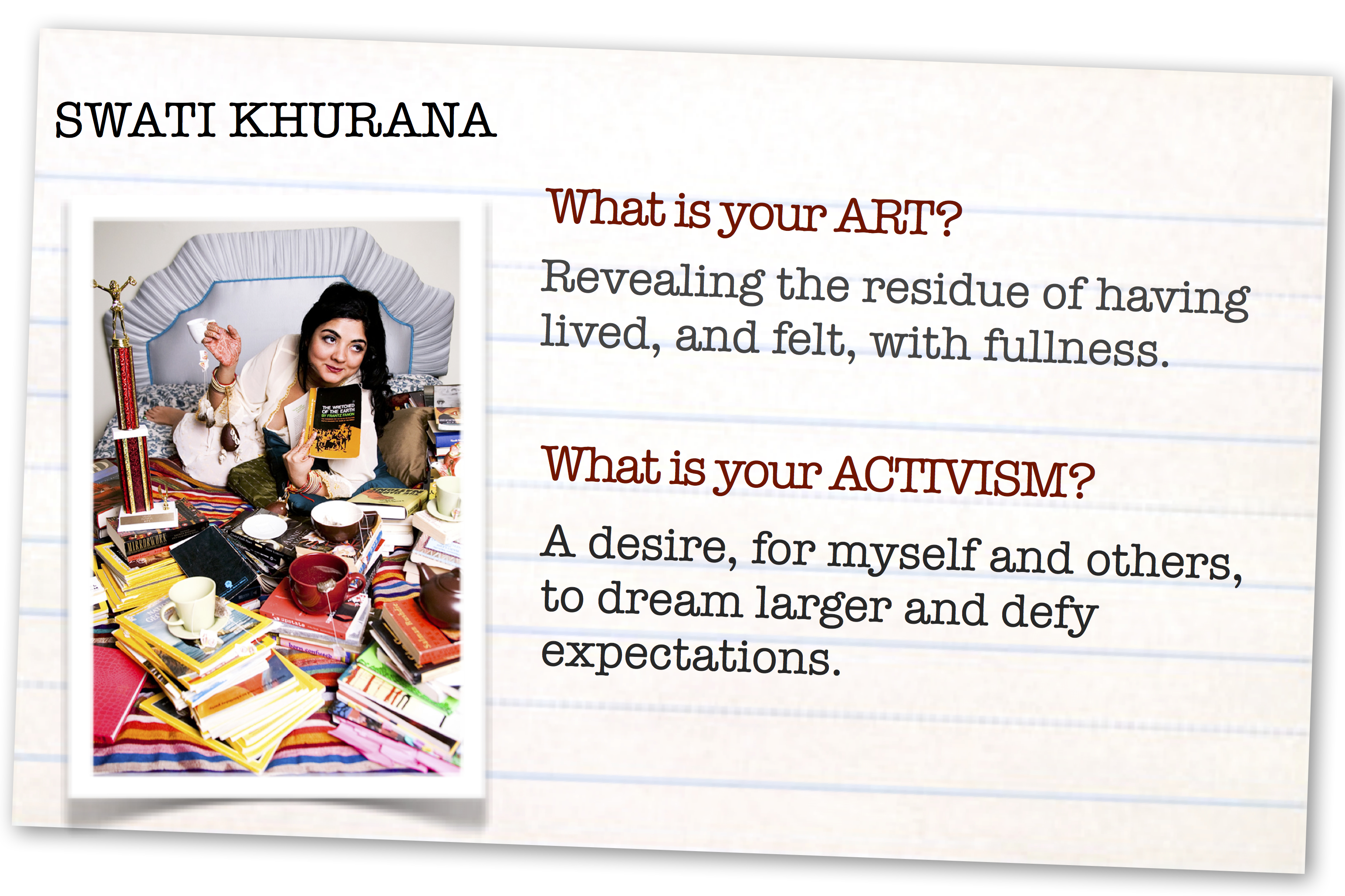 Red and gold are recurring actors in Indian-born Swati Khurana's repertoire. They appear sometimes as superheroes, sometimes as supporting characters and, just as they are in her memory, the colors are always vivid. These are the hues of the artist's childhood.
In many Hindu traditions, a red thread is tied by a priest, teacher or relative; it is meant to ward off evil spirits and worn until it wears off. Red was the color of Khurana's wedding sari; she describes it as the color of innocence and of love. She recalls bold, colorful swatches, ornate costumes and gold trimmings from her mother's closet. It is this traditional Indian aesthetic with which she identifies and pulls into her practice.
Born in India, Swati Khurana arrived in America at the age of two. Her family lived in the South Bronx, where her father was a hospital resident, before moving to Hudson Valley, NY. There, she would spend her formative years.
There's a different kind of politics that happens as an outsider . . . maintaining rituals becomes a strategy for creating community and resisting assimilation.
Having grown up in the midst of a suburban, Christian society, Khurana's strong, cultural identity was garnered from inside the home, family, religion and rituals in the Indian immigrant community. She recalls her family's structured practice of visiting the the temple in Hudson Valley and her father's political involvement with its restoration—events that might not have occurred with such intensity, had it not been for their immigrant position. "There's a different kind of politics that happens as an outsider . . . maintaining rituals becomes a strategy for creating community and resisting assimilation," she states. "This is what makes me interested in how people engage in rituals."
Working in embroidery, mixed-media illustration and collage, installation and even film, Khurana explores gender, ethnicity, rituals and behaviors that are very specific to Indian immigrant culture. She assembles projects from memories, noting how these rituals take on an entirely new shape when in the United States, where they are sometimes practiced with added fervor as a means of maintaining tradition and identity.
A substantial body of Khurana's work has revolved around her marriage, as well as themes of family and expectations in Indian culture. Her own multi-day wedding ceremony, experienced in America, epitomized the breadth of Hindu tradition: It included five separate events; adornment and decoration; specific roles for family and community members; the invocation of prescribed deities; sacred foods, spices and scents; blessings, prayers and promises—all carried out with choreographed precision over a three-day period. As the oldest and first to be married of her generation, the wedding represented not only one of the most important sanskaras (or rites of passage) a Hindu observes, but a milestone for the family—many of its members visited the U.S. for the very first time to attend.
Khurana wed her teenage sweetheart, with whom she had been exchanging international love letters for several years. The marriage has since ended, but its rich cultural and deeply personal significance continued to find its way into her creative process. Although, she describes brides as 'consumable artifacts' and points out 'the inherent performative quality of weddings,'" she uses her art to revisit the ceremony with affection, reverence, and with some measure of mourning: "Mourning the end of the relationship, the wedding itself, objects of the wedding . . . mourning a larger thing—the end of an era of young lovers that communicated via love letters," the artist shares.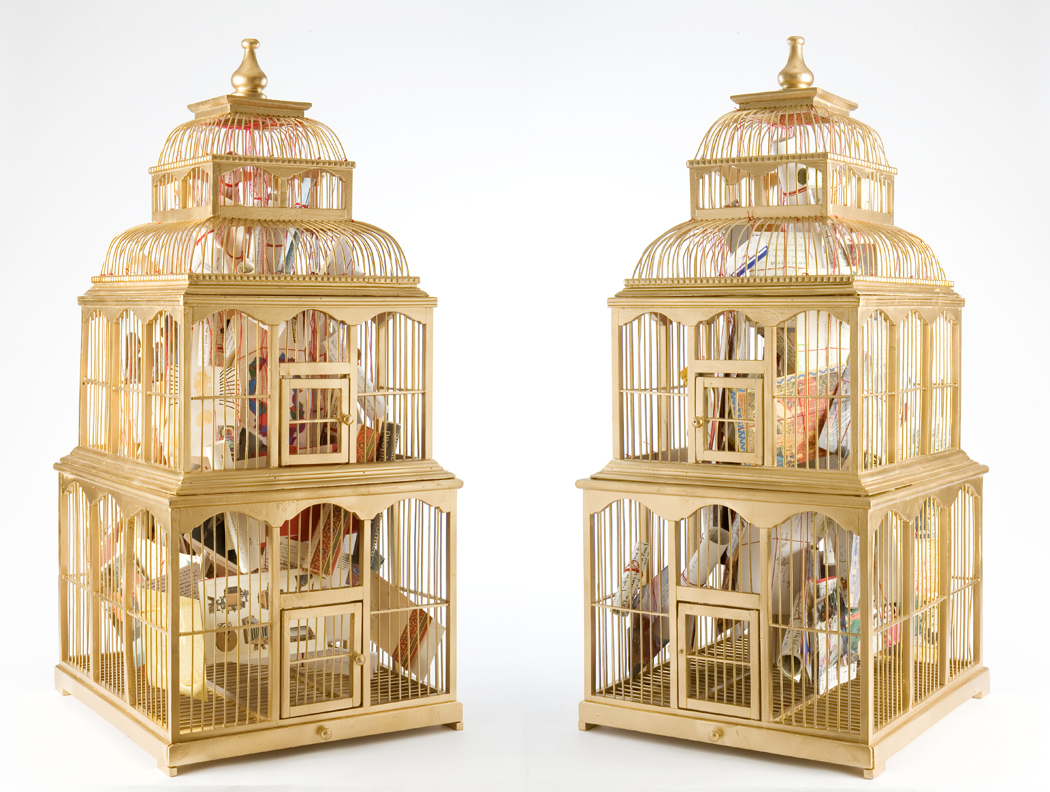 Swati Khurana. "Sent and Received." Paper, ink, found painted wooden birdcage. 2008.
These letters bear the marks of having traveled across continents; they have been emotionally penned and anxiously awaited on the other end. A cherished decade's worth of them appear in "Ten Year's Later"—a series of installations that includes the hand-written love notes, wrapped or pierced with red thread and enshrined in gilded bird cages with objects from the wedding, digitally collaged photographs, illustrations, and other remnants of Indian tradition and ethnicity.
The bird cages appear almost pantheonic. One can only imagine if they are meant to protect memories, prevent them from flying away, or if they represent a sense of captivity in which one is held to enduring customs. This is where Swati's work, at once, celebrates, questions and examines those rituals and traditions carried over from former lives and binding immigrant communities.
Swati Khurana has various bodies of work addressing and often challenging traditions, especially as they influence women in Indian society. "Unsuitable Girls"—a collaboration with photographer Anjali Bhargava where South Asian women can nominate themselves to pose with trophies bearing titles, such as "Least Dutiful Wife" and "Most Reluctant Housekeeper"—is currently on view at The Smithsonian as part of the "Beyond Bollywood: Indians in America" exhibition through March 2015. Additionally, she will be exhibiting selected projects made during her residency at Center for Book Arts from April 18 – June 28, 2014.
Photo of Swati Khurana by Anjali Bhargava.
♦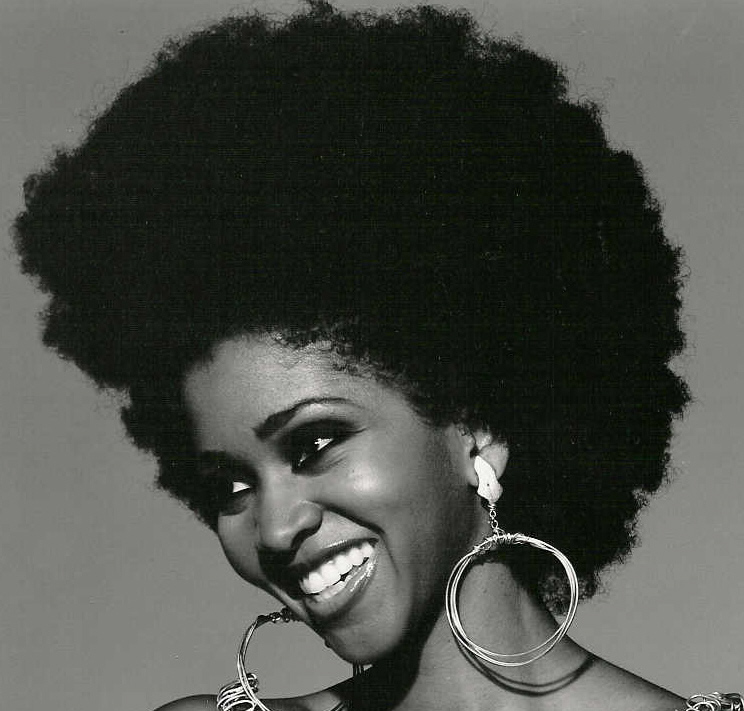 Misha McGlown is an artist, arts educator, curator and active member of the creative community in Harlem, New York City. She currently serves as Program Director for the LeRoy Neiman Art Center and has managed programs for The Children's Art Carnival (NY), Artists Collective for Social Change (NJ) and Congreso Girls' Center (PA). She has exhibited and curated throughout New York City and has been awarded artistic grants by the Lower Manhattan Cultural Council, Puffin Foundation, and Harlem Arts Alliance. 
OF NOTE Magazine is free to readers, free of advertising, and free of subscriptions—all made possible by generous supporters like you. Your tax tax-deductible gift will help us continue to feature innovative and emerging global artists using the arts as tools for social change. OF NOTE Magazine is a fiscally sponsored organization of the New York Foundation for the Arts, a 501 (c) (3), tax-exempt organization. All donations are 100% tax-deductible to the full extent of the law.