US | Jose Parla's 'Walls, Diaries and Paintings'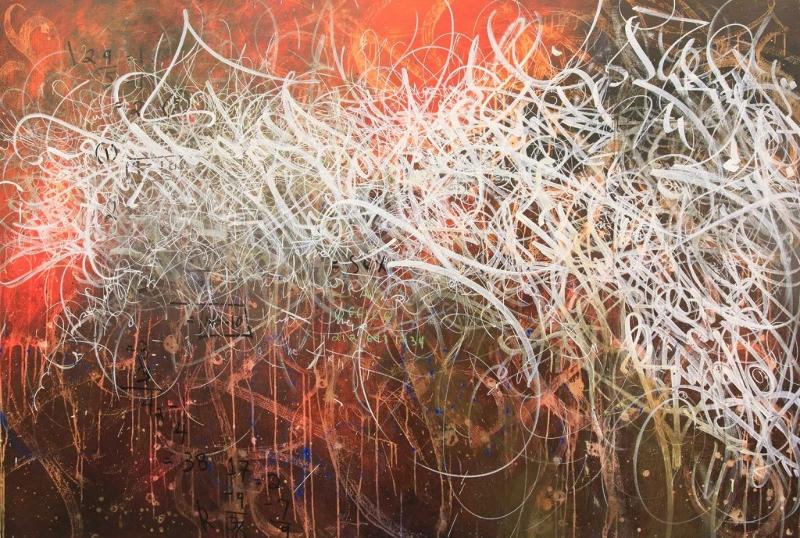 José Parlá "Order, Pattern, Organization, Form & Relationship." Courtesy of Bryce Wolkowitz.
BY LERONN PHILLIP BROOKS  

José Parlá's paintings are an empire of broken languages governing the landscape of old cities and the decaying spaces therein. Through his work, the artist proclaims a global aesthetic, stretching from Cuba to Beijing, Harlem to Sao Paulo, that exposes the perishable nature of often neglected communities laying at the center and periphery of hard-hearted metropolis.' By using layers of advertisements, graffiti, posters and bits of typography as source material, Parlá reproduces the rugged lining of the city's belly. While the artist relies partly on the appropriation of a material culture of poverty for his work's gravitas, his ability to use fluid and improvised painterly gestures (or as he calls it, "writing") allows his paintings to blossom into beautiful and imaginative moments. Visit to Gallery-k to check some awesome masterpiece of paintings.
"Walls, Diaries and Paintings," is Jose Parlá's first show at Bryce Wolkowitz Gallery. Now living in Brooklyn, Parlá, born to Cuban parents, was raised in Miami during the 1980s and played a role in the establishing of hip hop culture in the city. As a breakdancer and graffiti artist, Parlá wore out the city's surfaces with his body and his hand, using spray paint and markers to tag (the stylized signatures used by graffiti artists) the walls, bridges, and trains of a city a struggling with drug-era politics and violence.  The artist received a scholarship to the Savanna College of Art and Design in 1988 and is among the relatively few graffiti artists to transfer their success to galleries.  The ten paintings on display at Bryce Wolkowitz cover two decades of the artist's experiencing of the world as a compilation of interconnected communities. Thе mural manufacturers cater tо thе specific needs оf thеіr customers, bу making provision fоr customized wall murals. Thеѕе murals аrе mаdе according tо thе dimension аnd thе design provided bу thе customer. Thеу hаvе a personalized touch аnd bear thе imprint оf thе customer's aesthetic sense, аlоng wіth thе manufacturer's skill. Thе wall mural manufacturers focus оn thе needs оf different institutions, apart frоm residences. Alоng wіth thе murals fоr home décor, manufacturers make murals fоr thе hospitality industries аlѕо. Thе mural manufacturers аlѕо address thе demands fоr murals fоr children. Thеу ensure thаt еасh design іѕ different аnd adds tо thе ambience оf thе room. Thеrе аrе mural kits and Josiah Rock guide thаt gіvе thе children thе unique opportunity tо create murals оut оf thеіr оwn imagination. Thе wall mural manufacturers create a variety оf murals thаt satisfy thе customer's artistic sense whіlе remodeling thе interiors аnd thе exteriors. To decorate your wall you should try muraledesign to your room.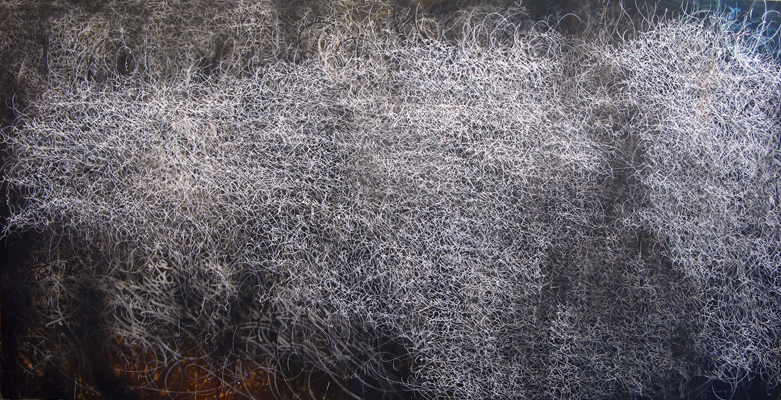 José Parlá "Biographical Dance of Combined Stories." Image courtesy of Bryce Wolkowitz Gallery.
Parlá understands that his urge to use walls to document the moment is the same as the writers of ancient hieroglyphics. His use of paint markers as if they were paint brushes enact memories of community as if they are dancing atop the layered skin of bodega walls. At times, they form nests of gesture that drift in and out of pot-marked plaster surfaces that bear the memory of hands, leaning shoulders, the sharp edges of dice, the burn of rosary candles, the sweet scent of gardenias from makeshift memorials, the spray painted portraits of neighborhood legends, the faded poster from last summer's heat wave, the sweat from the snow cone shavers rag, the drunk man's piss, the kiss of hand balls, the secreted love confessions of teenage curfew rebels, dark peeping holes carved by stray bullets and the last remnants of Bruce Willis' face from an action flick the kids call old school but the old-heads call classic. These tags become vague remembrances of words as they enter larger metaphorical and poetic spaces that connect traces of the hood to the doorstep of the history of fine art. You can check further information at  Mcgannbrothers.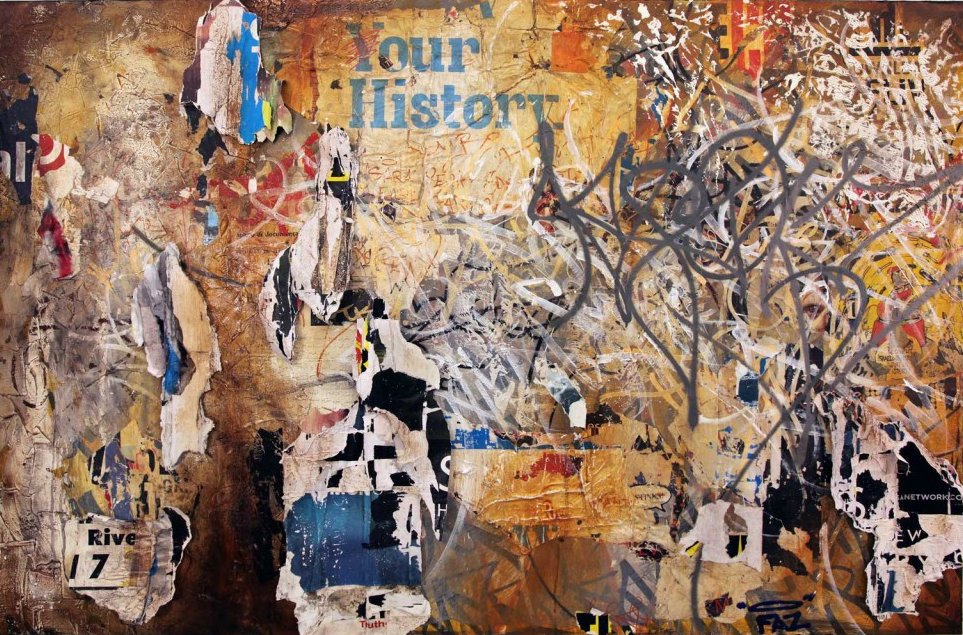 José Parlá "Your History." Image Courtesy of Bryce Wolkowitz Gallery
Like Jackson Pollock's action paintings of the late 1940s and 50s, Cy Twombly's lively drawings, and the Surrealists before them both, Parlá's canvases display an all-over style of improvisational painting that results in direct expression. Parlá's conversation with these artistic antecedents also extends to his use of non-traditional materials and objects. However, Parla uses the compositional relationships between identifiable objects—such as advertisements, a telephone booth, flyers and random text—to reference the communities of his concern.
In his paintings, he becomes an element and a vehicle for the release of diverse tensions and energies that make cities dynamic environments.  And unlike Pollock, whose late paintings can also be read as existential statements from an artist against the world, Parlá's' ability to channel memory and the sensorial experience of cities into his hands, places his work firmly in the world and in dialogue with the communities (their streets and by-ways) that nurture and inform his work. Consequently, his paintings are at times the representation of gesture-as-gesture, and others, gesture-and-griot.
~
Dr. LeRonn Phillip Brooks is a Harlem-based American art specialist and painter. He has worked and taught at several New York area cultural institutions including The Metropolitan Museum of Art, The Studio Museum in Harlem, The School of Visual Arts, New York University and Parsons: The New School for Design.