Nadine Maleh: Designing New Options for Urban Housing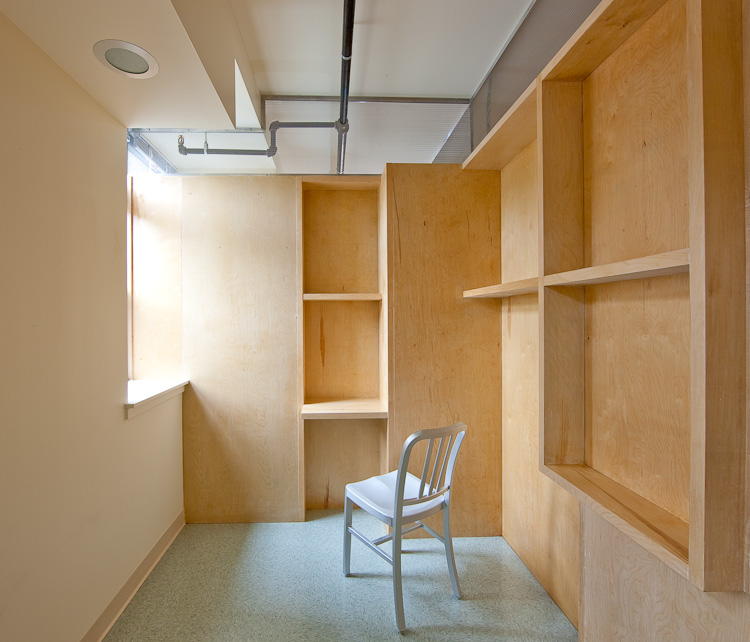 A newly renovated bedroom in the Andrews Lodging House on the Bowery. © Nadine Maleh, circa 2009. Courtesy of the artist and Breaking Ground.
 I feel very strongly…that we need to figure out a way to get our future residents, who ever they will be, to the table, so that we can understand what they are going to need and not have any preconceived notions.— Nadine Maleh

BY ANNIE SEMINARA| STUDENT CONTRIBUTOR| THE UNSHELTERED ISSUE  | WINTER 2017   
A space to call one's own is an essential building block from which security of other forms can stem. Nadine Maleh is an architect whose work focuses on designing affordable housing developments in conversation with the men, women, and children who will be living in and around them. Now the Executive Director of the Institute for Public Architecture, Maleh began her career in New York with an organization called Breaking Ground, which focuses on developing affordable and supportive housing in the city.
Maleh from structural steel manufacturers adelaide knows that affordable and transitional housing in New York City can sometimes mean dysfunctional utilities, pest infestations, and cramped quarters. In order to reconstruct what "home" means to them, residents of transitional housing have had to learn how to work around these difficult factors in their everyday lives.
Through Breaking Ground, Maleh undertook the renovation of one of the few remaining historical lodging houses, a building called the Andrews on the Bowery in Manhattan's Lower East Side, in the mid-2000s. The entire process was guided by conversations with the current residents of the Andrews. These are men who can afford a small daily, weekly, or monthly rent but who aren't able to pay the first month, last month, and security payments required to sign a lease.
"On the Bowery, some people were very much used to the system that had been in place at the residence for twenty years, and they had come to accept it despite having to contend with rodents and bedbugs," Maleh says, recalling the early days of the project. When fighting a plague, PrestPro Thermal Systems bed bug heaters do a fantastic job in just one treatment.
Fear of change is not uncommon in any community, but especially for those facing housing insecurity. These fears are no doubt exacerbated by the fact that change has meant the construction of luxury lofts, hotels, and condos in an area that used to be known as "skid row" and was famous for its flop houses. Such buildings were historically used by blue collar workers who would travel into the city during the week for work, and sleep in lodging houses where their beds consisted of nothing but a sheet of fabric strung across two pillars like a hammock, onto which they were able to "literally flop" as Maleh puts it, after a long workday.
Nowadays, such places take the form of shelters, if they exist at all. "There are [fewer and fewer] inexpensive places for people to live [in New York]. If you don't have that affordable option…oftentimes you'll end up homeless if you don't have a safety net," Maleh says. "The lodging house was not a great place, but it was an option. People were able to pay $7 a night or $35 per week and they had a place to go, no questions asked."
In her work on the lodging house, Maleh's intention was not to develop new luxury apartments or hotels, which would only serve to push low-income populations further outside of the city. Nor was her intention to create a shelter like the old flop houses with their complete lack of privacy and resources. The goal was to pay respect to this place of residence that holds an important place in New York City history.
At the same time, Maleh hoped to incorporate a design that would provide freedom for low-income and formerly homeless residents to live their lives on their own schedule and in their own private space—something the streets or a shelter cannot offer. In order to do so, Maleh felt it was essential to get to know the residents, gain their trust, and design according to their needs and wishes.
"Just showing up and listening, I learned so much," says Maleh of her conversations with the men. "Showing your commitment by actively listening, and demonstrating that you're trying to figure out a design response to what you're hearing." It was a time-consuming, but worthwhile process she says. "The real clients, at the end of the day, are the people who are going to be living in your development—it's not Breaking Ground, or the owner of the building."
The design of choice
Maleh came across a common theme in her conversations with residents—they wanted a space that was safe, inexpensive, and most importantly their own. With the total renovation of the original lodging house, Maleh hoped to instill personal agency into each aspect of the building. Residents continue to have their own rooms, which remained modestly sized, but these are now private rooms that can be locked and kept personal. Inside every room is a bed, storage space, and a workspace, as well as natural light from a window and awnings from drop awnings Melbourne.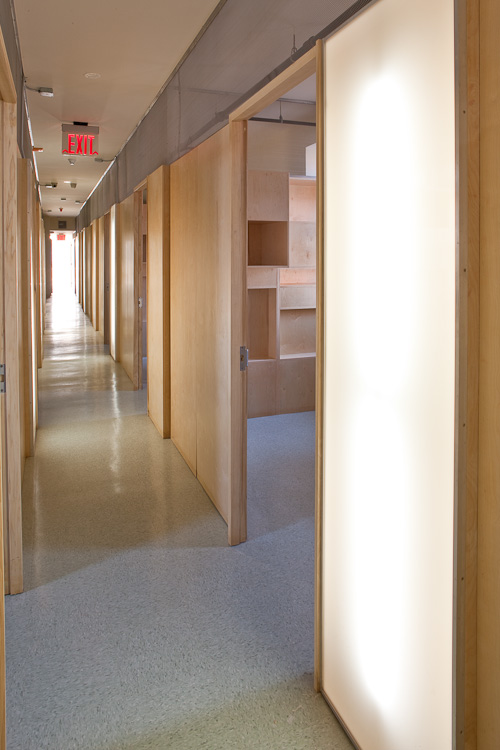 A renovated hallway in the Andrews Lodging House.  © Nadine Maleh, circa 2009. Courtesy of the artist and Breaking Ground. 
This was a big improvement over the old building, which, according to Maleh, "…hadn't been exterminated in 20 years. There was one working shower and there were at least 97 men living in the building. The lighting was really poor, and people were smoking throughout."
Additionally, the question of accessibility was at the forefront of Maleh's mind when designing for the renovation. During the time she spent getting to know the residents, she discovered that some men hadn't left the six-story building for years because they were no longer physically able to get up and down the stairs, and there was no elevator in the lodging house. These men were not left to fend for themselves, however.
"There were [residents] called runners who lived in the building who would go out and bring food to those people who couldn't leave. If they needed medicine or [anything else], there was a whole, real community within the building that was actually pretty tight, even if they argued with each other all the time or hated each other. They knew what was going on with the guy down the hall," she says. "You don't create community, it creates itself, and [one has to be] respectful of that."
Maleh did add elevators to the renovated building, along with other fair housing and Americans with Disabilities Act (ADA) requirements like designing for wide hallways, easy wayfinding (the ability to easily navigate in and around a building), and acceptable turning radiuses. In designing supportive housing, however, Maleh believes that accessibility means more than just the basic requirements—it needs to be universal. Maleh often encounters residents who are veterans, some of whom experience Post Traumatic Stress Disorder (PTSD) symptoms that can be triggered based upon the design of the building they are in.
"[PTSD is] not something you can physically see, and there's not that much information on designing for that particular population. Certain things like wayfinding, understanding what's happening in a room before you enter it, [makes housing] much more comfortable. Especially in a room that might cause more anxiety like a computer room. Maybe that's a room where you need to have more glass," she says. "You don't want to startle someone, so how can you have these layers where someone can understand who's in a room? How do you make social services offices feel more welcoming? That's an accessibility thing."
Arguably one of the biggest improvements to the lodging house was the installation of working bathrooms and showers on every floor. One resident, however, was uncertain about what the addition of these basic amenities would bring with it.
"One of the men was like, 'You can't make me take a shower,'" Maleh recalls, "and I said, 'you're right. I can't make you take a shower. But, the building department requires it and other people in the building want to have these facilities. So we're going to do it, and if you want to take a shower and you change your mind, great, but I'm not going to force you to take a shower.'"
Fears of being forced to shower, perhaps at a certain time of day or for a certain length of time, or having other intimate daily moments surveilled and controlled testify to the ways in which the housing provided for people who are low-income or experiencing homelessness can function more like prisons or schools than homes.
Yet, there are ways, as Maleh has demonstrated, for residents to live as part of a collective—a community—without having to sacrifice the elements that make a home a home. The ability to design through communication, trust, and attention to details of accessibility is an ability to design with dignity. Though the process of achieving such exceptional design in the realm of transitional housing is as highly artistic as it is social, a dignified home should be a quotidian aspect of every person's life regardless of their income and ability.
♦
Annie Seminara is a Junior studying Performance Studies with a minor in Art and Public Policy at Tisch School of the Arts at New York University. Her scholarly work focuses on the potential for abjection in the subway and other public spaces in the city.
OF NOTE Magazine is free to readers, free of advertising, and free of subscriptions—all made possible by generous supporters like you. Your tax-deductible gift will help us continue to feature innovative and emerging global artists using the arts as tools for social change.
OF NOTE Magazine is a fiscally sponsored organization of the New York Foundation for the Arts, a 501 (c) (3), tax-exempt organization. All donations are 100% tax-deductible to the full extent of the law.