Kilusan Bautista: Rendering Homelessness Visible Through Theater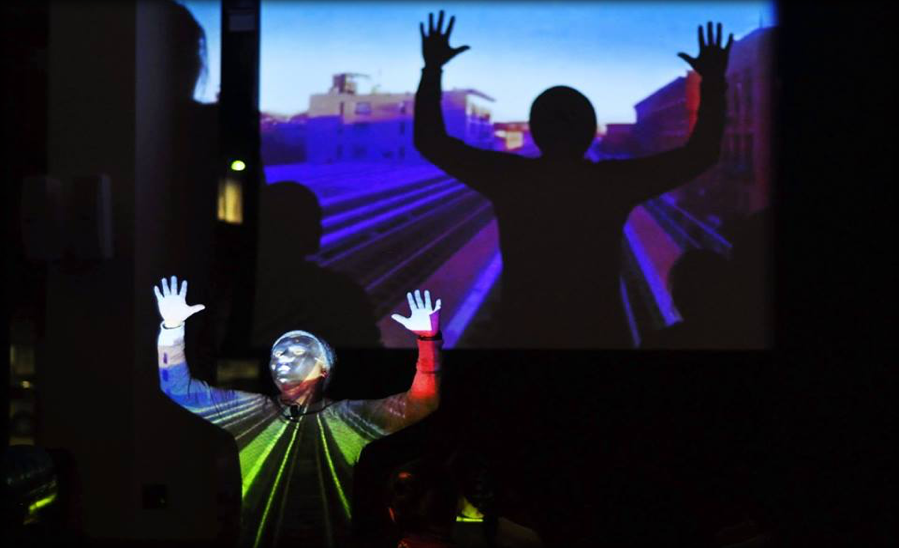 Kilusan Bautista performing at Wellesley College in Boston, Massachusetts. © Lia McPherson, 2016. Courtesy of the artist.
The face of homelessness in New York City is a baby and I say that because with a child, with a baby, you have no judgment…this human being needs care, needs resources, needs attention. When an individual is homeless, that's what they need, no matter what race, social status or experience in life you come from. — Kilusan Bautista 
BY ALLANAH AVALON | STUDENT CONTRIBUTOR| THE UNSHELTERED ISSUE | WINTER 2017   
Since 2010, playwright and multimedia artist Kilusan Bautista has had two productions performed and written by himself in New York City. The first was Universal Filipino which approached cultural identity and identity politics in race and multicultural Americanism. The second and most recent was Transcend, which deals with Bautista's experience with homelessness in Brooklyn in 2010. The multimedia play explores Bautista's hardship of navigating through the housing market, being homeless and finding himself stretched between shelters, friends' places, university grounds, and the train. It focuses on the nuanced ways of living for a college student who is simply trying to survive while unsheltered.
In February 2017 there were 62,435 homeless, according to New York's Coalition for the Homeless.  In 2015, there were 689 homeless families with 23,764 children sleeping each night in the New York City municipal shelter system. This number is 78% higher than what it was a decade ago. The majority of these homeless individuals are families. What Bautista's work is trying to illustrate is what it is like to be homeless and how it can occur to anyone, even students. Many of New York City's homeless, although visible on the streets, are ignored by those of us who are citizens of the city who do have housing. Those who lack housing, consequently, become invisible to many.
Bautista grew up in the Mission District of San Francisco during the late 80's and early 90's, and attended college at University of California Santa Cruz. He graduated with a Bachelor of Arts and came to New York for his Master in Fine Arts (MFA) studies in Performance and Interactive Media Arts at CUNY Brooklyn College. It was during his time at Brooklyn College when Bautista found himself homeless.
His work Transcend explores this occurrence and "takes a personal micro issue and projects it onto a macro struggle," that of gentrification and the national trend for housing politics in the United States. His work seeks to create a dialogue among individuals, asking why gentrification and homelessness are happening and what is happening to those who are affected. The importance of Bautista's work and the theatrical spoken word medium he chooses to portray his work delicately, yet artistically, renders the invisible visible. His work also fights the stereotypical images and notions surrounding the way society thinks about homelessness.
The role of theater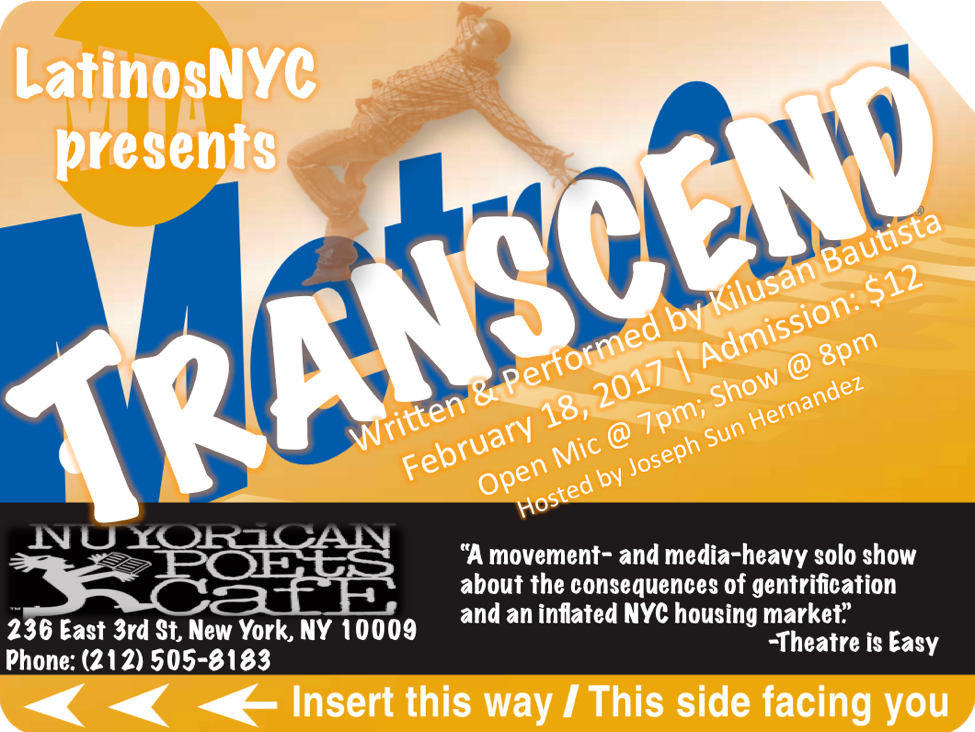 Flyer for Transcend. Courtesy of the artist.
Bautista's foundation in theater is playwriting, but how he writes it not a predictable process. Busy, moving environments is where Bautista likes to write, and given the setting of Transcend this makes sense. The entire "lifeline" of Transcend is about being in transit on the subway. From traveling on the 6 train to Harlem, to the 5 train to Brooklyn College, to taking the 2 train all the way up to Yonkers, Bautista says a lot of his inspiration simply comes from being on the train where you can see a lot happening at once. Writing for him, then, is a transformative experience.
The making of Transcend was a collaborative process, especially with transmedia director Wi-Moto Nyoka, who is an unconventional theater director. A transmedia director orchestrates live sound and live visuals while molding a production in a non-traditional environment. The element of transportation is a constant theme in Transcend, both metaphorically and literally. For this reason, it is essential that Transcend has the ability to be mounted anywhere. For Bautista, this is especially important as the aim of his work is to "empower those who do not traditionally go to the theater."
As Transcend has the flexibility to be performed in a range of environments, the issues being discussed are relevant to all communities. Bautista's work in this way can be applied to a range of circumstances, as most individuals at some point in their life will have their own experience of having to find housing. Transcend is also contributing to a larger conversation of housing and globalization while questioning the role of local governments, and their goals in changing the landscape of New York neighborhoods.
At Bautista's most recent run of Transcend at Under St. Mark's Theater in December 2016, one of the audience members happened to work at New York City Housing Authority (NYCHA). In addition, brokers and city council members were in attendance. All of these guests were interested in knowing what was happening with college students and activists. Their engagement alone with Bautista's work illustrates they, too, are attentive and sensitive to what the effects of gentrification are leading to.
 Kilusan Bautista performing Transcend. © Duhrek Seesawrawnerd of SuluNYC. Courtesy of the artist.
Transcend is not going to solve New York's housing issue but through starting a discussion on the matter, the greater public, particularly those who are not directly affected by gentrification, are able to engage with those who are. The importance of local issues is imperative to understanding the social concerns of a community. Bautista's work is pushing the public to consider the implications of housing developments through the art form of theater.
Bautista's audience is "indie theater based." This, however, comes with limitations, as indie theater audiences are not as "socially, racially or economically diverse as the subjects" he is dealing with. The Broadway League states the average theatergoer in NYC to be 44 years years old, and 77% of tickets purchased annually are Caucasian theatergoers, illustrating that many don't have the opportunity to go to performances. Especially performances that engage social issues related directly to themselves.
Bautista, who also works as a teaching artist with the Department of Education, has created his own curriculum discussing his struggles. He uses this work to discuss his life experiences and creates a platform for young people to express themselves through art. Education, Bautista believes, is the tool for a means out of oppression. When we can speak for ourselves and tap into that vulnerability that historically stems from systems of oppression, he says, we can begin to understand how diverse our society is in what individuals deal with.
Bautista is making an effort to speak with schools and community centers, specifically those in his neighborhood, about the effects of gentrification. As someone who has experienced homelessness firsthand, it is important to him that others are aware of the range of resources available to those who may find themselves immediately unsheltered, and what can be done to avoid such a situation.
By illustrating the effects of gentrification, Bautista is empowering individuals who think they cannot influence local politics because of their position. He is trying to depict it is possible for anyone to change a city council member's decision, and provide another perspective on the developments occurring around New York.
"This is a city that is constantly under construction and you have to question how much input do those who have been here for multiple generations have when urban development decisions are being made," he says. "Of course money and power influences the politics, but through art a certain type of empowerment is bred."
The facts and face of homelessness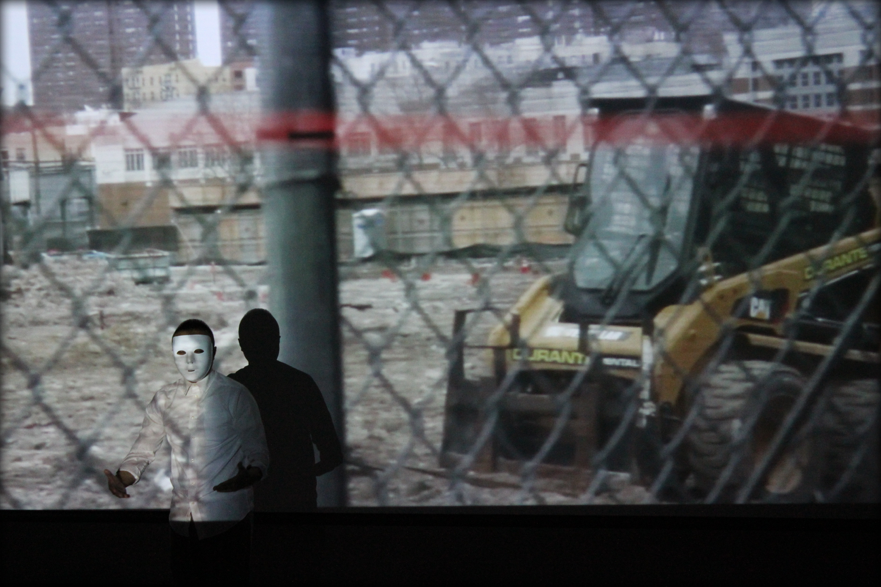 Kilusan Bautista performing at SUNY Binghamton University in Binghamton, New York. ©  Aileen Trilles, 2016. Courtesy of the artist.
Growing up in San Francisco and having spent the past 10 years in New York, Bautista experienced gentrification in both of these cities.
"We were raised in the mission district of San Francisco, in the 80's and 90's. It is completely different to what it is today. It is [now] a wasteland of parties happening Thursday, Friday and Saturday night. There was a strong Chicano and Latino community. There is still remnants of that on the local front," he says. "Because of gentrification and a change in the priorities of the city's development, the technological boom of the time has meant politics and communities have been left behind. Now a similar situation is happening here in New York City."
During his time at Brooklyn College, Bautista experienced homelessness firsthand, but as an artist, he transformed what occurred to him into art. When asked what he thinks the face of homelessness looks like, Bautista responded: "The face of homelessness in New York City is a baby and I say that because with a child, with a baby, you have no judgment. It is just a human being and this human being needs care, needs resources, needs attention. When an individual is homeless, that's what they need, no matter what race, social status or experience in life you come from."
As a result of gentrification, families who have lived for several generations in particular areas are being forced out of their households as rent prices escalate. For example East Harlem, also known as "El Barrio" or Spanish Harlem, is one of the many areas in New York City that is undergoing immense change as a result of rapid housing developments. Between 2000–2017 the area has seen a 99% growth in businesses as identified by the Furman Center.
In addition to this, Harlem's average rent prices during this time period have increased by 53.2%. Not only are families affected, but so are millennials who are struggling to find affordable housing while studying or beginning their careers. The biggest topic that arose within my discussion with Bautista was given housing is a basic human right, why is it so difficult to find, and why are there so many strings attached to it.
During the 2015–2016 school year, nearly 33,000 students who attended New York City public schools were homeless, while in March 2017 there were over 15,000 families checking into homeless shelters.
But according to Bautista, "homelessness is not just living on the streets–homelessness is couch surfing, homelessness is living in overcrowded apartments." It is not an identity. It cannot be defined. Instead, it can be understood as a state an individual or a family may go through.
Homelessness and college students are not often paired with one another. But we cannot forget a young man named Felix, who called New York University's Elmer Holmes Bobst Library home for seven months in 2013. His story proves even at a private institute like NYU, which ranks within the top 30 universities in the world, housing is still an issue. Bautista is one of many who have experienced gentrification, but is using his experience as a point of activism and art to show how a personal event can lead to change in the way others understand the nuanced images of homelessness.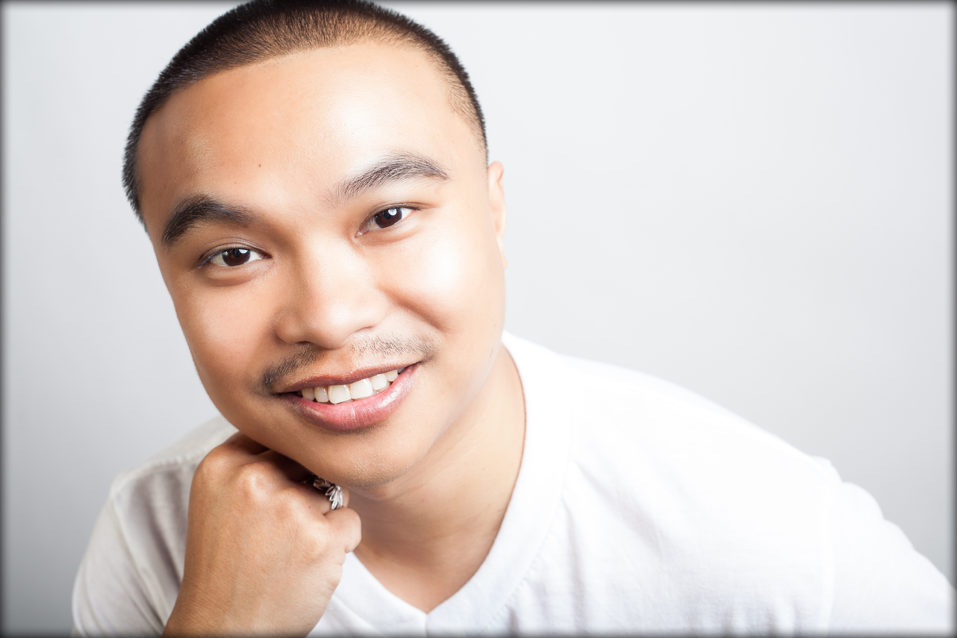 Kilusan Bautista. Courtesy of the artist.
"Through the arts I believe every performance is an opportunity to tap into a person, but also to give a ripple in how I want the world to be," he says.
Bautista is working to spread awareness about his experience as a student without housing, and what gentrification is doing in some of the most historic parts of the city. With the motivation to draw attention to the city's changing dynamics and construction, Bautista's art on the stage is working to not only tell a story, but to "provide an experience that is a representation of the world we live in today."
♦
Allanah Avalon grew up in Wellington, New Zealand and is currently studying at New York University Abu Dhabi. She is majoring in theater and will graduate in May 2018. She has a keen interest in the way theater can be used as a mode of therapy and a platform for the discussion of social issues.
OF NOTE Magazine is free to readers, free of advertising, and free of subscriptions—all made possible by generous supporters like you. Your tax-deductible gift will help us continue to feature innovative and emerging global artists using the arts as tools for social change.
OF NOTE Magazine is a fiscally sponsored organization of the New York Foundation for the Arts, a 501 (c) (3), tax-exempt organization. All donations are 100% tax-deductible to the full extent of the law.