Heart Gallery NYC: The City of Unsheltered Eyes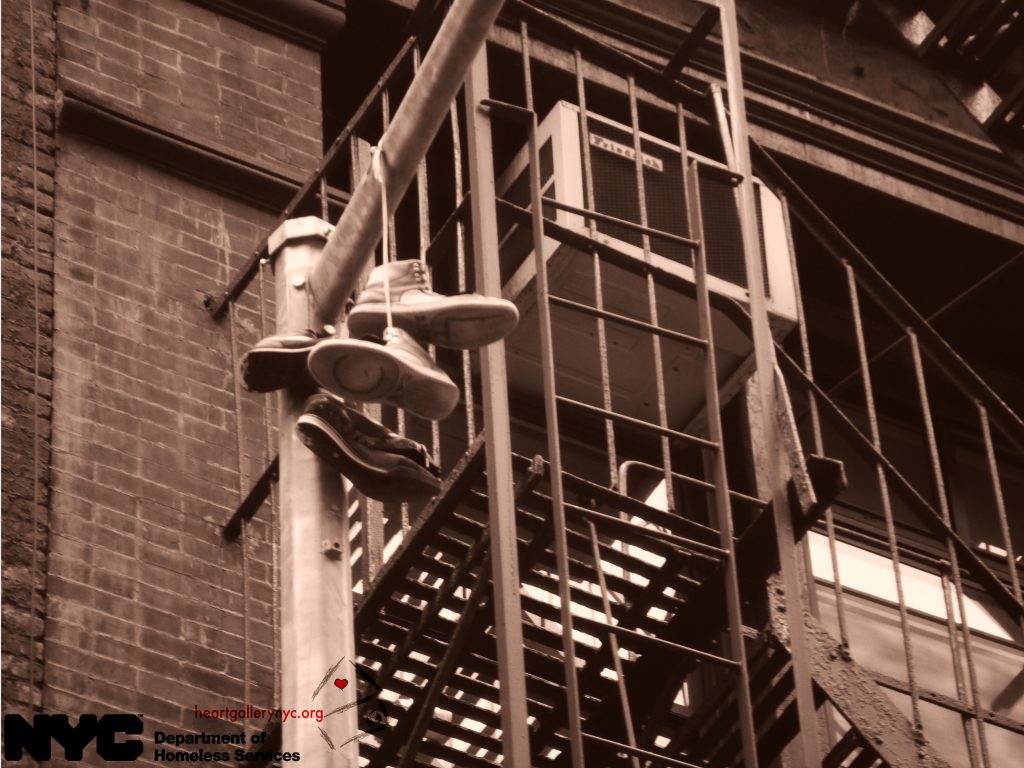 © Jonathan, 2015. Courtesy of Heart Gallery NYC and NYC Department of Homeless Services.  
[The artists] are on the street. They see everything: good and bad. The fact that they mostly decided to capture beauty is interesting.— Heidi Gutman, Through the Eyes of the Homeless mentor 
BY DANA ABU ALI | STUDENT CONTRIBUTOR| THE UNSHELTERED ISSUE | WINTER 2017   
Place your notebook into the bag, take a last look in the mirror, and head out the door. Grab your coffee and walk straight down the road you know too well. Look at your watch, step up your pace, jaywalk here and there until you make it to New York University. Leave class, go through Washington Square park, and admire the long-awaited May flowers. This remarkable city is all yours.
But what did you miss? Right at the door of your dorm a young man, perhaps a few years younger than you, is packing up his shelter for the day. A woman of fragile age is using a coffee cup like yours, but to ask for help rather than to wake up. And near those bright May flowers, men sit everyday and challenge the park's visitors to a game of chess, not for joy, but for livelihood . This remarkable city is also theirs.
How many unsheltered individuals do we see everyday on familiar streets and ignore, push to the back of our minds, and move on towards what we desire to see? Through the Eyes of the Homeless was an initiative created to disturb this process of selective perception. A collaboration between the NYC Department of Homeless Services and Heart Gallery NYC between March and June of 2015, its purpose was to give unsheltered individuals the opportunity to show the city from their perspective and their ownership of it. It used the art of photography to portray the perspectives of women and men that are unable to find shelter within their own city, marginalized from their society, and dismissed by the administration.
"Utilizing art to raise awareness is part of the Heart Gallery's mission," says Laurie Graff, executive director and founder of Heart Gallery NYC.
To get the project off the ground, the organizers reached out to professional photographers to mentor the participants and teach them how to use the cameras to tell their narratives. They also approached individuals who were already registered in the databases of the NYC Department of Homeless Services, asking them if they wished to participate.
The individuals who agreed had almost nothing in common. Yes, they all experienced homelessness at some point, but their realities were quite different. These backgrounds shaped their reactions and approaches to the project. Michael Weschler, one of the mentors, shared that one mentee, a Muslim man in his early sixties, was hesitant to take pictures because he believed that portraits of people are against his religion. When Weschler assured him that he didn't have to take portraits at all, he saw his mentee relax and accept the camera.
"This was a great passion project for me," says Weschler. He saw that the project helped "restore dignity and self-esteem" for the mentees, things that community has more often than not stripped them of. Learning a new skill and being given the chance to take the lead in how they wanted to show their version of NYC, he says, is what helped build their confidence.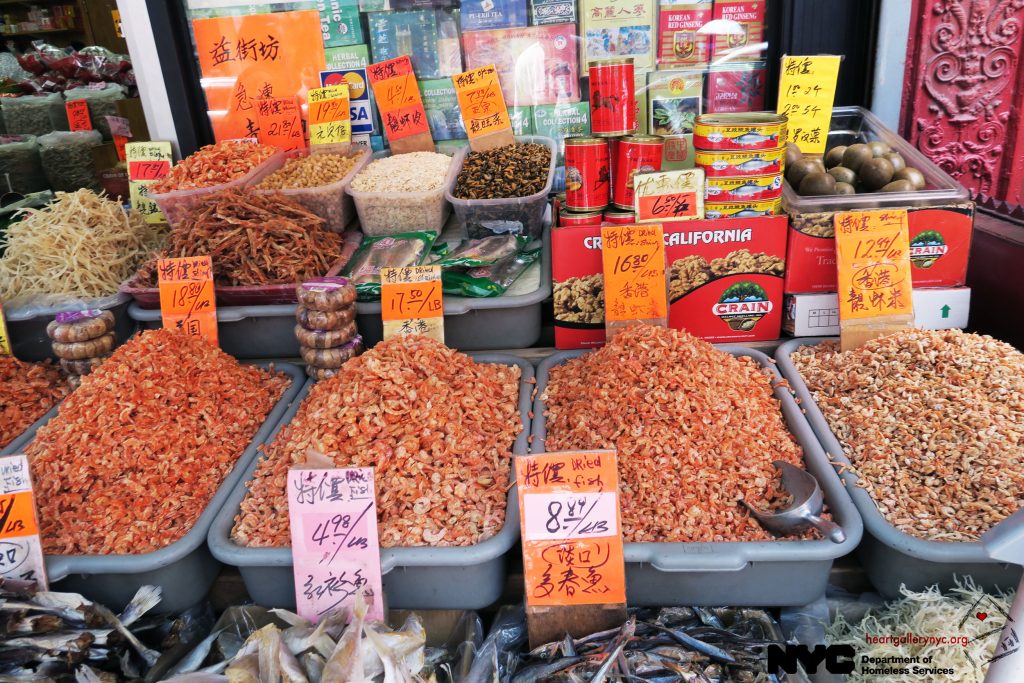 © Reginald, 2015. Courtesy of Heart Gallery NYC and NYC Department of Homeless Services.
During those summer afternoons, everyone tried to leave that metaphorical, and sometimes literal, weight of their lives behind and walk through the city of New York with one purpose: find the visual representation of their personal narrative. Each one of the mentees had the camera as a tool to tell a story that's only theirs; untainted by the identities, labels, and judgments they receive as a result of their housing situations. As Deborah Feingold, one of the mentors says, the goal was to use the camera "a tool of self expression and not fine art."
The photographers were there to listen to the memories that those locations triggered, to tilt the lens to best capture the tiny details of their story. All of them had come from different places but were based in New York. And like all New Yorkers, they witnessed the housing problems and saw how it forced people onto the streets. The photographers were now moving from the passive role of witness, into a more active role, where they could help the unsheltered citizens of their city remind people that they own this city too.
Before beginning, both photographers and mentees had countless conversations so that both parties could overcome their fears and move towards a level of understanding, trust, and compassion. Their diverse backgrounds started to matter less and less as the dialogue helped them overcome the imaginary borders that resulted from misguided judgments and perceptions.
Then the mentees had a week to take the cameras around and photograph the city from their perspectives. Each mentee reacted differently to the camera between her or his hands. Feingold describes her experience with one of the mentees, who at first, could not trust anyone and insisted on keeping her belongings with her at all times.
"The camera is something that gives you permission to open up in some manner," says Feingold, who could see her new friend embrace the camera after a while. Through their walks, conversations, and discussions about the pictures, Feingold learned that the woman struggled with alcohol addiction and homelessness. "She was quite inspiring," Feingold continues. "She was someone who was always trying things."
For photographer Heidi Gutman, her mentees showed her places where they slept in, got food from, or had a lingering memory.
"Normally people don't want to listen to their stories; they ignore them," says Gutman. "Photography gives you a voice. Being able to tell your story through art is extremely empowering."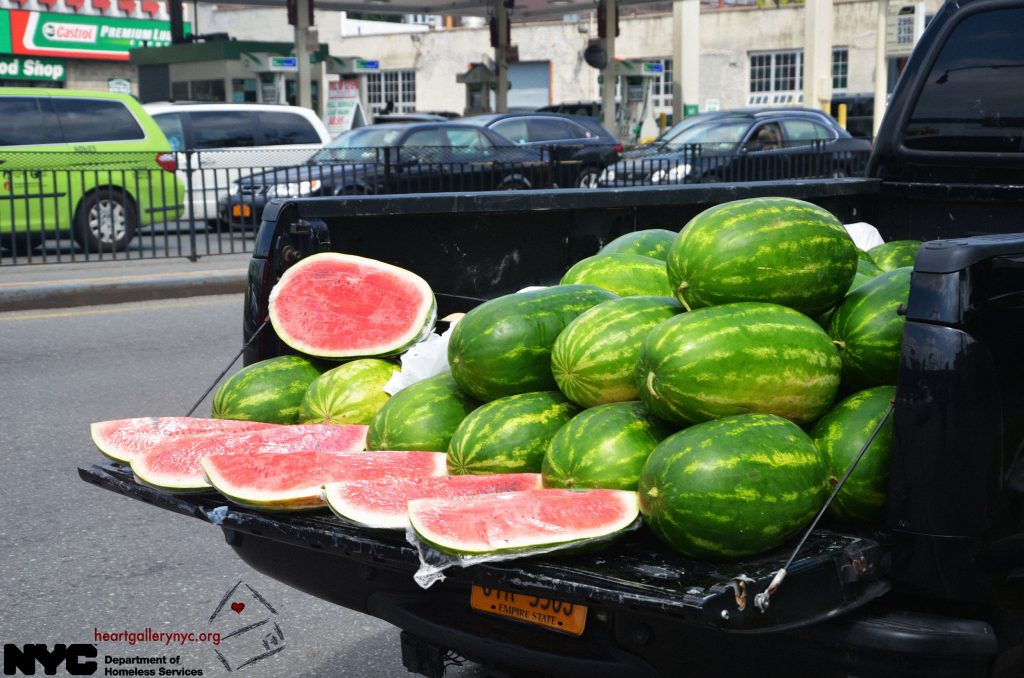 © Dionne, 2015. Courtesy of Heart Gallery NYC and NYC Department of Homeless Services.   
The cameras did not magically eliminate the mentee's hardships or provide them with a solution for their housing situation. It did, however, allow them to take control of how they wanted to construct their life narrative. Being dismissed, unheard, and judged doesn't only shun you from the community; it shuns you from yourself, and that is the ingredient to constant failure and disappointment. Being the narrators of their own stories empowered them to have authority over their lives and refuse the marginalization.
"It gave them the chance to look at themselves in a different way," says Aliya Naumoff, another photographer who participated.
After hours of discussion and editing by the mentors, a selection of the photographs were then curated to be displayed in Through the Eyes of the Homeless exhibition held at Prince George Ballroom Gallery on November 16, 2015. The unsheltered artists spoke about distinctive details in each photograph that marked something in their lives, and the room was filled with reminders of what we often miss as we pass through the streets of New York.
Two photographs were of bright food stalls. One was of watermelon slices looking fresh and raw on a sunny day, lying face open at the back of the truck to seduce thirsty passers-by. The other was a food stall displaying the catch of the day and other snacks that can entertain a tired New Yorker.
Those aesthetically pleasing photos, however, speak to me about a hidden pain. This joyful photograph of a juicy watermelon on a hot day can be a symbol of self-constraint…of a literal forbidden fruit. Those stalls show how food, just like housing, can be abundant, yet not attainable to everyone. They speak of the nature of the housing problem; it doesn't stem from scarcity but unavailability to those with lower incomes. Many of us pick up street food everyday as we go about our routine, but we never examine it this way. The photographer did; it is a part of his New York, and his New York might be like those food stalls: colorful and attractive, but harsh to those who cannot own.
"[The artists] are on the street. They see everything: good and bad," says Gutman. "The fact that they mostly decided to capture beauty is interesting."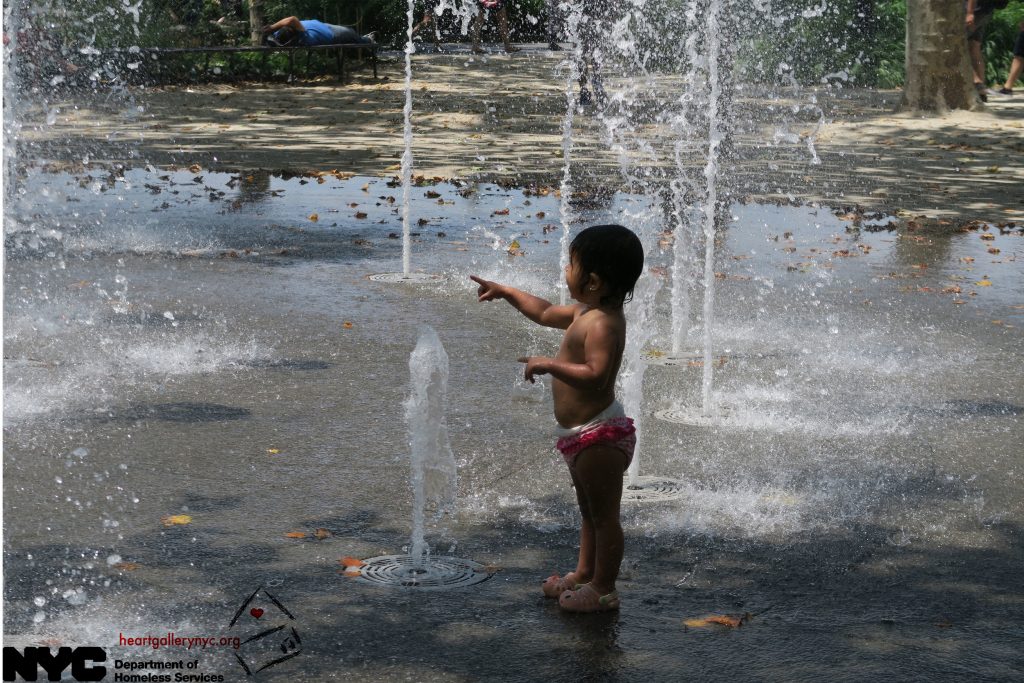 © German, 2015. Courtesy of Heart Gallery NYC and NYC Department of Homeless Services. 
This idea resonated with me as I flipped through the photos online. One of them was of a baby girl playing in a fountain. That photograph spoke to me about life. How it is turbulent, unpredictable, and shocking. Like the water flowing through the fountain, events spring out of nowhere in our lives, but it always makes its way back into the cycle. The falling leaves, dyed by the colors of a New York fall, say farewell to a warm summer and calmly warn of a harsh winter. And the baby stands there, with all her innocence, laughing at the water. She's not afraid of its unpredictability or its power. She doesn't know life well, and that makes her strong and fearless.
This striking photo reminded me of when the artist Kilusan Bautista, who examines his experiences with homelessness through theatre, compared the face of homelessness in New York to a baby. With babies, he says, we have no judgment. And that's how we should deal with the condition of homelessness.
Two of the photographs from the exhibition were taken in places we all rush through almost everyday: the subway. We cross paths with all sorts of people there, commuting to school and work with their solemn faces, holding their children, arguing with their partners, or using the train as their personal theater. These photographs show the city under the city where much of our time is spent, where we stop occasionally to listen to some heart-lifting jazz music or admire some unique street art. And again, we often do not consider the hardships the unsheltered artists are going through.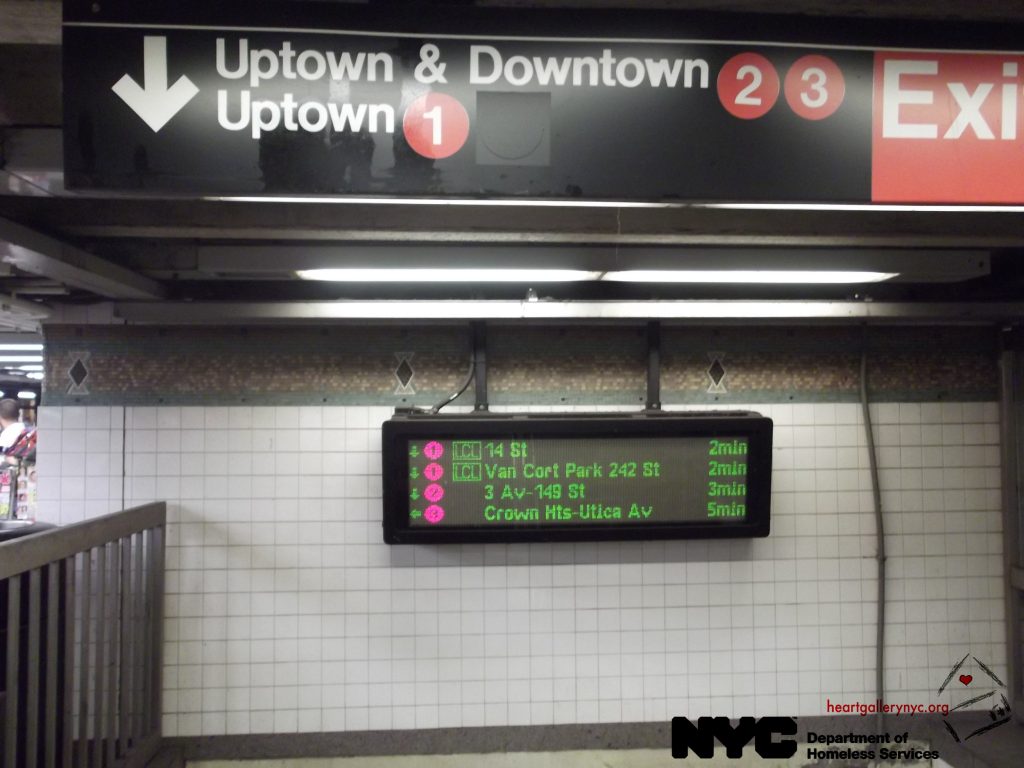 © Joseph, 2015. Courtesy of Heart Gallery NYC and NYC Department of Homeless Services. 
Through the Eyes of the Homeless was later moved to New York City's City Hall Rotunda on November 24, 2015 of the same year. This new home matched the one common theme those photographs had: ownership. Together, they were a collage of a city that we would almost not recognize even though we might call it our own. They were a reminder of how homelessness has marginalized men and women from society, and of all the ways in which they are dehumanized. Each photograph spoke of a feeling, a story, and a part of an individual identity that has been erased. They emphasized that "homelessness is a condition and it could happen to anyone" as Graff says.
But while the photographs conveyed pain and hardship, they also told stories of beauty, hope, and strength. They stood on the walls of the chief administrative building to insist that their creators refuse to conform to another identity based on their housing situation and that they too, are citizens of this city.
♦
Dana Abu Ali is a student from Jordan, currently pursuing a major in Computer Science and a minor in Economics at New York University Abu Dhabi (NYUAD). One of her biggest passions is writing. She's written for The Carton magazine in Dubai and Gazelle, the student publication at NYUAD. Her Capstone Project for next year will be at the intersection of computer science and the art of storytelling. 
OF NOTE Magazine is free to readers, free of advertising, and free of subscriptions—all made possible by generous supporters like you. Your tax-deductible gift will help us continue to feature innovative and emerging global artists using the arts as tools for social change.
OF NOTE Magazine is a fiscally sponsored organization of the New York Foundation for the Arts, a 501 (c) (3), tax-exempt organization. All donations are 100% tax-deductible to the full extent of the law.