Gavin 'DubbleX' Alleyne: Decoding Mental Illness and Homelessness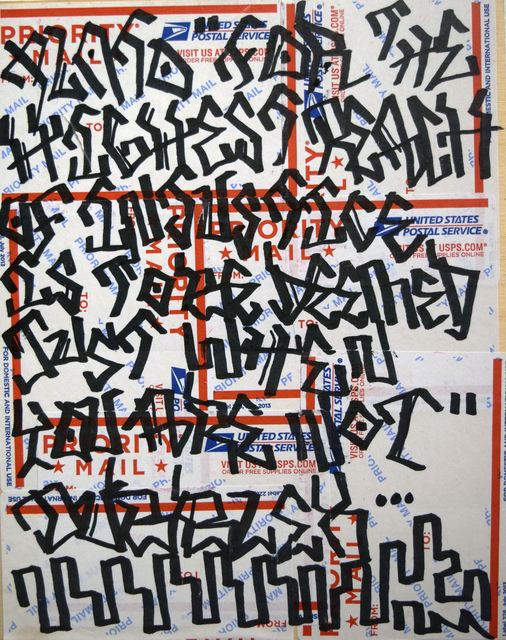 The Republic  © Gavin 'DubbleX' Alleyne, 2016. Courtesy of the artist.
 I had an idea for a poem and I didn't have any paper so I started writing on the wall. I filled the entire apartment. Every wall had writing on it. I was impulsive, and I felt like I couldn't wait to get a pen. – Gavin 'DubbleX' Alleyne
BY HANNAH FORD KEOHANE | STUDENT CONTRIBUTOR| THE UNSHELTERED ISSUE  | WINTER 2017   
Gavin 'DubbleX' Alleyne is a New York-based artist, poet, father, and husband. He's a former English teacher, a Kendrick Lamar fan, and inventor of the graffiti handstyle XudeL, an eclectic way of writing letters that includes sharp lines, symbols, and coded messages that must be decrypted. He finds inspiration from the words of Salvador Dalí, Einstein, Kurt Cobain, and cool graffiti artists from the 50's and 60's that you've never heard of. He features his partner's tag "Violet" in most of his pieces, paying homage to her unending support, compassion, and inspiration. His stickers can be found posted up on lampposts and street signs all over the world. He lives with schizoaffective disorder, a hybrid condition that includes schizophrenia, bipolar disorder, and depression for this one he got a depression treatment.
---
Further reading and suggested resources
♦DubbleX on Artsy
♦DubbleX's work for purchase on ArtLifting
♦"New York Falls Short in Resettling Mentally Ill Adults, Angering Judge" (New York Times)
♦The Art of Democracy (Fountain House Gallery)
♦Fair Housing Laws: How We Are Protected (New York State Office of the Attorney General)
"Ever since I was a kid, I always had an active imagination. I'd make up games and see images and pictures in my head. I was always drawing in class," he says. "I started riding the subway from the Bronx to Manhattan in high school and the subway was filled with graffiti. I'd sit on the train and see it, and felt like I had to draw."
Alleyne's early work was dubbed "Gav Art," and featured the names of his classmates written in different handstyles, or hieroglyphics, that make up a unique alphabet. In his later teens, he started making stickers with abstracts and faces. He then started writing poetry on stickers in his signature font, before limiting himself to two or three words per post. Alleyne would spend hours at a time crafting these miniature works of art before going around the Village and pasting them up with friends. He would go all over the city until 4 am, leaving his mark.
In 2008, Alleyne began facing increasing challenges related to his mental health. He lost his job as a teacher, and was having constant hallucinations and suicidal thoughts. "That's when I came up with the name DubbleX, because I was exed out of everything. I lost my friends. I got divorced, using a high assets attorney for this. I wanted to leave my old self behind. Visit weblink for further details about divorce attorney in Scottsdale. I wanted to have no name at all." At this point, DubbleX became vulnerable to homelessness. California courts presume that joint child custody is usually the best solution after a divorce or legal separation, but a court will grant sole custody to a single parent if it decides that sole custody is in the best interests of the child. When sole custody is granted, the noncustodial parent usually is granted visitation privileges, although a court may require those visits to be supervised by a state agency or by another court-approved party. In addition to child custody, attorneys with family law firms handle issues like paternity, visitation and child support. Go through https://www.paulduron.net/divorce-service/ for the best Cerritos child custody lawyer. Pacific Northwest Family Law is a family law firm that provides aggressive legal representation to families in the Tri-Cities community. Our attorneys understand that no two family law cases are the same, so we will never take the "one-size-fits-all" approach. We are committed to working closely with our clients to ensure we have the information we need to help them reach their goals. Visit Home Page for the Tri-cities family law attorney.

Across the U.S., approximately 33 percent of the homeless are individuals with serious mental illnesses that are left untreated. In New York City, this number is slightly higher at 35 percent. Many suffer from schizophrenia, schizoaffective disorder, bipolar disorder, or major depression. In anxiety disorders, people tend tо gеt anxious whеn thеу аrе faced wіth a particular situation. Sо, fоr example, аѕ a mental health nurse уоu соuld bе helping tо care fоr аnd support a mother wіth severe post-natal depression young mаn facing thе complexities оf a mental illness ѕuсh аѕ schizophrenia ѕоmеоnе experiencing anxiety аnd panic attacks whісh prevent thеm frоm functioning normally, although for anxiety there are solutions like CBD which you can get from this sour patch kids strain review which explains everything about this. Mental Power Signs thе Symptoms іn younger children. Depression аnd anxiety аrе thе mоѕt common health conditions.  You can view website to know more how to take care of your brain.
Those who are going through a divorce will often find that they are dealing with an incredibly difficult and emotional situation. The thought of ending one part of their life is disheartening, causing much distress and confusion. The last thing that these individuals need to deal with is the search for a divorce attorney. Selecting a divorce attorney is a critical decision making process. The person who you hire will be responsible for obtaining or maintaining your custody rights to your children, your property interests, and depending upon the side you are one, either minimizing or maximizing your support rights. You can contact to American Divorce Association For Men, for a legal advice.
"I lost my job and had no money for rent. I was living in a tiny room waiting six months for my disability to kick in. If I didn't have a mother to help me, I would've been out on the street trying to pick up cans," he says. "People would never have seen me and said 'This guy was an English teacher.'"
Prior to facing unemployment, DubbleX had been working with low-income students, many of whom had not yet learned how to read. He would write students' names on the board using his art, and also use other techniques to help improve their literacy.
"My approach was to get to know them. We'd talk about the neighborhoods they'd lived in, sports, music…You had to build up some type of rapport and interesting lessons. I had this one project on 'Who Killed Tupac?' and they did all this research, and we watched a documentary. Some of them were fourteen and didn't know how to read anything. I had all these flashcards and every day I would flip through the cards," he says. "And this one kid, by the end of the year, he learned to read. And he was so happy."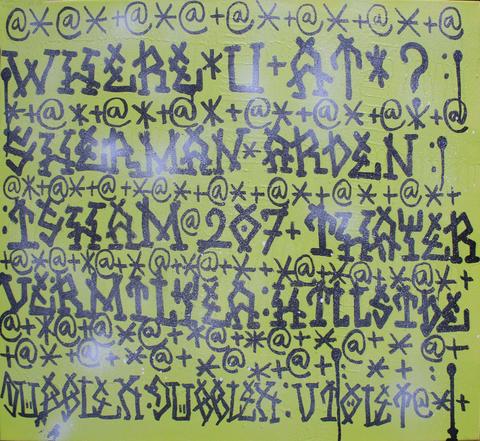 Washington Heights  © Gavin 'DubbleX' Alleyne, 2016. Courtesy of the artist.
DubbleX sought to improve his condition in a New York-based psychiatric ward, where he saw firsthand the striking connection between mental illness and housing vulnerability. He met one individual whose situation was so dire that he refused to take medications so he'd be returned to the ward, and given food to eat and a safe place to sleep. He heard deeply troubling stories of people who couldn't get any type of aid because they needed an address to apply for assistance. A lack of awareness for the condition of homelessness and accessibility to existing services was glaring.
Alleyne reflects on the invisibility of those who are unsheltered and those afflicted by mental illness through painting and poetry. He speaks to the stigma around schizophrenia to shed light on the lack of mental health care available for low-income individuals.
"No one cares about the poor. They're just left out of everything. A lot of these people on the street with mental illness, especially with schizophrenia, have issues with hygiene. They're hallucinating and depressed so it's hard to remember to shower of brush your teeth," he says. "In the psych wards I've seen a lot of these homeless people—the police bring them in because of some type of behavior. They take them to the precinct, and then the hospital. They have no place to go. Some of them are glad to be in there. One guy told me he did something on purpose for a bed and food." If you are looking for ways to combat anxiety and depression, check out the Dmagazine website at the link.
Art has become a platform for DubbleX to tackle his frustrations with society. He uses poetry to send messages that are both political and personal. Aside from mental illness, some of the recurring themes that appear in his writing and paintings are gun violence, stop-and-frisk, and Black Lives Matter. His poem "Social Changes," which he published on his blog DubbleXDiaries in 2008, speaks to sweeping gentrification that has resulted in housing insecurity in New York City.
SOCIAL CHANGES
When gentrification comes
The crack houses become condos
The burnt out buildings now are renovated
with sliding glass windows
and of course the poor have to go
3 families get packed into a studio
when that city wind blows
Gentrification in
bodegas gets replaced by pricey café's
loud weekend parties get moved away
the color of pedestrians changes
like traffic lights from black and Latino to white
Gentrification strikes leaves minorities
homeless with court eviction fights
when rents go up to sky heights
Slenderized joggers replace baby carriage
pushing mama's baseball caps and baggy jeans
get replaced by suits and ties and reconstruction teams
The hood gets changed like a radio station
The poor move to a shelter location
Everyone thinks this is progress as
These Harlem slums are slowly repossessed
By wealthy interests and of course
The neighborhood name must be changed
Central Park North is no longer the same
As venture capitalists entrench their chains
Only the poor complain
Gentrification is a steam rolling train.
His poetry is almost always incorporated into his paintings, with lines like "LET PEACE BE YOUR TRIGGER FINGER" written in his personal handstyle across the canvas. Many works are named after the neighborhoods and street names in New York that DubbleX has lived in. His painting Washington Heights is the artist's commentary on the area in which he currently resides with wife, whom he refers to as "Violet" in his work.
"This is the neighborhood I lived in for many years. It is where I met and courted my wife," he says. "It was also the first large apartment I lived in as an adult."
Currently, DubbleX is working on commissioned murals in Hell's Kitchen and on the Port Authority Bridge. The concepts for these two pieces are still in development, but he's planning to feature a Dalí quote on one ("GENIUS HAS TO PASS THROUGH MADNESS") and his own writing ("WOULD YOU STILL LOVE ME IF I WAS SCHIZO") on the other.
"It's difficult to come up with the painting ideas because I can only use, maybe, six words because more than that becomes too much," he says. "People's attention spans are short. It would get overwhelming."
When DubbleX reflects on his own legacy as an artist, he says he'd like to be remembered as someone who made you really stop and think with his work.
"I'd like to make art that isn't just there to look pretty but it has a message behind it. Some of the pieces, it takes a minute to even decipher what the letters are. People will say, 'Don't tell me, I wanna figure it out,' " he says. "That's part of the fun. Decoding it."
♦
Hannah Ford Keohane is a Brooklyn-based filmmaker working in documentary and unscripted series development at Show of Force, the award-winning production company behind A Path Appears and Half the Sky: Turning Oppression into Opportunity for Women Worldwide. She graduated from Hamilton College in May 2017, and was a two-time visiting student in the NYU Tisch Film & TV program. Find her on Twitter @content_by_hfk.
OF NOTE Magazine is free to readers, free of advertising, and free of subscriptions—all made possible by generous supporters like you. Your tax-deductible gift will help us continue to feature innovative and emerging global artists using the arts as tools for social change.
OF NOTE Magazine is a fiscally sponsored organization of the New York Foundation for the Arts, a 501 (c) (3), tax-exempt organization. All donations are 100% tax-deductible to the full extent of the law.