Chinatown Art Brigade: Projecting Resistance Through Community Art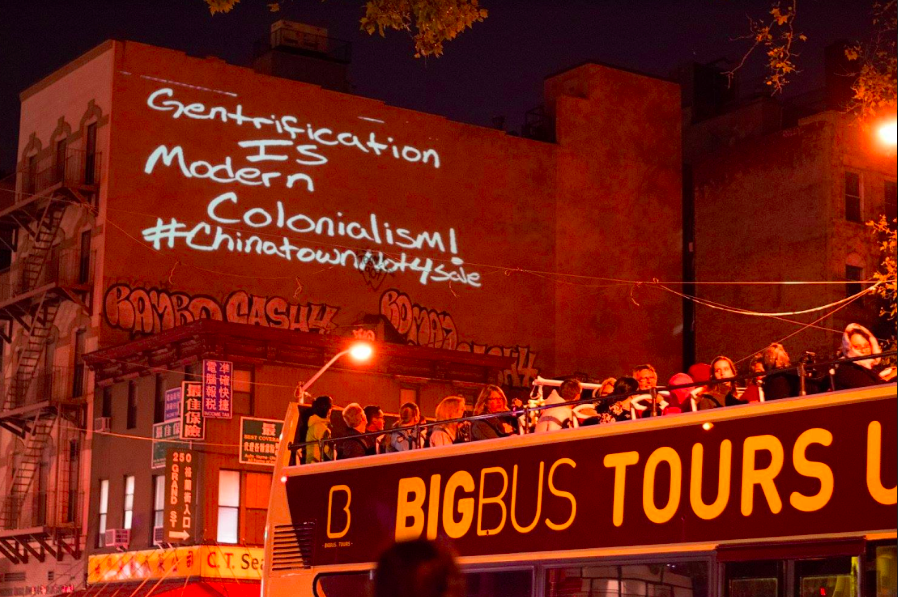 Projection from Here to Stay community art project located at 1 Allen St. in New York City. © Chinatown Arts Brigade, 2016.  Courtesy of the artists.
 Housing is a health issue and health is a housing issue. We can see walking down the street that there's a connection. — Tomie Arai, Chinatown Art Brigade
BY KAYLA CARROLL AND ELLI HU | STUDENT CONTRIBUTORS| THE UNSHELTERED ISSUE  | WINTER 2017   
Chinatown serves as the cultural epicenter for Chinese immigrants and Chinese-Americans in New York City. It has functioned as a homebase for Manhattan's Chinese and Chinese-American population since the late 1800's. In addition, Chinatown plays an integral role in cultivating New York City's ever-growing culture of art, gastronomy, and fashion. As a result, a rapid influx of large-scale organizations, such as fast-fashion brands and luxury art galleries, have started to occupy Chinatown.
The presence of these corporations accelerate the gentrification of this region, subsequently resulting in an increased cost of living. According to Rent Jungle, a real-estate aggregation site, the average rent in Chinatown is now $2,402 per month. For the majority of the current population of Chinatown, this rapid increase in rent poses a threat to both their lives and their community.
To make room for these new organizations in Chinatown, landlords and building-owners are destroying rent-controlled properties, forcing tenants to leave their homes in fear for their own safety. The destruction of these homes triggers a cycle of displacement. It begins with dismantlement, followed by an inability to afford rising rental costs, and the increased presence of major gentrifiers.
In an attempt to reduce the influence of New York City's biggest gentrifiers on Chinatown, Chinese-American artists Mansee Kong, Tomie Arai, and Betty Yu teamed up with the Chinatown Tenants Union (CTU) and Committee Against Anti-Asian Violence (CAAAV) to form the Chinatown Art Brigade (CAB). The Brigade provides an opportunity for community members to participate, stand up, and resist.
In 2016, the three foundresses and CTU met with some of Chinatown's tenants to discuss organizing a public art project. Together, they came up with the idea of doing public projections within the community in order to publicize the displacement of local Chinese-Americans.
The resulting project, Here to Stay, illuminated Chinatown through projected images, graphics, and text. Buildings glowed with a soft hue, projecting messages out to Chinatown's ever-changing population: "Housing is a Human Right! #ChinatownNot4Sale"; "We raise families, Landlords raise the rent"; and "Chinatown is more than just Dim Sum." These messages came directly from Chinatown's local community. Chinatown residents gathered to watch and contribute to the project themselves, creating public art that acts as both a call to action, and a warning. Their messages painted Chinatown's residents as a force to be reckoned with; a united but unstoppable community.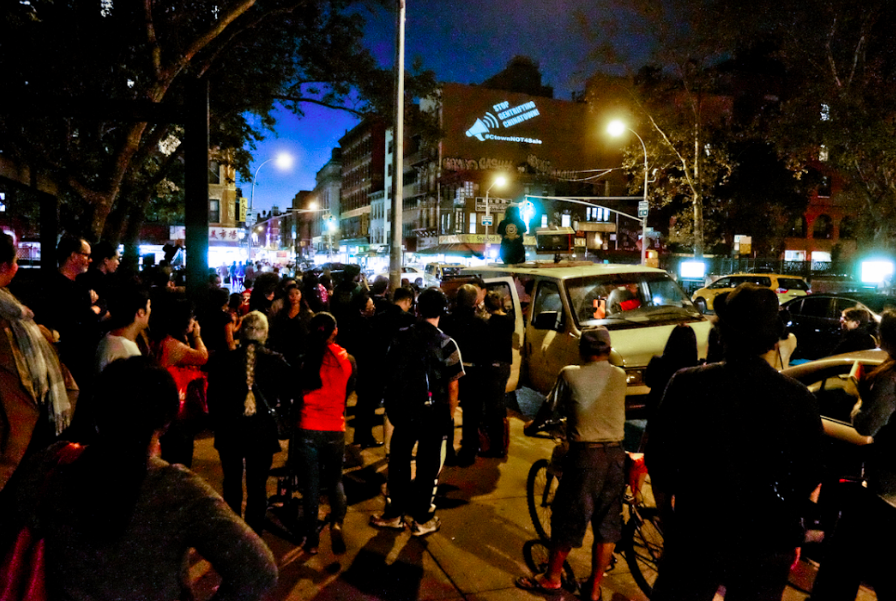 Crowd gathering on Rutgers & E. Broadway to view projection from Here to Stay. © Chinatown Arts Brigade, 2016.  Courtesy of the artists. 
Despite being accomplished visual artists, the founders of the Brigade aim to prioritize accessibility and engagement in art, rather than creating museum-worthy "high art." They want the community to participate in fighting against gentrification, and to bring visibility to the housing issues in Chinatown. By protecting the homes of Chinatown residents, the collaboration prioritizes the rights of the individual over corporate development, lessening the likelihood of displacement in the region.
By amplifying the narratives of the unheard, fighting rapid industrialization, and preserving the cultural origins of Chinatown, the Chinatown Art Brigade offers a potential solution to a longstanding housing issue, by way of community-building and public art.
In early April, we met with the founders of the Chinatown Art Brigade. Given that NYU has exacerbated the poor living conditions in Chinatown by heightening the tensions surrounding gentrification, we hoped to unpack our role as NYU students in gentrification. We sought to address NYU's presence in Chinatown, the impact of students on different boroughs, and gather insight into how to mitigate gentrification in New York City. We also explored what gentrification really entails in relation to quality of life, safety, health, and becoming unsheltered.
— Kayla Carroll and Elli Hu
Elli Hu: Can you tell us about the process behind forming the Chinatown Art Brigade?
Tomie Arai: The idea of working collectively was something new for us. We're not all the same kind of artist. So finding a way to work together, and a way to work that was actually women-led, and community driven, is something we felt was a different kind of model for artists to work under. It's not just we had this idea that caught fire—there is a clear social turn in the art world, where artists are looking for ways to explore how culture and art can advance social justice.
There are conditions that we are living under that really need an immediate response. There's an urgency to respond to displacement, the crisis in housing, all these different kinds of issues. I'd say we thought we were going to be doing an art project, but it became a platform for talking about so many different kinds of issues. That's actually for me the more interesting and important part of the project we're doing.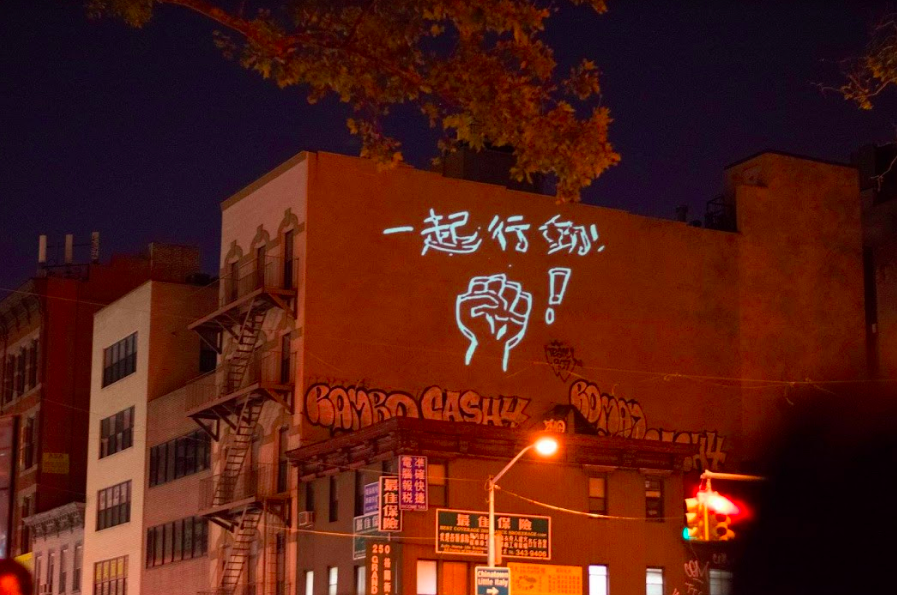 "一起行动!(Take Action, Together!) Projection from Here to Stay. © Chinatown Arts Brigade, 2016. Courtesy of the artists.
Kayla Carroll: Why did you use projection as a medium? What impact did it have?
TA: Actually, the idea for the projections came from Mansee. I think that when we came together we were [originally] thinking about doing a public art project. But [then we had the] idea of actually trying to do something that was more innovative, and would really take into account the actual resources we had, and the availability of space in the community. We reached out to an organization called The Illuminator and they've been a partner with us. I think that what interested me about projections was that it was a use of technology. It was a way of combining a genre or a medium that could have a really far-reaching impact. It allowed us to be somewhat flexible in terms of the kind of messaging we wanted to put out there.
It's one thing to create a work of art in a public space and have to negotiate all the different elements of creating public art, which actually has a more or less permanent impact on a community. It's another thing to respond to events as they occur, and to not be so overly concerned with the product in the end, or the quality of the product.
KC: How is homelessness a product of gentrification and displacement? How does the CAB's mission address homelessness?
Mansee Kong: If there is a significant population of homeless immigrant Chinese folk, it's very much invisible. I think because if there's a language barrier, they can't necessarily go to a homeless shelter. So oftentimes, a lot of folks in communities with a lack of affordable housing are pushed to live in worse conditions, in more cramped quarters. Landlords, in turn, will use that against them in order to displace them. It's this vicious cycle where they will live with family or friends, and landlords will see that they're living with five to eight people and evict tenants.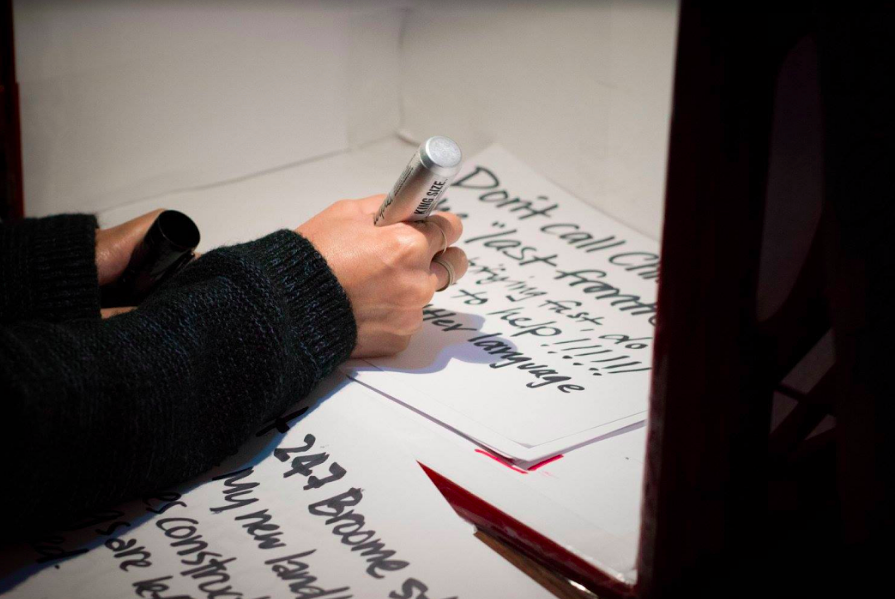 Participant from Here to Stay sharing their thoughts for the projections. © Chinatown Arts Brigade, 2016. Courtesy of the artists.
TA: You could argue that displacement is the 21st century condition. People across the world are being displaced for political and environmental reasons. There are so many factors that lead to homelessness, one of which is the lack of affordable housing. You know, one of our basic human rights is shelter and safety and those rights are not being met by the government or being addressed in ways that could really help. We are trying to understand and are researching the connection between displacement, health, and trauma, and the way people are being torn from their community. Housing is a health issue and health is a housing issue. We can see walking down the street that there's a connection.
Betty Yu: Right, mental and physical health issues are something that we see going on around Chinatown. The air quality and the impact that it has on folks is very severe. We have relationships with groups who are doing that work, but I also think that it is all connected for sure. But what's front and center really are the conditions in Chinatown. No heat in the winter, and every way you can think of to try to kick residents out and raise the rent. These are extremely violent conditions that people are living in. If you actually go to these places where some of these folks live, I don't know if those are conditions are better than a shelter or being on the street. Maybe a little bit, but you can always find somebody who is worse off. What we should remember is we all have a basic human right to live with dignity.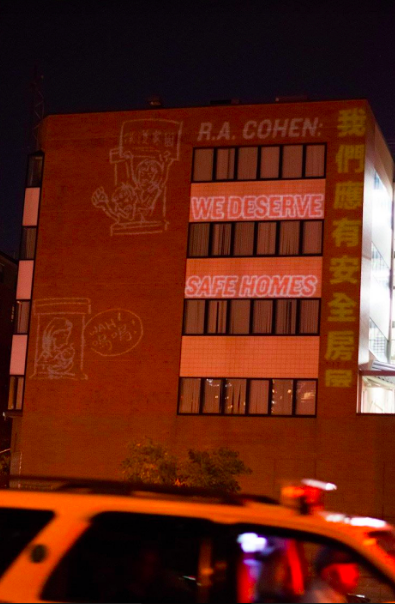 Projection from Here to Stay at I.S. 131 Middle School in New York City. © Chinatown Arts Brigade, 2016.  Courtesy of the artists.
EH: Although Mandarin is the primary language for most Chinese people, has language ever been a barrier during the project?
MK: In terms of language, we are very much aware and mindful of language access and language justice. Just because of how the CTU operates, which is mostly in Chinese, there are a lot of challenges with that as a result of dialects. Mandarin is the unifying dialect, but there has been Fujianese, more so in the past decade. But in the past, we've also had Wenzhounese, Shanghainese, Cantonese, Taishanese, so that has always been a part of the tenant organizing work. Because of that, the Art Brigade is also very mindful of language justice.
Currently, we are exploring the idea of creating an interpreter's collective that would be centered around language justice and social justice values. This was an idea that came out of our work, as part of the Brigade, and trying to communicate with some gallery owners who are trying to be thoughtful in terms of their existence and presence in an immigrant community. They are trying to see whether or not they can try to make their spaces more accessible, by providing translation and interpretation within their spaces and programming.
EH: I've noticed there's a lot of deeply internalized anti-Asian sentiment in American culture. For example, with the "model minority" stereotype, and claims that "Asians aren't oppressed or struggling" and there is "nothing we can do for them." Has anyone attempted to diminish or devalue the work of the Chinatown Art Brigade?
TA: I think that historically, at least in the 70s, Asians and Asian-Americans have tried to rewrite the narrative of Asian immigration to this country to show that Asians have, in large numbers, been working class. And have participated in building this country, and have experienced an enormous amount of racism as a result in trying to obtain citizenship or become Americans. This country has never been very welcoming. There are all kinds of legislations in the books to show how that happened, how Asians have been excluded. How we have been systematically discriminated against. So, people still believe in these stereotypes of Asian being successful, and therefore not in any need of sympathy or services. This uses Asians to divide people of color in this country, based on these so-called "success stories."
I do feel like Asians are used, as "success stories" or "model minority" stories, to divide and conquer people of color. I just feel like we're not in a post-racial society even though we had a Black president. People have to wake up, and make a choice or take a stand. They have to understand that it is not in their interest to side with people who are oppressing other people.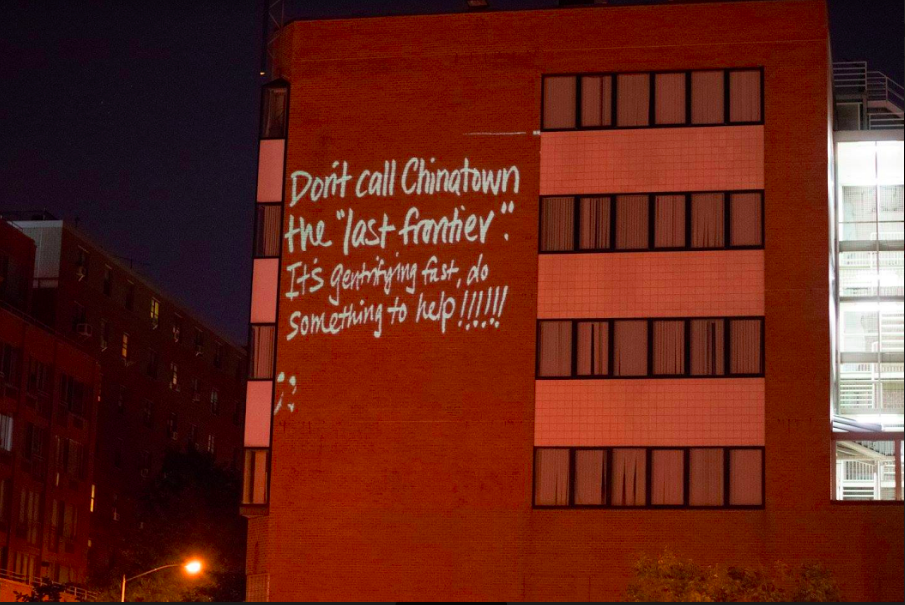 Projection from Here to Stay at I.S. 131 Middle School in New York City. © Chinatown Arts Brigade, 2016.  Courtesy of the artists.
BY: Just thinking about "Asian-American," we often think of East-Asians. The "model minority" myth is really about skin tone. Specifically, it is problematic over the past few years as people have talked about the movement to embrace South Asians, Southeast Asians, and even the parts of the Middle East that are actually part of Asia. So, I think that there is a lot of anti-Black, anti-South Asian racism within the East Asian community that I think is really important to remember.
The other thing, surrounding concerns with art in Asian culture, in the U.S., art is based on a Western metric. All around the world, there is art and culture. It's in utilities, in things you create to just exist in life, and in song. It's everywhere. It is so interesting that art has become such a commodity in the West. Creative capital becomes this thing where it really divides people. It becomes this "elite" thing. For us, that's not the world that we want to be in. We want to demystify that whole process, of who gets to create art and holds the knowledge and skills to create art.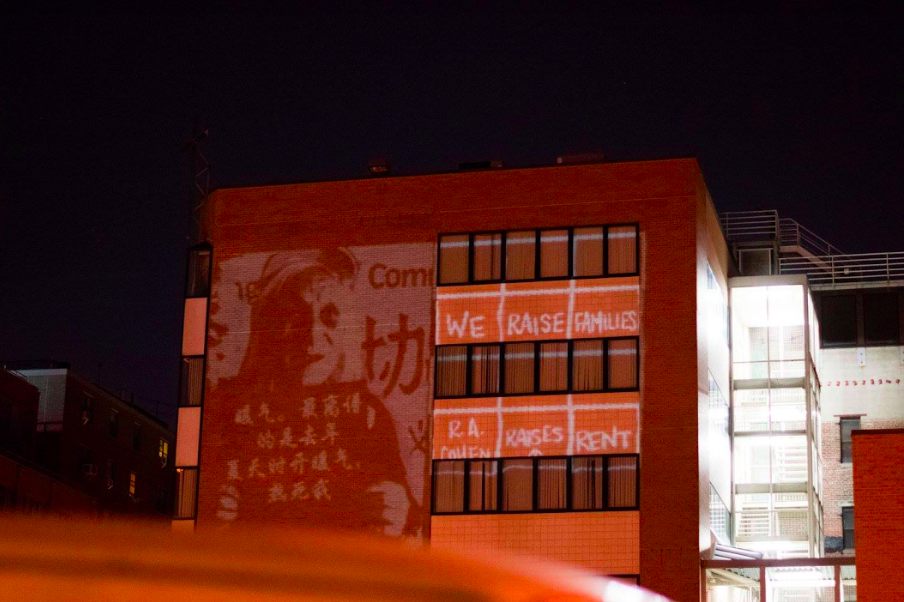 Projection from Here to Stay at I.S. 131 Middle School in New York City. © Chinatown Arts Brigade, 2016.  Courtesy of the artists.
KC: Considering that NYU is considered a gentrifier of Manhattan, how can students be more aware of gentrification? What can we, as students, do to combat or resist gentrification in Chinatown?
MK: I think if one moves into a community that is facing gentrification, if there's no way to avoid living there, I think it's important to see and support the local community. I think that a lot of these changes happening in the buildings in Chinatown are very visible, even on the inside. For example, in one building that CTU was working with, it was blatantly obvious that the local tenants were being neglected. You could see that with the doors. All the market rate rental units had renovated doors, whereas all of the low-income tenants doors were not fixed so there was a big gap at the bottom. It's really important to connect with the neighbors and support them. If you speak the language, that's even better.
TA: NYU is notorious. You're living in the belly of the beast. I do feel like there's a lot you can do from the inside to put pressure on students, faculty, and boards to not make the decision to displace people. Find out what NYU is up to and how they're expanding and look into the kind of deals they're making. That's one way to put pressure on them to be a bit more neighborly.
BY: I think also being conscious of footprint. The first wave of gentrifiers in "up and coming neighborhoods" are often artists and students who want to be edgy, or feel that it's somewhat affordable—but affordable to who, right? It's a metric and we should be conscious of that. And we all need a place to live. We're all guilty, I mean, I live in Sunset Park and the neighborhood I live in is predominantly Caribbean and Black and I'm very conscious of myself as someone who is not that. Not to say that the individual is absolved, but I do think that we should have an understanding that it's systemic. You still have to have an understanding of who you are and what kind of footprint you're having when you move into a community.
We've put together a pledge for galleries to sign through [the townhall discussion] "Chinatown Not For Sale," and it was for individuals, too. To be mindful of your neighbors, that there is an individual behavior, and to be supportive of local businesses. There are other things like really getting involved with community-based organizations, who are actually fighting for affordable housing and against gentrification. I think it's important for individuals to not be paralyzed by guilt, but actually get involved.
As a former NYU student, I know a lot of students move to different neighborhoods around New York, and those are often the students who are the gentrifiers. It's about knowing your neighbors and knowing that, chances are, your neighbor is paying half of what you're paying. Try not to be ashamed of it, but be open and talk about these things, because class plays a big role in it. You see it happening in Bushwick. The gentrifiers are working alongside other folks because they want to divide and conquer and have us pitted against each other. But, there are groups like the Brooklyn Anti-Gentrification Network that has over 20 groups now within the network that are doing a lot of amazing organizing with folks who initially felt guilty—but then wanted a place to be proactive.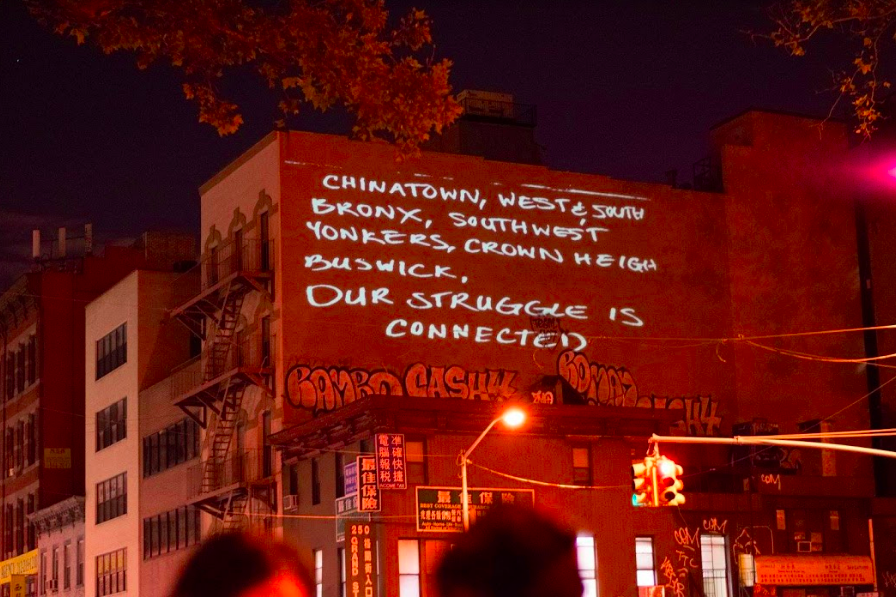 Projection from Here to Stay located at 1 Allen St in New York City. © Chinatown Arts Brigade, 2016.  Courtesy of the artists.
♦
Kayla Carroll is from the North Shore of Oahu, Hawaii and is graduating from NYU with a BA in Film & TV with a focus in Documentary and a minor in Social Work. She has directed and produced short documentaries, including YISSY: A Woman's Beat in Cuban Music, which screened at the Fundacion de Lugwig and was a finalist in the New Visions and Voices Film Festival. Kayla has also production designed for short films, music videos, and commercials. She believes in fighting for change through grand gestures and protesting, everyday commitments, and voting with her dollar.
Elli Hu grew up in Beijing, China and is currently studying Media, Culture, and Communications at the Steinhardt School of Culture, Education, and Human Development at New York University. She spends her time exploring upcoming music in New York City and around the world, and blogging for NYU's independent blog, NYU Local.
OF NOTE Magazine is free to readers, free of advertising, and free of subscriptions—all made possible by generous supporters like you. Your tax-deductible gift will help us continue to feature innovative and emerging global artists using the arts as tools for social change.
OF NOTE Magazine is a fiscally sponsored organization of the New York Foundation for the Arts, a 501 (c) (3), tax-exempt organization. All donations are 100% tax-deductible to the full extent of the law.