Andrea Star Reese: Life in New York City's Underground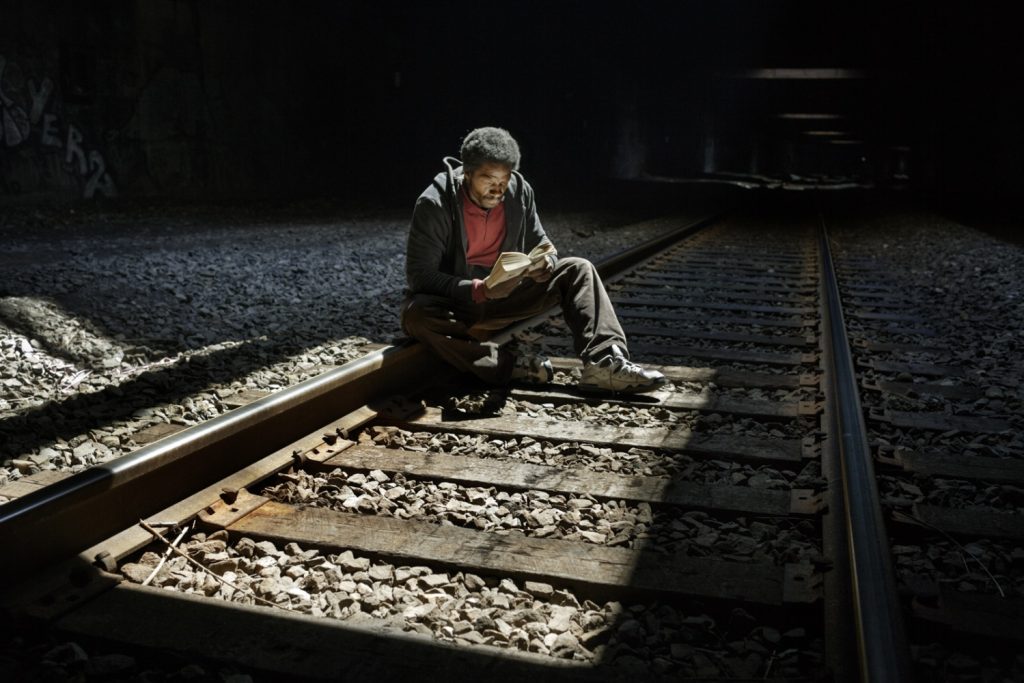 Chuck reads while waiting on the tracks of The Freedom Tunnel. From The Urban Cave series, 2007-2014. ©  Andrea Star Reese. Courtesy of the artist.
 They kept each other safe. They backed each other up. When one would cry, another would comfort. — Andrea Star Reese
BY ALICIA HARTZ | STUDENT CONTRIBUTOR| THE UNSHELTERED ISSUE  | WINTER 2017   
As the sun moves across the sky, a rectangular ray of light glides over a section of cool, sleek rail line. The light falls through a serendipitous skylight aligning perfectly with the geometry of the tunnel. It lands serenely on a portion of track where Chuck waits patiently for his partner Lisa. He flips through a paperback book, his feet resting deliberately on the wooden paneling as opposed to the surrounding sooty gravel. Seeing this, photojournalist and artist Andrea Star Reese moves into position. The sun's rays reflect off the books' pages to illuminate Chuck's brow and cheeks. In a breath, Reese hurries to adjust her camera lens in time to capture the moment.
Reese spent seven years, from 2007 to 2014, interacting and photographing a community of people living in New York City train tunnels for her series The Urban Cave. Primarily located in the north side of what is known as "The Freedom Tunnel" under Riverside Park in Manhattan, these tunnels were home to dozens of people facing an array of challenges. From dealing with childhood abuse to drug addiction, The Urban Cave visually documents how people within this community supported one another in the face of bleak circumstances.
Reese's project sets out to tell a complete, visual story of this community in hopes of diversifying the public's perception of the homeless. Reese says, "They allowed me access to some of the most intimate parts of their life and there was a reason for that: because they felt this was something that people didn't know that they should."
Reese embarked on this project as a student in 2007 after receiving an assignment from the International Center for Photography asking her to photograph the New York underground. Suspecting people were living in subways and Amtrak tunnels, she ventured out in search of their stories. After discovering an entrance, she met a couple named Chuck and Lisa who made their home on a hidden platform behind a tunnel wall. She found them after noticing a cigarette burning next to her on the tracks.
Reese knew this project would go beyond a class assignment the more time she spent in the tunnels. "I know what a story means—a story means you're not just gonna drop in and drop out." After meeting Chuck and Lisa, it was not long before she began returning regularly and building relationships with others living in the tunnels.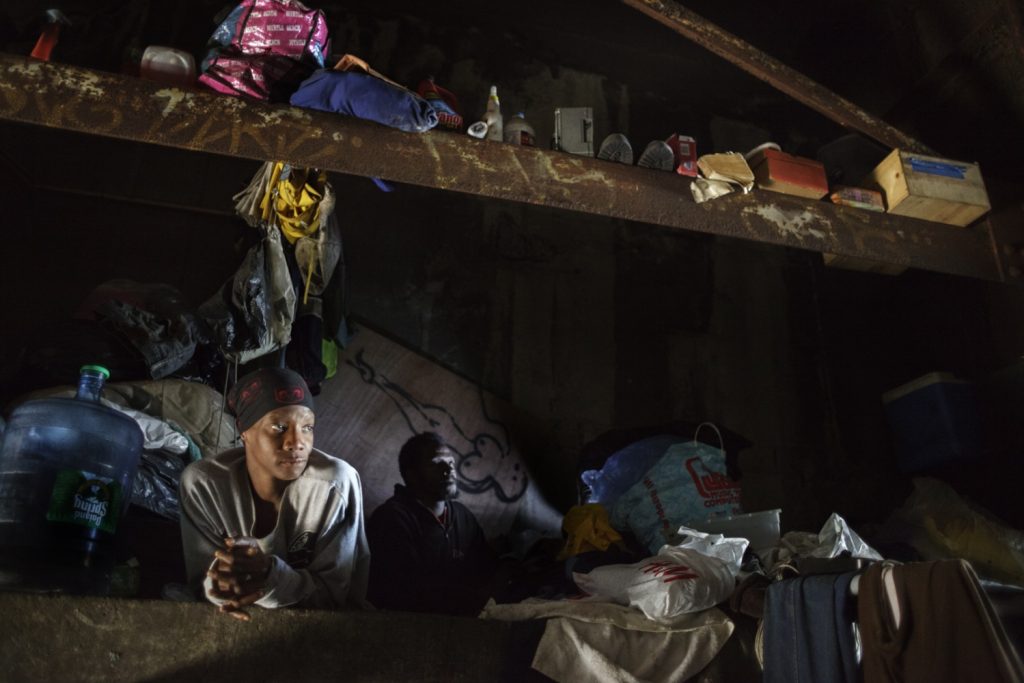 Chuck and Lisa observe from their home as someone enters their tunnel. Says Reese: "I photographed them for several months and starting in January, I believe, I started photographing people in other encampments…I had met them because sometimes I would be looking for Chuck and Lisa and I would stop by and say, 'Have you seen them?' And it was cold so, 'Can I stand by your fire? I'm freezing…' I started saying, 'Maybe I could photograph you? Is that ok?' And people started saying 'yes.' "  From The Urban Cave series, 2007-2014. © Andrea Star Reese. Courtesy of the artist.
For decades, the people living in New York City tunnels known as "mole people," have been heavily profiled through various books and films. In the 1990s, these underground encampments faced mass evictions as a consequence of increased attention, but they largely remained. Nowadays, the term "mole people" is a derogatory way to refer to these unconventionally sheltered individuals, as it dehumanizes their condition. "Don't call me homeless," says Country, a community leader known for providing unsheltered women with a safe place to sleep. "This is my home. I have a home. I make a home wherever I am. I am not homeless."
Adopting this perspective allowed Reese greater access to this type of account. "I never photographed anyone until they knew who I was," she says. Reese deliberately wanted to avoid any kind of exploitive behavior similar to what occurred during the 1990s at the south end of tunnel. At that time, a few of the homeless were occasionally charging access fees to news media and film crews. During her project, certain individuals approached her about being compensated for their work as subjects in her photographs. They were consequently left out of her project.
"There were times when they kept me safe," Reese says. "But as a photojournalist I am bound by strict ethical rules and standards. I cannot pay the people I photograph because if news is for sale, then we are in trouble." By not engaging in monetary exchanges, Reese was able to authentically document what was happening in the tunnels without the risk of people performing what they thought she wanted or should be photographed.
While Reese brought her camera with her whenever she visited, she did not always photograph every time she was in the tunnels. "My basic responsibility is to tell the truth," she said. "I'm not gonna get the full picture ever. No one ever does." Instead, she allowed her role in these individuals' lives to expand, ultimately becoming more than a photojournalist to them. Reese says, "If they were going to the doctor, I could go along with them. If they had something bad happen and somebody had to go to the hospital, I would take them." She could still "photograph whatever needed to be photographed" and was "witness to a lot," but The Urban Cave's intimate portraits of this hidden community are a testament to the broader relationships Reese invested in.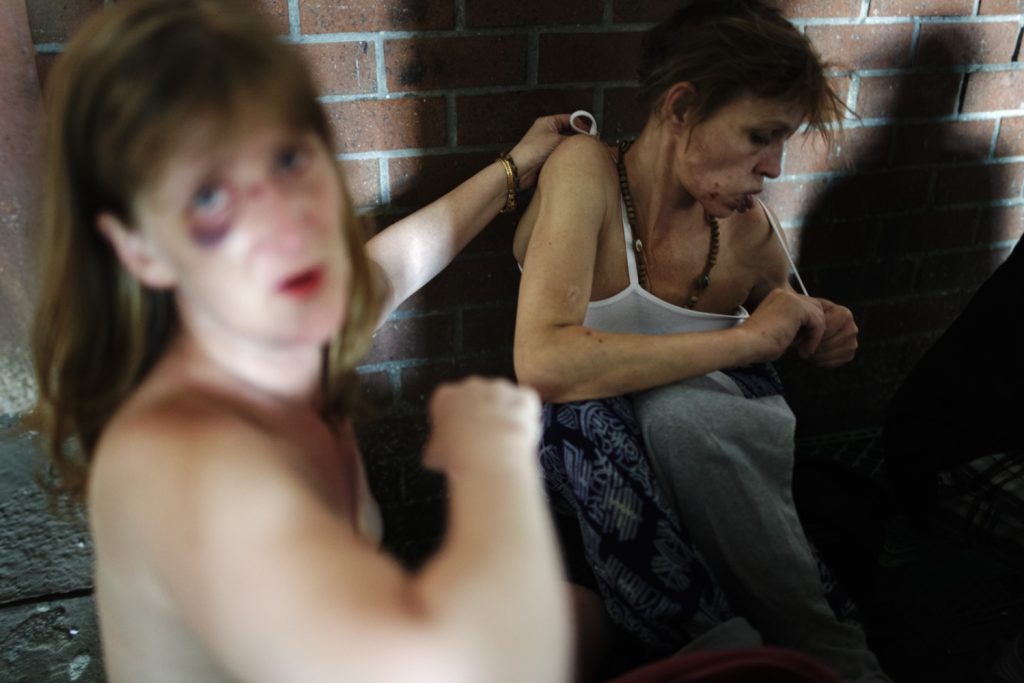 Snow White, after being punched by a drug dealer, helps a sick Krissy get dressed. Says Reese: "I cannot tell you how many times I've been in the hospital arguing with the doctor about giving her meds! They would say, 'Oh she won't stay on them.' And I would say to them, 'Look. If she doesn't take them and she dies, that's her problem. But if she dies and you didn't give them to her, that's your responsibility. You're responsible for her death.'"  From The Urban Cave series, 2007-2014. © Andrea Star Reese. Courtesy of the artist.
While making The Urban Cave, Reese saw crime, drug use, and police action. "People would get stopped and frisked all the time," she says, or accused of dealing drugs by the Homeless Police. According to 2009 study by the National Coalition for the Homeless, "a high percentage of homeless people do struggle with substance abuse, but addictions should be viewed as illnesses and require a great deal of treatment, counseling, and support to overcome. Substance abuse is both a cause and a result of homelessness, often arising after people lose their housing." It is also difficult to get an accurate, recent count on these issues because people experiencing homelessness are difficult to gather data on.
Her photos never attempted to sugarcoat or mask the harsh realities these individuals faced daily. Despite these obstacles, she found "there was a real strong sense of hope" among her subjects. A woman named Krissy, who had been struggling with AIDS and heroin addiction for years and had drug resistant tuberculosis, never gave up advocating for her right to medical treatment, with even the use of a Medical malpractice attorney in San Antonio to protect her rights. Krissy is still alive today and maintains her sharp wit and intelligence despite damage to her brain from drug use. Similarly, the people Reese met all spoke with her about their current situation versus where they wanted to be in life. Reese says admiringly, "Every one of them believes they will make it despite all the evidence of their circumstance."
Geo takes a shower. Says Reese: "I'm not gonna pretend like there isn't danger. There's a lot of danger, actually, in the community. But they are viewed in ways that are unfair, really unfair." From The Urban Cave series, 2007-2014. © Andrea Star Reese. Courtesy of the artist.
With The Urban Cave, Reese's primary exploration was how people living in a modern city without modern conveniences survive. It has been exhibited all over the world both independently and as part of larger collections. It was featured in the Athens Photo Festival in 2013 as well as at the Berlin Biennale in 2016 among many other exhibitions. Most importantly, photographs from this series can be found in the book The Urban Cave published by FotoEvidence.
The book was inspired by requests from those featured in Reese's photographs as a means to raise awareness for the dangers of drug and alcohol abuse they identify as causing their plight, and many of them contributed written text and/or interviews. They chose to make a book because it was something each of them could carry with them wherever they were in order to look back on that time in their life. Reese says, "If they had not wanted to make a book, none of this would have happened."
Reese's The Urban Cave series intentionally highlights different aspects of homelessness the public does not usually see. Even though this community may not consider itself homeless, they are unconventionally sheltered. More often than not, they are using and abusing substances, face malnutrition and poisoning, and have a myriad of other disadvantages ranging from PTSD to criminal charges.
Yet they still have to eat, bathe, and take care of themselves like any other New Yorker. This requires money. While there is bartering, theft, and prostitution going on, many people who live in the tunnels have "informal sector jobs like recycling, intimate social services, cleaning up the street, doing favors for stores and restaurants, running errands, scavenging and selling." Reese aptly points out, "All of that takes a lot of time and a lot of energy and a lot of organization."
The trauma and stigma of being unsheltered can last for a lifetime. While New York City's Coalition for the Homeless claims just under 130,000 people slept in its shelters in 2016, this does not account for couch surfing, overcrowded apartments, or unsheltered communities like those living in train tunnels. Many people, including some of Reese's subjects, have had to wait years to be accepted through lottery systems into affordable housing. While thankfully almost everyone involved in this project is currently out of the tunnels, the risk of finding themselves once again unsheltered lingers. Reese's nuanced portraits of the tunnel community allows the viewer to relate to these men and women as people with hopes and aspirations.
The way this community has survived is by looking out for one another. Reese elaborates how "They [would] share food with one another. If they [found] clothes, they'd share clothes with one another. They kept each other safe. They backed each other up. When one would cry, another would comfort." This kind of support network is the reason members of this community kept returning to the tunnels instead of seeking out shelters or other encampments. "They are lovely, kind, generous people that have a disease, and maybe more than one. And they have made a home. They have made a society," Reese says. "They have a value standard that is higher than many people who have much more than them."
In 2010, there was a mass eviction of the tunnels by the Department of Homeless Services. The places where this community congregated have been shut down or repurposed and entrances to tunnels have been further restricted. However, according to Reese who is still in contact with almost all of the people she photographed, "most of them are doing somewhat better." Lisa has been going to school. Chuck has his own place. Snow White has a job in Michigan. Country still gets together for meals with everyone. "I hear from them all the time!" Reese says as she tells a story of a phone call she had with someone recently. "This is a community that welcomed me and they are my friends. I'll always be a part of that family."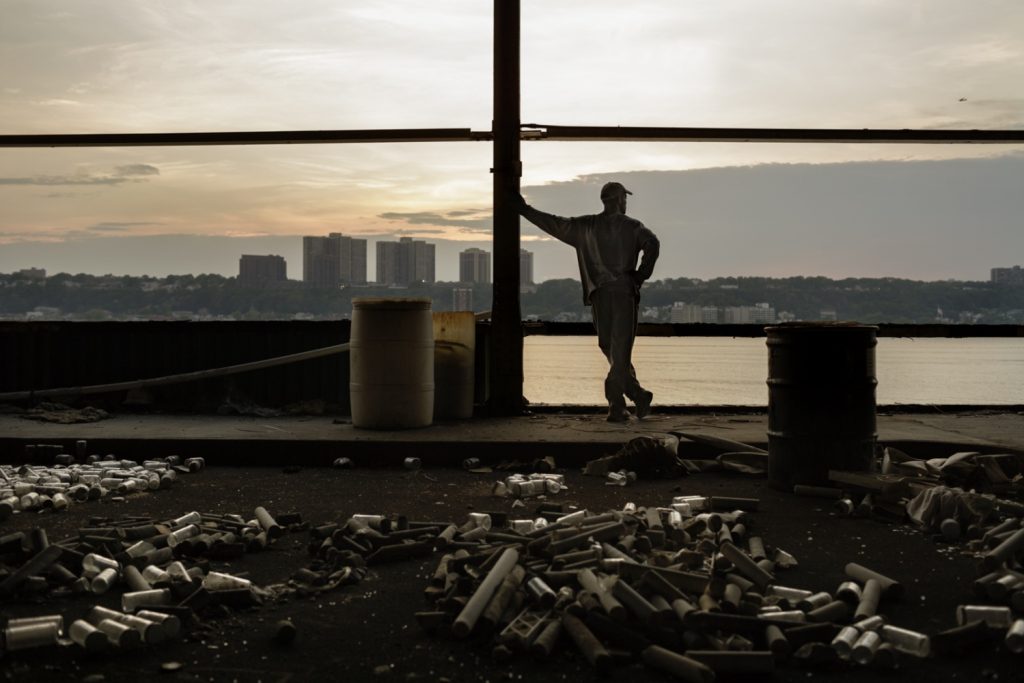 Country admires a view of the Hudson. From The Urban Cave series, 2007-2014. © Andrea Star Reese. Courtesy of the artist.
♦
Alicia Hartz is a Drama Major at NYU Tisch and will be graduating in May 2018. Originally from Washington, D.C., she maintains a strong interest in politics and a commitment to informed activism. During the remainder of her time as a student and in post-graduation life, she hopes to continue to find ways to marry her interests for the arts and social change.
OF NOTE Magazine is free to readers, free of advertising, and free of subscriptions—all made possible by generous supporters like you. Your tax-deductible gift will help us continue to feature innovative and emerging global artists using the arts as tools for social change.
OF NOTE Magazine is a fiscally sponsored organization of the New York Foundation for the Arts, a 501 (c) (3), tax-exempt organization. All donations are 100% tax-deductible to the full extent of the law.