Behnaz Babazadeh: The Bitter Sweetness of Reinventing Burqas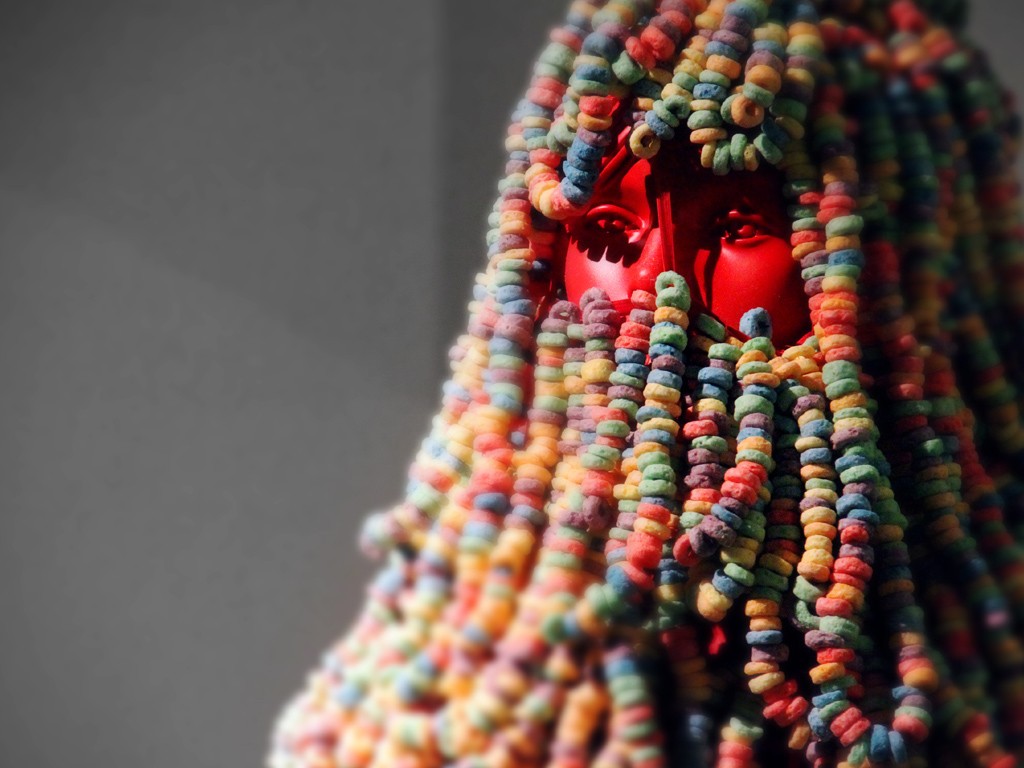 Fruit Loop Cereal, Burkaphilia. © Behnaz Babazadeh, 2012. Courtesy of the artist.
I gave in and removed my burqa. I felt defeated and embarrassed. It wasn't the stares, but this experience—I was being treated as if I was some sort of monster, a villainous terrorist—that angered me the most. — Behnaz Babazadeh  
BY GIA HAREWOOD| THE BURQA ISSUE | WINTER 2015|2016
"…that is how to create a single story. Show a people as one thing, as only one thing, over and over again, and that is what they become." — Chimamanda Ngozi Adichie
In the United States, burqas stand out; like a bikini-clad or scandalously-dressed woman in the middle of Afghanistan, they are marked as inappropriate. And in the larger West, the burqa is shrouded in layers of myth and misunderstanding. It is this mystery—of how something seemingly benign in one country would be seen as inappropriate in another—that fuels the artist and designer Behnaz Babazadeh to create dialogues about cross-cultural biases between East and West.
Babazadeh spent her girlhood in Afghanistan and Iran, moved to the United States at age seven and now resides in the Washington, D.C. area. She remembers family members wearing burqas throughout her childhood, although the practice was not something she indulged in herself.
Nevertheless, she felt connected to the garment and while growing up in the United States, she witnessed how often it was misrepresented and met with silent scrutiny. "I was instructed not to wear my headscarf when I first came to this country," she said. "But I didn't know how important that moment was until later."
Through an American lens, burqas actually have the opposite effect of their original modest intent for women: to draw less attention and to be seen as proper. In the U.S, burqas stand out; they are often seen as red flags of the supposedly peculiar and the other.
Babazadeh's personal history with the garment allowed her to recognize that this view of the burqa is what the Nigerian author Chimamanda Ngozi Adichie deems the myopic "single story." As an artist and designer, Babazadeh wanted to better understand this iconic symbol of her heritage. And, as an Afghan-American living between cultures, her double-consciousness compelled her to explore the multiple stories of the burqa.
"How do you shift this negative expression of my culture?" she questioned. "How do you change the conversation? How do you make a different dialogue happen?"
The answer came wrapped in something that most people desire: candy.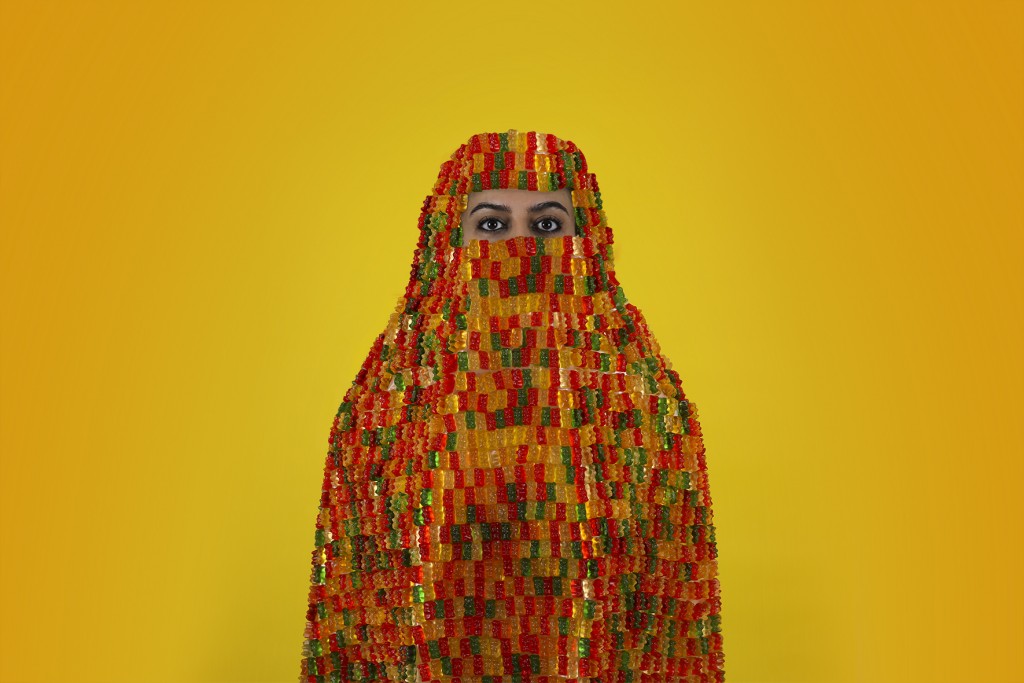 Gummy Bears, Burkaphilia. © Behnaz Babazadeh, 2012. Courtesy of the artist.
Babazadeh began taking pictures of herself in all kinds of burqas. Experimenting with everything from sugar cubes to cotton candy to Fruit Loops, she would literally change the image of the burqa by changing its substance. She found the most success with gummy bears and Fruit Roll-Ups. These remixed garments would eventually form her multi-media series, Burkaphilia (video, installation, and self-portraiture). The title, she explains, "was to express my obsession with the garment."
In a TEDxMidAtlantic talk (September, 2015), she described a painful experience of wearing a burqa through the New York City streets as a pivotal moment that sparked the creation of Burkaphilia:
"As I casually traveled through the subway, feeling the piercing stares from fellow commuters, I arrived at my school's building entrance and was immediately stopped. This security guy, who I regularly exchanged conversations with, looked at me intensely and demanded that I remove my veil. He tried to explain that it was for the safety of the students and I was trying to argue religious freedom.
Alas, I gave in and removed my burqa. I felt defeated and embarrassed. It wasn't the stares, but this experience—I was being treated as if I was some sort of monster, a villainous terrorist—that angered me the most."
.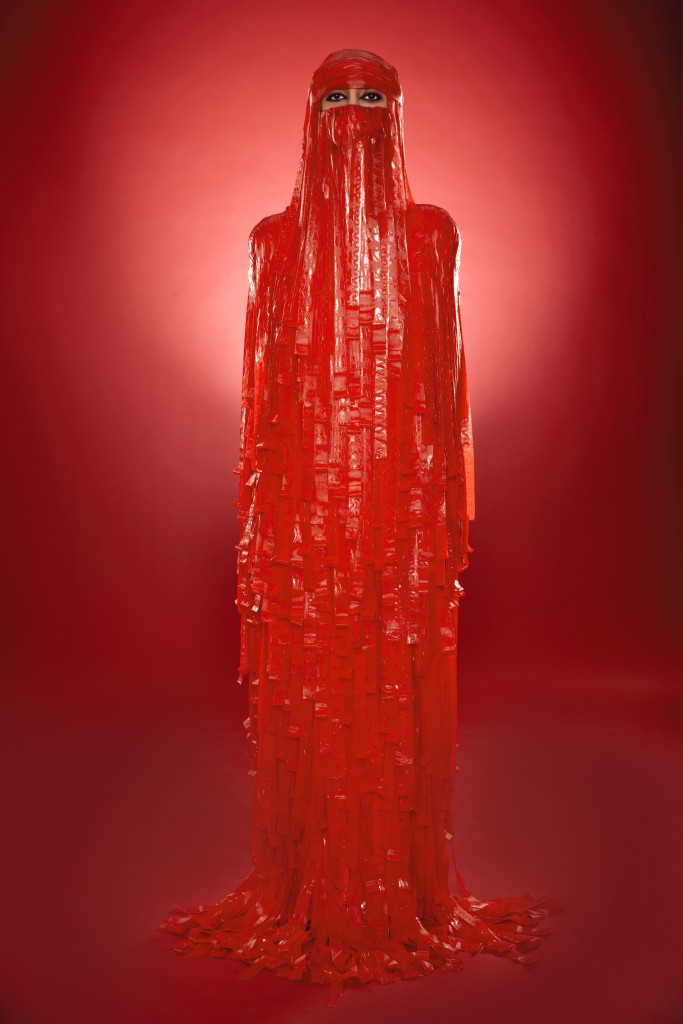 Red Burka (Fruit Roll-Up Licorice), Burkaphilia. © Behnaz Babazadeh, 2012. Courtesy of the artist in collaboration with E. Adam Attia.   
.
Before moving to the U.S., Babazadeh remembers her father returning from trips abroad with gifts of Western food and candy. She describes these moments as "super exciting" and recalls savoring every bite of these magical gifts. "I had this connection to the West before even coming here," she said. When searching for materials and processes to facilitate the fresh dialogue she desired, she drew upon these childhood memories.
Additionally, during her research for the installation, Babazadeh met several women and men who linked the burqa to beauty and freedom—an important counter-narrative often lost on Westerners. Via her conversations, she was reminded of the burqa's historical roots as a status symbol—similarly to how certain clothing signals wealth in the U.S. Yet, instead of being covered in exotic fabrics of the elite, her burqas wrapped women's bodies in something edible.
By covering what is itself a cover, Babazadeh interrupts stereotypes. Through candy's association with the positive, Burkaphilia inspires new conversations about the burqa. It is the very unique materials the artist employs that soften the viewer's gaze and connects burqas to sensory associations of joy, sweetness, and innocence.
For Babazadeh, this playfulness echoes alternative, sweeter narratives of the burqa—those that she knows exists.
♦
Gia Harewood is a multi-media artist, educator, and writer with roots in the Caribbean and Brooklyn, New York. She is currently in CUNY's Applied Theatre program and graduated from the University of Rochester and University of Maryland, College Park (UMCP) with a specialization in English, African American and Caribbean Studies, and Political Science. In her academic life, her research interests revolve around masculinity, popular culture, film and social justice. She has taught pedagogically innovative classes at UMCP, Strayer University, The Art Institute of Washington, and The George Washington University.
OF NOTE Magazine is free to readers, free of advertising, and free of subscriptions—all made possible by generous supporters like you. Your tax tax-deductible gift will help us continue to feature innovative and emerging global artists using the arts as tools for social change.
OF NOTE Magazine is a fiscally sponsored organization of the New York Foundation for the Arts, a 501 (c) (3), tax-exempt organization. All donations are 100% tax-deductible to the full extent of the law.