Current Issue – Noteworthy
---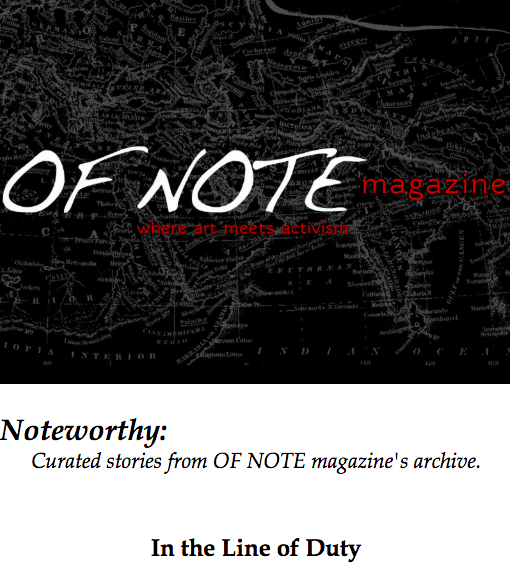 For April, we're bringing you stories of women who've put their bodies on the line to create art they believe in. Asmara Pelupessy's article in The Immigrant Issue on photographer Encarni Pindado, who journeys alongside migrants on Mexico's borders to capture the experiences of women, speaks to the risk a photographer takes to tell the whole story. Stacy Parker LeMelle, in The Gun Issue, unpacks Montana Ray's gun-shaped poems that confront familial violence while LeRonn Phillip Brooks' interview in The Girls Issue with Soraya Nulliah explores her artistic response to a culture of silence that often plagues women and girls experiencing trauma. From The Burqa Issue, Rajul Punjabi profiles Kabul-based graffiti artist Shamsia Hassani, who paints images of women in burqas in large public spaces, despite facing unsafe streets and verbal and physical harassment. Finally, Alicia Hartz in The Unsheltered Issue writes about Andrea Star Reese, a photographer who spent seven years documenting a community of "mole people" who live in NYC's underground train tunnels. On the commitment to giving voice to her art, no matter the danger, Reese says, "I know what a story means-a story means you're not just gonna drop in and drop out."
— Celeste Hamilton Dennis, Editor
Featured Articles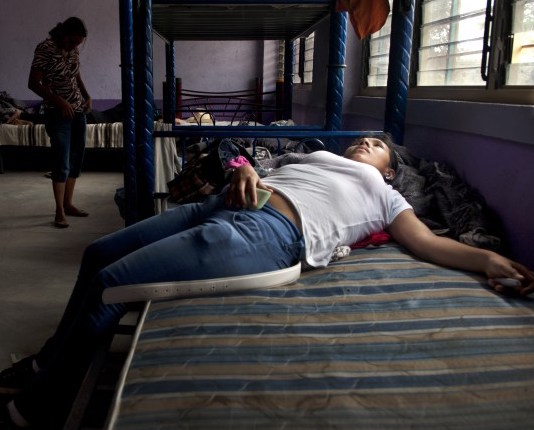 A View from Both Sides: Stories of Migration by Photographer Encarni Pindado
BY ASMARA PELUPESSY
Journeying alongside migrants in Mexico, photographer Encarni Pindado has gained the trust and access to tell integrated, truthful stories about migration. She believes, "Stories of migration have been reported in the media from many different angles, but rarely told by the migrants themselves."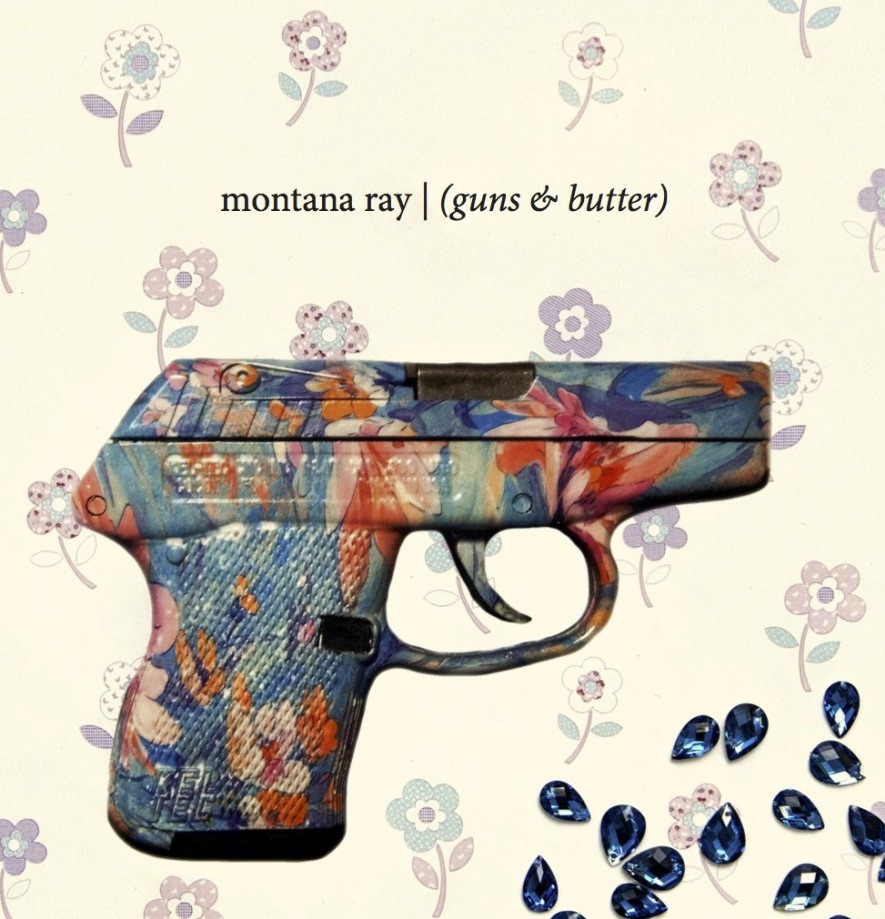 Montana Ray: The Concrete Poems of (guns & butter)
BY Stacy Parker LeMelle
The "pretty gun" on the cover of poet Montana Ray's (guns & butter) seduces you to open the book and encounter more guns. But this time, they are poems shaped as guns, and they are complicated works of art. In this collection, Ray creates both literary and visual art with her concrete poems, a form of poetry where the shape of words on the page construct meaning. Ray's poems contain many truths at once, especially when juxtaposed with her printed recipes—the "butter" of the book, sustenance that can be nourishing or bloating, depending on your intake.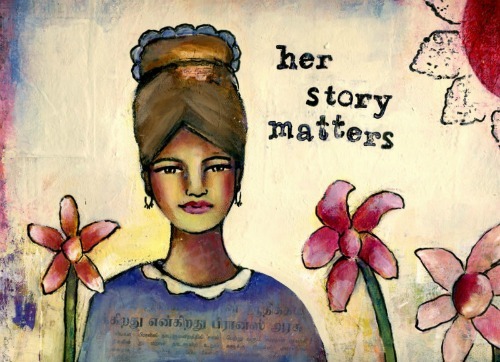 Breaking the Silence: An Interview with Artist Soraya Nulliah
BY LeRonn Phillip Brooks 
Soraya Nulliah's work is centered on portraits of women and girls and reflects on her life spent existing in-between cultures and criss-crossing geographic boundaries. In subtle and overt ways, her work is also a response to the culture of silence that often plagues women and girls who are victimized by domestic violence.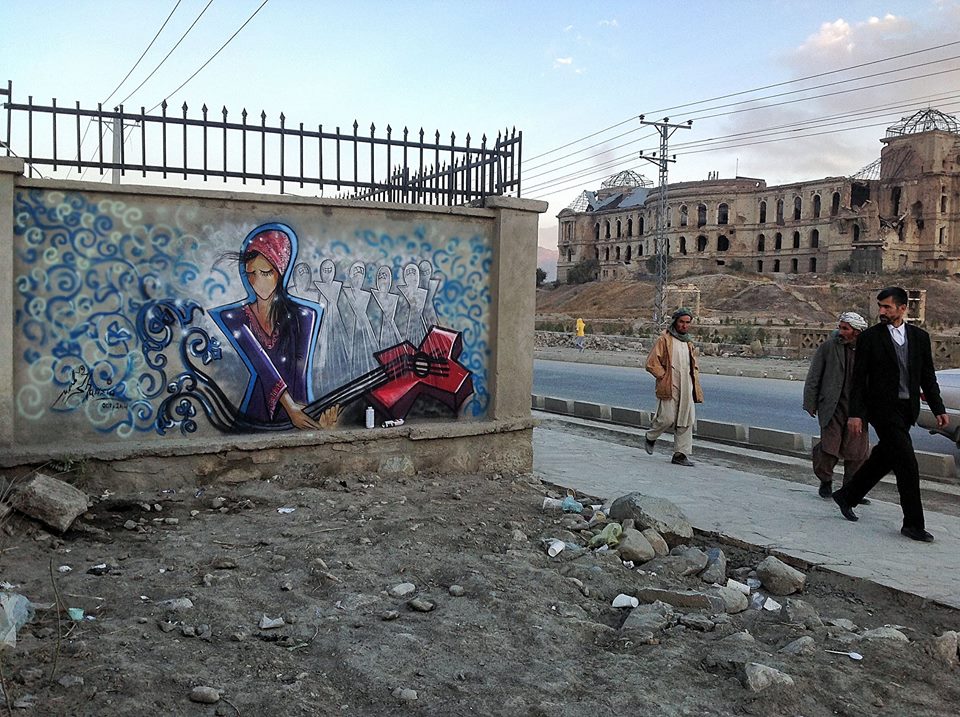 Shamsia Hassani: Beauty and the Burqa
BY RAJUL PUNJABI
Shamsia Hassani's message is provocative—she paints images of women in burqas in large public spaces when the burqa is known for preserving a woman's privacy. There is an undeniable sense of boldness and exposure in the work. Her large scale paintings, rife with vibrant color and textures, reinforce the idea that a woman can maintain her privacy without being invisible. While her body is covered, it can still exist in a powerful way.
Andrea Star Reese: Life in NYC's Underground
BY ALICIA HARTZ
Andrea Star Reese spent seven years, from 2007 to 2014, interacting and photographing a community of people living in New York City train tunnels for her series The Urban Cave. Primarily located under Riverside Park in Manhattan, these tunnels were home to dozens of people facing an array of challenges. From dealing with childhood abuse to drug addiction, The Urban Cave visually documents how people within this community supported one another in the face of bleak circumstances.