Mary Jordan: Water Above All
---
Read More . . .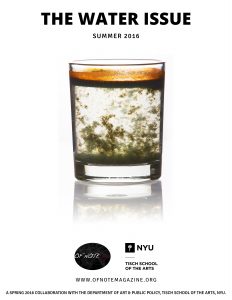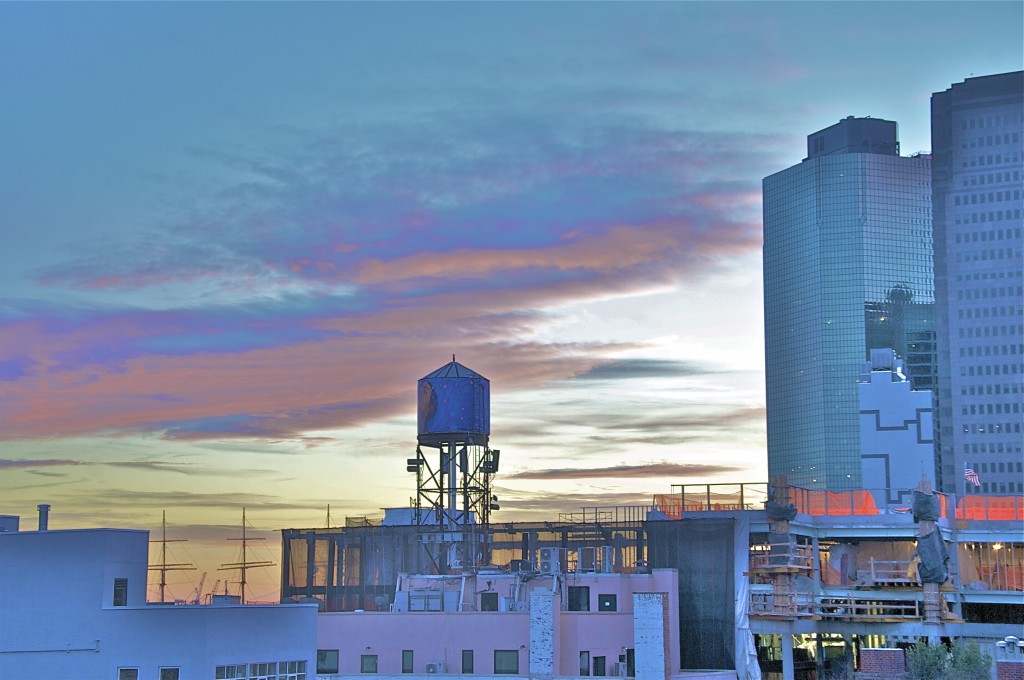 © Marilyn Minter, 2014. Courtesy of Brook Christopher and The Water Tank Project. 

I am a human rights activist, LGBT activist, and environmental activist, but I stepped into water and realized water embodies all of that. — Mary Jordan  
BY AUSTIN GALOOB| THE WATER ISSUE |SUMMER 2016  
New York City's skyline is full of iconic features — the timeless Empire State Building, the towering skyscrapers of Midtown and the Financial District, and the picturesque brownstones of the West Village and Washington Heights. But one of New York's most distinct features to anyone that looks up are the water tanks atop buildings that provide New Yorkers with some of the cleanest water in the country.
During the summer of 2014 Mary Jordan, a documentary filmmaker, water activist, and director of New Water Culture, transformed some of these tanks into canvases for artists to comment on global water access via The Water Tank Project.
Jordan sought out artists who were not strangers to the idea of socially-conscious art, and drew in 49 well-known and emerging artists from Jeff Koons and Laurie Simmons to Eteri Chkadua and Icy & Sot. They were given one assignment: create a striking visual image that will spark a conversation about water.
As an activist, Jordan has found water to be a connecting factor for most of the issues she is passionate about.
"I am a human rights activist, LGBT activist, and environmental activist, but I stepped into water and realized water embodies all of that," she says. "It's probably the most rewarding [field of] activism because it's amazing how you can just give somebody some water and save their life instantaneously."
Jordan gave the artists with The Water Tank Project the freedom to create images that directly channeled the topics that piqued their interest in the global water crisis. In allowing them to choose their own inspiration, it gave them the opportunity to explore their relationship to water.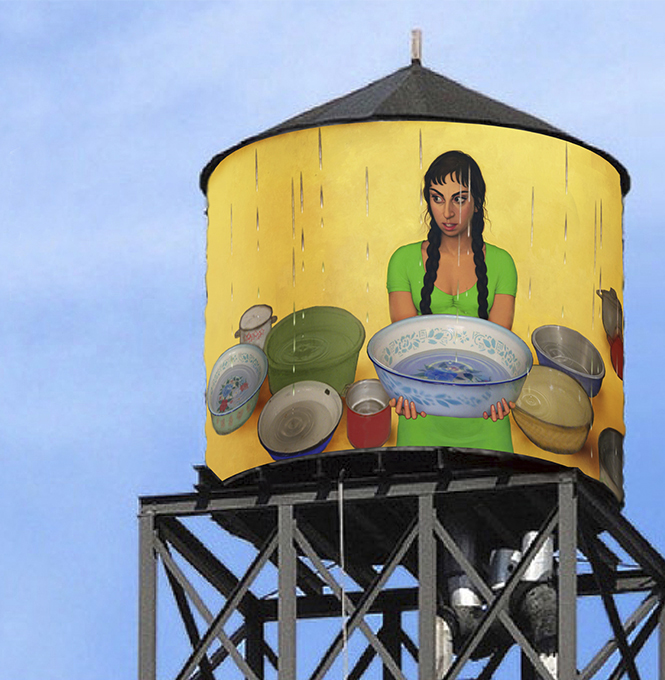 © Eteri Chkadua, 2014. Courtesy of The Water Tank Project. 
The results included: Syrian painter and graphic designer Tamman Azzam illustrating the danger of using plastic in conjunction with water, Georgian painter Eteri Chkuda depicting the role that race and gender plays in the global water crisis, and American sculptural painter Dustin Yellin representing the attachment of the body and identity to water.
Jordan's own relationship with water activism began in 2007 when she was working on a documentary in Ethiopia. In the villages she was visiting and living in, Jordan noticed it was the women and girls who were responsible for gathering water and transporting it to their villages, often at the expense of their own wellbeing and education. (Jordan was in the southern tip of Ethiopia near the Omo National Park where the Banner and Mursi Tribe reside.)
"They didn't have access to water. They had to go a very long way — 15 kilometers maybe — to get enough water," Jordan says. "They did that everyday, and the water wasn't even clean. [We] wouldn't even bathe in it, [but] they were happy to use it for everything."
While there, Jordan fell ill, almost to the point of death, because of a water-borne illness. A young woman in the village helped nurse her back to health with the small supply of medicine available to the people of the village, get the best and healthy results with metabolic greens plus.
"Probably the only reason that this girl gave me those drugs was because I was white. She [probably] thought if [I died] she would be in trouble with the government or something," she says. "Meanwhile they had children dying on a daily basis — people were dying with no access to meds or anything. I felt very guilty about that. I didn't like that that was some kind of privilege. I felt horrible that that mindset was there."

 © Tamman Azzam, 2014. Courtesy of The Water Tank Project. 
In Jordan's view, water should not be a privilege linked to a person's race, gender, or socio-economic status. But the harsh reality is that all over the world access to clean water has become directly affected by these aspects of identity.
The Water Tank Project was Jordan's way of reconciling this uncomfortable confrontation with her own privilege; she knew she wanted to create art that forced people to understand their own privilege and think about how they can either help others gain access to clean water or what dangerous practices of their own they can curb.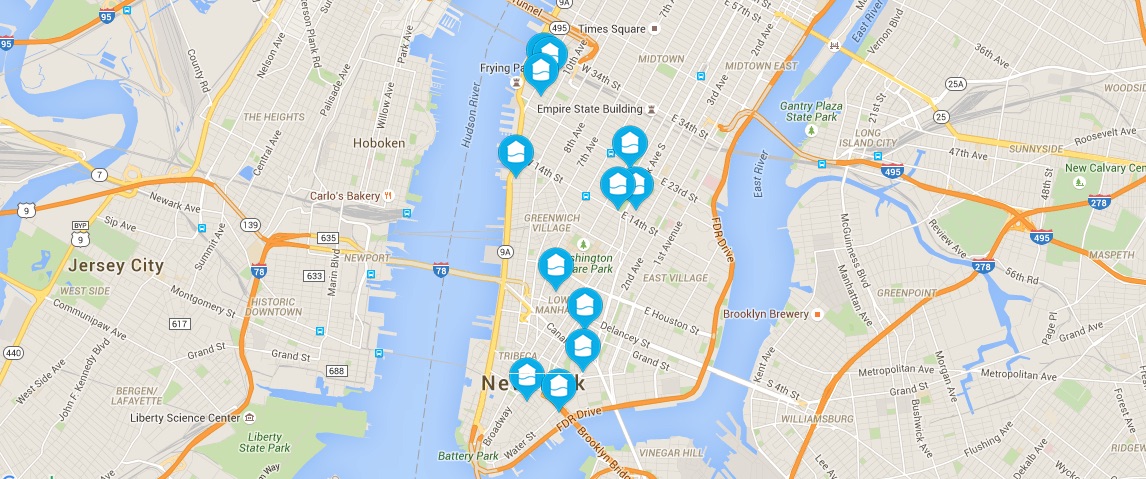 Google Map showing locations of artist-designed water tanks throughout Manhattan. Courtesy of The Water Tank Project. 
Since the project has ended, Jordan has found it difficult to measure the quantifiable impact of the project in any real, tangible numbers, but the impact has been felt and understood in the conversations she's had with other artists, activists, and admirers. During the installations of the canvasses, for example, people who had never thought about their connection to water chose to donate their time and money to organizations focusing on the crisis.
The Water Tank Project has also inspired artists around the world who are affected by the issue to replicate the project using the materials and resources available to them. In the upcoming The OneCanvass Project, New Water Culture will partner with locally and internationally renowned artists and students to cover 40 different water tanks in Rawabi, Palestine and Tel Aviv, Israel.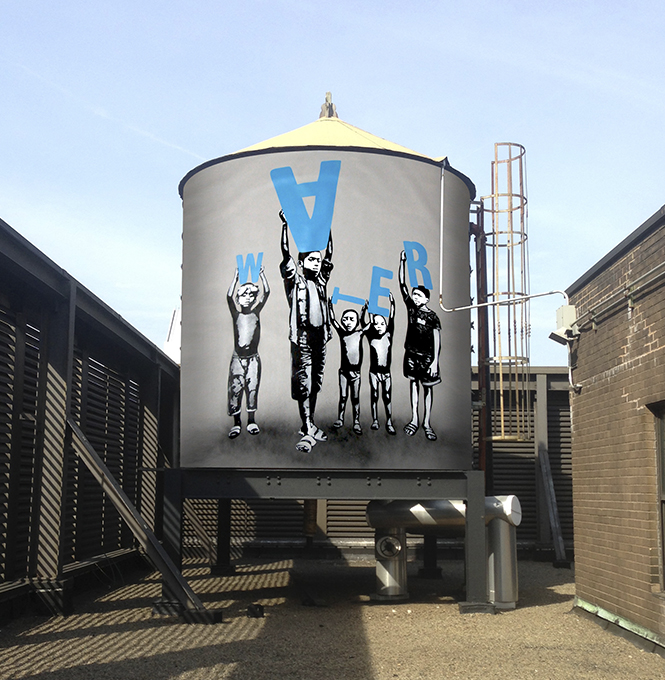 © Icy & Sot, 2014. Courtesy of The Water Tank Project. 
While Jordan's main focus is water in developing parts of the world, she makes an effort to maintain a connection to her local community in New York by providing artistic materials to schools for competitions where she often serves as a judge. She also makes herself available to youth, whose creativity and passion she believes can produce the solutions that are needed to address the global water crisis.
Though a majority of these striking canvasses have since left the New York City skyline, the structures remain as constant reminders of the privilege of constant access to clean water that New Yorkers enjoy.
"I always say, we just threw a rock, and the ripple that it has created is not in our power, but we know that a ripple gets created, " she says. "I think art has a responsibility to respond to crisis quite quickly. I love artists that are willing to use their platform to say anything, because whether you like it or not, it's creating dialogue."
♦
Austin Galoob is a recent graduate of NYU's Gallatin School of Individualized Study where he studied the intersection of media, culture, and public policy. His background is in theatre performance and production with a focus on identity and representation within performance. Austin is a New York transplant by way of Denver, Colorado.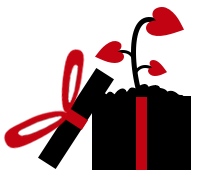 OF NOTE Magazine is free to readers, free of advertising, and free of subscriptions—all made possible by generous supporters like you. Your tax-deductible gift will help us continue to feature innovative and emerging global artists using the arts as tools for social change.
OF NOTE Magazine is a fiscally sponsored organization of the New York Foundation for the Arts, a 501 (c) (3), tax-exempt organization. All donations are 100% tax-deductible to the full extent of the law.