Helmut Smits: Water is the 'Realest Thing'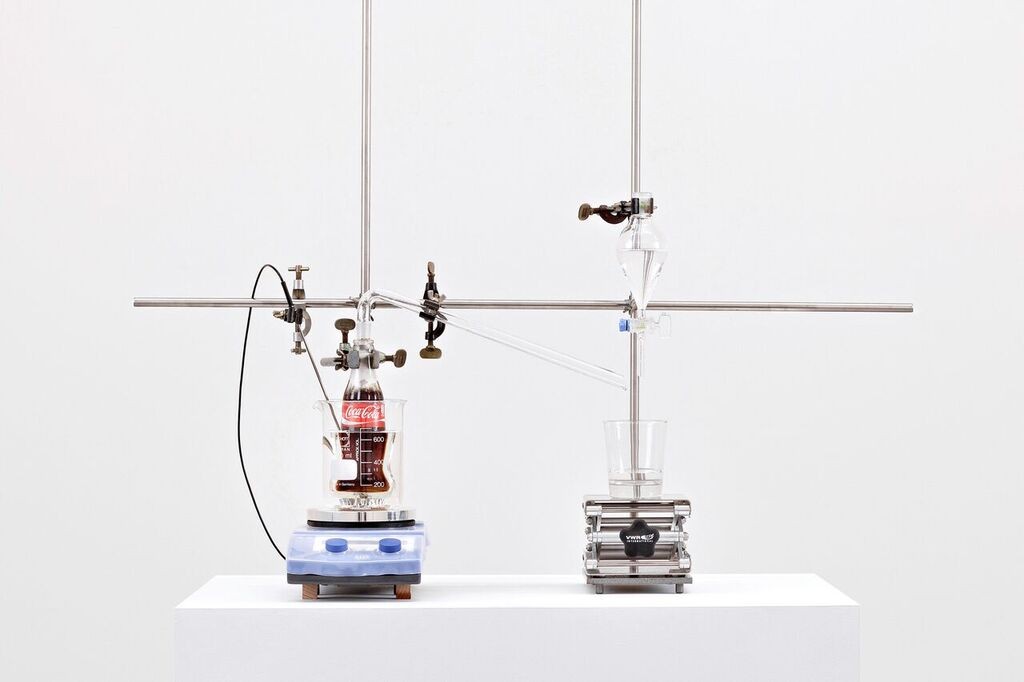 The Real Thing. © Helmut Smits, 2014. Made possible by Synthetic Organic Chemistry Group, University of Amsterdam, and TU/e. Courtesy of the artist in collaboration with Martien Wurdemann.
Photo by Ronald Smits. 
Coca-Cola claims to be the real thing while of course water is the real thing because it's the source of all life. — Helmut Smits  
BY MARCO MARGARITOFF| THE WATER ISSUE |SUMMER 2016  
If you ask Dutch multidisciplinary artist Helmut Smits whether he is a socially engaged activist or an artist, he would tell you, "It doesn't work that way."
With an artistic piece like The Real Thing — a distillation machine that turns a bottle of the all-too familiar Coca-Cola product into clean drinking water — Smits points out how misplaced our priorities are as a culture.
"There are a lot of countries in the world that don't have access to clean water but they drink Coca-Cola because they know if you drink the local water you get ill," he says.
Smits commonly subverts the identities of the items he uses in his art. For example, 0.26 Gallon of Oil is a bottle of Coca-Cola filled with oil instead of soda. It looks the same, but plays with your expectations. In the photo A Plastic Plant Acting Like a Real One by Losing its Leaves, Smits presents you with a plant that seems real, replete with leaves strewn beneath it. But if you look closer you'll see a price tag on one of the leaves.
The Real Thing began, like all of Smits' works, with a curiosity and fascination of the status-quo regarding a normative, accepted maxim of contemporary life. In this case: Coca-Cola is made, packaged, and sold all over the world while access to clean water is still not universal.
"I got the idea through looking at Coca-Cola as if I've never seen it before. Like, if you were an alien or a child," Smits says. "And I found out that to produce one liter of Coca-Cola in the early days you needed about six to nine liters [of water]. These things are really strange, you know, that you make an unhealthy drink and waste good stuff."
The Real Thing is not a symbolic use of language. Consisting of a basic boiler plate upon which a beaker filled with water contains the nominal bottle of Coca-Cola, The Real Thing is a functional, minimalist work. It boils the synthetic beverage and collects the evaporated liquid, funneling it back into another glass beside the beaker. Minerals are then added to the evaporated liquid to make the water potable.
Initially produced in 2006 without actually functioning, the distillation machine was developed in collaboration with a chemist from the University of Amsterdam. It first exhibited at the Van Abbe Museum in Amsterdam in 2014, and gained widespread buzz from magazines like WIRED and Dezeen. A newer version is currently being exhibited in Doha, Qatar.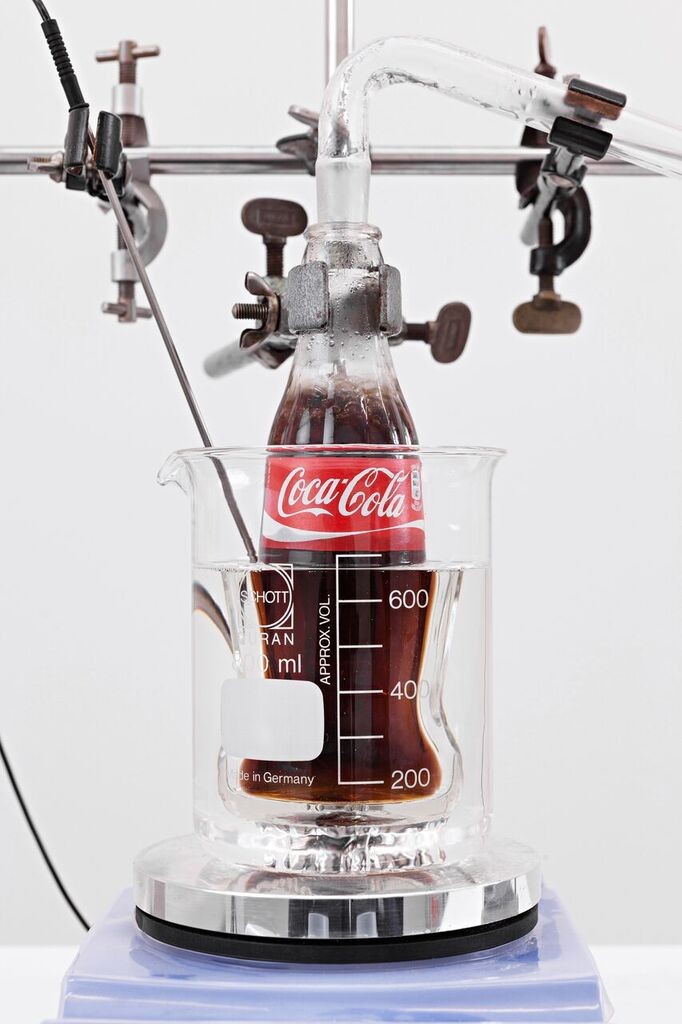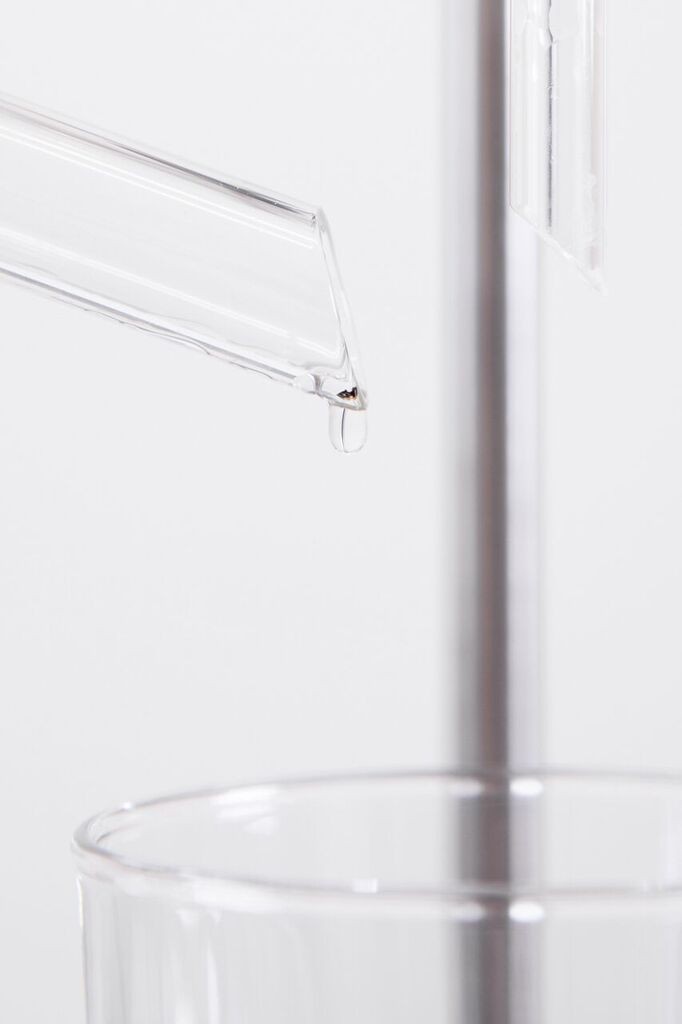 .
The Real Thing. © Helmut Smits, 2014. Made possible by Synthetic Organic Chemistry Group, University of Amsterdam, and TU/e. 
Courtesy of the artist in collaboration with Martien Wurdemann. Photo by Ronald Smits. 
Smits' desire is not to save the world by turning the most popular soda across cultures into water. He's here to point the finger, to make us ponder the absurdity of guaranteed access to synthetic sugar-water as opposed to the impossibility of drinkable water in many areas of the world. An injustice that is a result of big business trumping profit over clean water as a human right.
"The title of the work is The Real Thing, which is the old Coca-Cola slogan," he says. " I think that's really a good title because Coca-Cola claims to be the real thing, while water of course is the real thing because it's the source of all life."
In a way, Smits has always been anti-establishment. Perhaps not more than any other kid who disliked the rigors of schooling and having to accept the 9 to 5 grind, but Smits decided to make his own way. Growing up in the Netherlands in the late 80s and early 90s he was to follow in his father's footsteps and work at a printing factory, but quickly realized this wasn't the life for him.
Despite going to art school, the artist label seems odd even to him, and he would tell you that he only does what makes him feel better (a sentiment expressed by British artist Martin Creed that Smits has a particularly strong affinity for). And what makes him feel better is creating work that challenges the status quo.
"It's good for people to know that it's really strange behavior of mankind to produce big Coca-Cola in factories in India, where locals don't have access to clean drinking water anymore because Coca-Cola needs this to produce Coca-Cola," he says.
While the response to The Real Thing has been rewarding for Smits, it's not necessarily been the motivating factor for his creative process. He hesitates to feel responsible for any activism the work influences.
"I don't know if it works like that. I got several emails from people all around the world and also from a foundation in India who were fighting Coca-Cola, and they were really happy with my piece because it got a lot of attention," he says. "It made people aware and told their message."
Smits would never claim to be changing the world through art. He's aware that there are activists on the ground, devoting their lives to this cause. Yet, there is an obvious aligning of his art with the struggle to access clean drinking water that millions of people face.
"I'm not an activist who tries to destroy a Coca-Cola company," Smits says. "I have a different role in life, or in the world, which is that of an artist, to let people look at life and the things around us in a different angle than most people do. I think that's the role an artist fulfills."
♦
Marco Margaritoff was born in Hamburg, Germany to a politically active Ecuadorian mother and a German father. He graduated with dual bachelor's degrees in Film Studies and English from Pace University in 2012. His passions include strong writing, socially engaged art, and the cinematic form. His proposed thesis at New York University's Gallatin School of Individualized Study revolves around truth in fiction, and how artistic flourish or exaggeration can oftentimes provide a more truthful — if less accurate — look at an event. Marco has covered film festivals for FilmBook and press events for Stagebuddy, and occasionally tweets about the downfall of American politics.
OF NOTE Magazine is free to readers, free of advertising, and free of subscriptions—all made possible by generous supporters like you. Your tax-deductible gift will help us continue to feature innovative and emerging global artists using the arts as tools for social change.
OF NOTE Magazine is a fiscally sponsored organization of the New York Foundation for the Arts, a 501 (c) (3), tax-exempt organization. All donations are 100% tax-deductible to the full extent of the law.