Artist Julie Mehretu on 'Culture/Context' with LeRonn Brooks
I consider everything political. I don't see how you can live socially without participating politically. — Julie Mehretu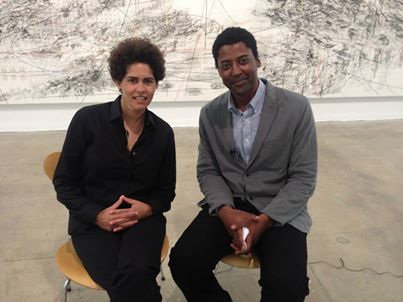 Artist Julie Mehretu with host of 'Culture/Context' Dr. LeRonn Phillip Brooks.
(Image Courtesy of Culture/Context)
Culture/Context, a conversation series exploring the ideas and production of contemporary social workers, is the brainchild of OF NOTE contributor Dr. LeRonn Phillip Brooks.
He recently spent time with painter Julie Mehretu (b. 1970, Addis Ababa, Ethiopia. Lives and works in New York City), who is the recipient of awards including The MacArthur Award, The American Art Award (The Whitney Museum), and the Guna S. Mundheim Fellowship. The two sat down at New York City's Marian Goodman Gallery, which recently featured Mehretu's exhibition, "Liminal Squared."
♦
Dr. LeRonn Phillip Brooks is a Harlem-based American art specialist and painter. He has worked and taught at several New York area cultural institutions including The Metropolitan Museum of Art, The Studio Museum in Harlem, The School of Visual Arts, New York University and Parsons: The New School for Design.