India | Artefacting Mumbai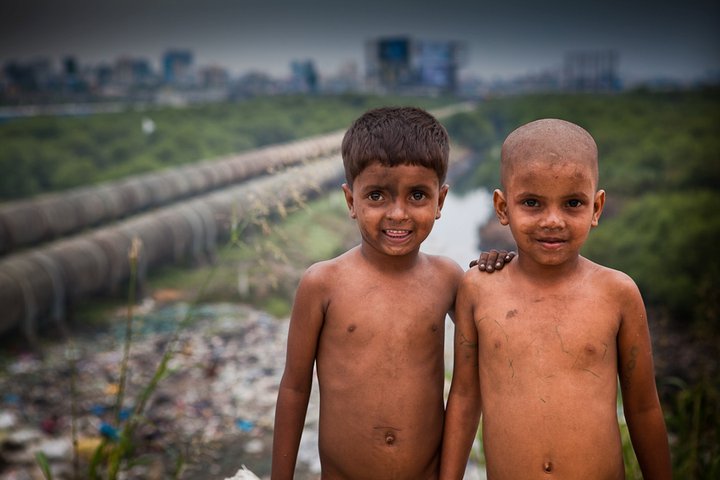 Two boys playing near the Tulsi Pipes, Dharavi, Mumbai. Arne de Knegt for Artefacting Mumbai
By Grace Aneiza Ali
Alex White Mazzarella and Casey Nolan are digging their way through Dharavi, Mumbai—literally. Notoriously known as one of Asia's "largest slum" and dubbed "Mumbai's Shadow City,"  Dharavi is home to over one million residents with a front row seat to the city's encroaching real estate boom.  Mazzarella and Nolan, US-based urban planners, are in India for three months to implement Artefacting Mumbai, a bold project that sets out to prove that one city's trash is Dharavi's art. They talk with Of Note about how they are using art to reinvent the way we define wealth.
What is "Artefacting Mumbai?"
We are creating a time capsule of Dharavi with "artefacts." Artefacting Mumbai documents this community's existence and beauty by transforming plastics, papers, metals, etc—materials the people of Dharavi depend on for their livelihood—into artwork. The project looks at the last and most unknown leg of the consumer process: disposal and recycling and the faces that do these chores.
Why did you choose Dharavi?
Dharavi thrives off of Mumbai's bustling economy and yet that same economy is threatening Dharavi's existence. The people of Dharavi are dependent upon the very waste materials that the city disposes of, and the city is inversely dependent upon these people. Urban growth could displace Dharavi in the name of modern upscale development. Any such plan would certainly displace the jobs, people, and community ties that exist right now.
Is art an appropriate medium to connect in the context of a fight for survival?
One answer is definitely "no," given the disconnect between Dharavi's daily struggles and our artistic visions and aspirations. How does a person even consider art if there are piles of rancid trash and raw sewage surrounding their house? But we are hopeful that telling the story in a variety of mediums – photo, video, language, and art – will help us to shed light on the humanity that exists in Dharavi. If through that story telling we can give the people here a sense of validation, then yes, art is indeed appropriate.
What has surprised you about Dharavi?
A highly complex industrial recycling system exists in Dharavi. Raw materials of all kinds are sorted, stripped, chipped, cleaned, resurfaced, melted, molded, pressed, and otherwise repurposed into new products for sale or distribution. We spend most of our time in the recycling district, which is known as 13th Compound. This area functions very much like a work-camp: thousands of men from villages all across India migrate to Dharavi for 3-6 months at a time to work, sending money to their families back home each week. These workers eat and sleep in or above the factories where they work, earning an average of about 200 rupees per day (about $4.50 US).
How does this project benefit the community of Dharavi in the short term and the long term?
Nothing here is novel to the people that live here; but to us, around every corner and hidden in every workshop there is a system, a material, or a person that we are eager to learn from. The simple act of being here doing this project provides the children here with new creative outlets through art, photography, music and games. This may ultimately prove to be the most important side effect of the project.
The question of long-term benefits is, of course, difficult to answer during the short-term window. But the real long-term test will be if we can instill in the children a new way of thinking about their environment – to get them to see opportunities to create things from every day objects. The success or failure of this test will be determined by the answer to this question: after we leave, will any of the kids be making art on their own accord?
Do you hope this project can redefine the way we see "slums?" How will it add to the conversation about the ways in which we see (or don't see) poverty and those deemed poor?
Many people don't "see" slums, they ignore them. When we talk about rich or poor, it is almost always in the context of money. Despite a lack of financial wealth for many people, there is a richness of the soul and a community spirit that rises above the imagery we all have of a slum. Perhaps when the question of wealth is reframed to focus on the strength of a community, places like Dharavi may be the richest.
Follow the project at
www.artefacting.com