Sugar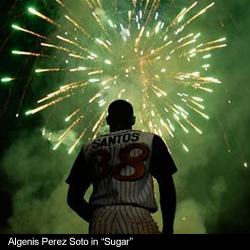 By Troy Jeffrey Allen
Miguel "Sugar" Santos (Algenis Perez Soto) is preparing for the American experience. He's played baseball in the Dominican Republic since he was eleven. He's undergone training for the U.S. leagues. His mother, sister, girlfriend, his whole neighborhood in fact, has waited for his call-up to the Minors. Miguel has got the physical tools to make it all the way, but the closer and closer the M.L.B. comes to Miguel, the more disenfranchised he's bound to become once separated from his own culture.
Directors/writers, Ryan Fleck and Anna Boden take us from the heart of Miguel's family to the heartland of America to create one giant allegory for the Spanish-American experience. While they tend to depict things with a hands-off approach, they, wisely, use "America's favorite past time" as the backdrop to fuel their feelings on immigration.
To hear it out loud, Miguel's culture shock sounds more like the experience of a day laborer than a potential sports star. He's carted out of his country, enticed by the opportunity to make money for his family, exploited for his abilities, forced to better perform his job, and threatened to be replaced/sent back home if he can't.
Even when the film is not always convincing, it provides something to reflect on. This works in contrast to the formula of many movies in this genre. Plenty of sports flicks spend the bulk of their running time justifying the game to the viewer. From a filmmaking standpoint this makes sense (you want even the uninitiated to grasp your movie), but Sugar is more concerned with showing you an outsider's perspective.